Simon Linington and William Mackrell are both individual artists who do collaborative work as well as their own. Now, for MOCA in Peckham they are presenting Floor, a site-specific work that confounds expectations.
I am playing all the right notes, but not necessarily in the right order - Eric Morecambe
I absolutely loved this show and days later I'm still thinking about it. Linington and Mackrell are two young emerging artists whose work not only makes you smile but also makes you question.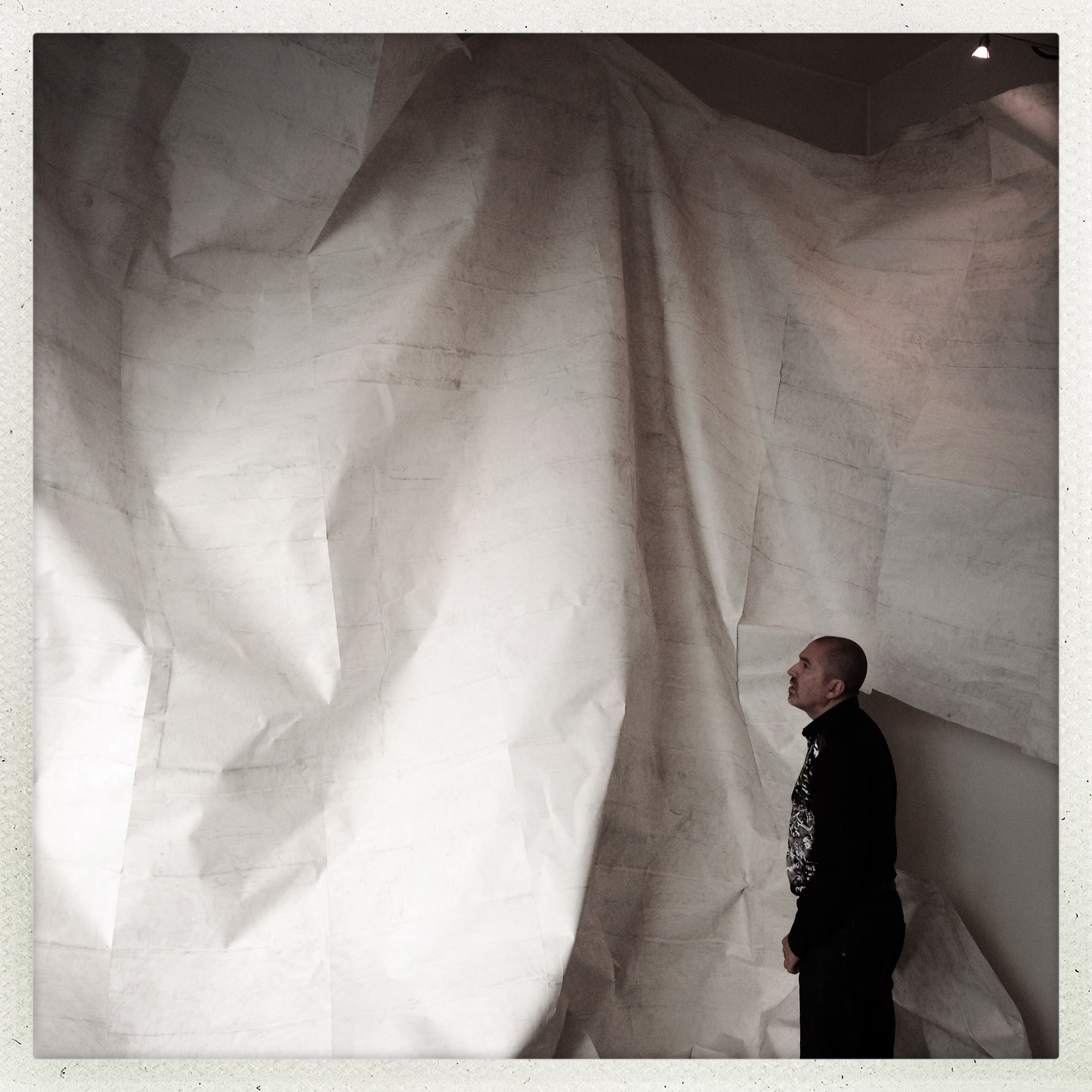 Image courtesy the artists and MOCA
For Floor they have taken an exact impression of the floor of MOCA and transferred it onto paper. Part pencil drawing, part rubbing, the work serves as a record of the physical space but also as a record of their time spent making this fake colossus which has been hoisted up and is literally squashed between the floor and the ceiling of the gallery like a discarded architectural feature.
Linington and Mackrell have transformed a delicate series of pencil drawings into what appears to be a section of stone cut from a gigantic sculpture. A simple idea is then turned on it's head as the floor becomes a wall but also a sculpture which cascades from the wall and fights against the physical constraints of the gallery space.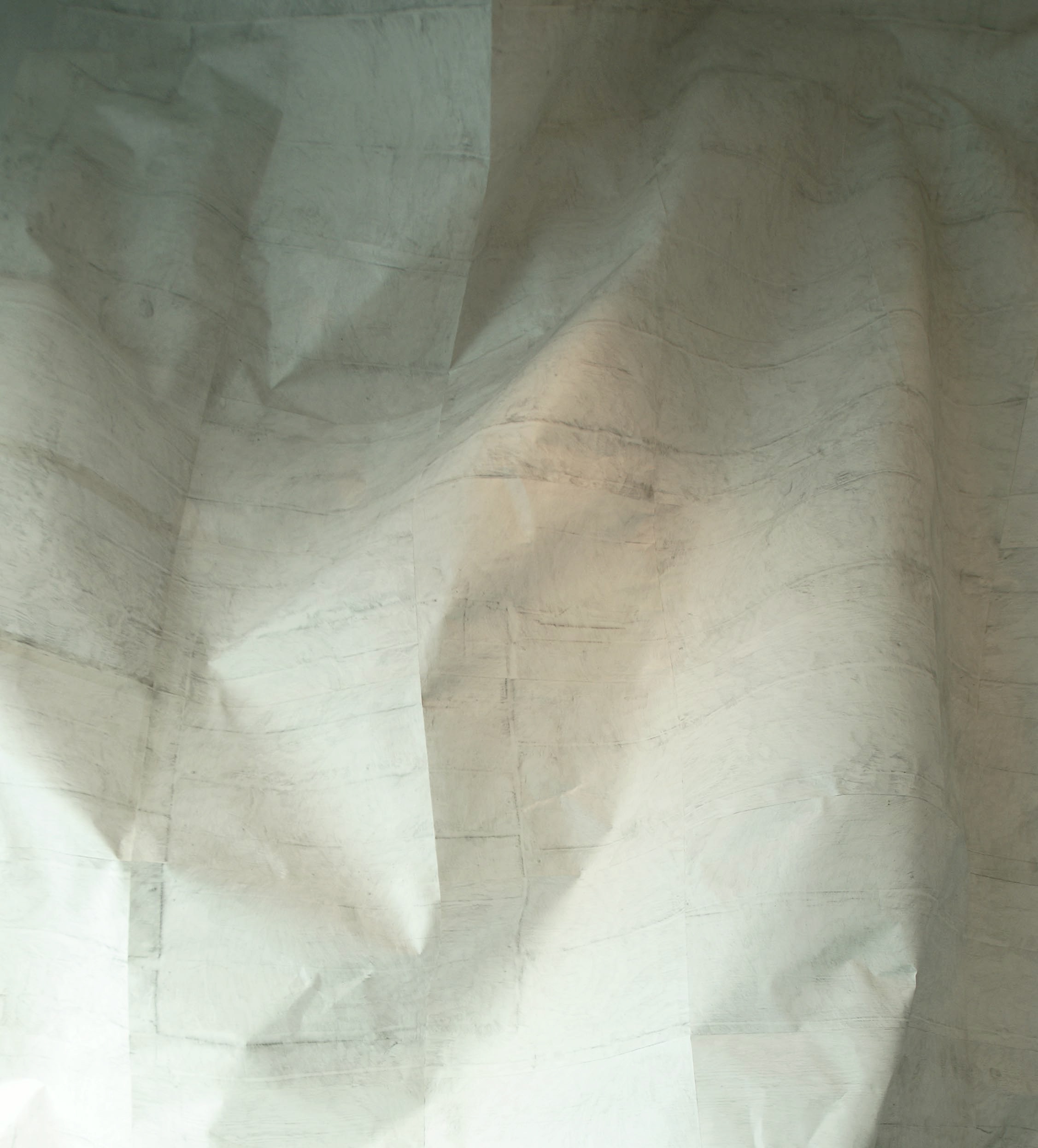 Image courtesy the artists and MOCA
Curated by the artist Angela de la Cruz (Turner prize nominee known for smashing frames and breaking her canvasses), Floor investigates similar ideas to her work. Like de la Cruz's canvasses, Floor has been liberated from the constraints of the frame, and the work questions both the physicality of the work and the categorization of it. A painting or drawing is after all also an object, but here the function is questioned as well as the form.
In a perfect combination of curator and artists, Linington and Mackrell also share a sense of absurdist humour with de la Cruz. For sure, there are complicated questions being asked here, but they are handled with a lightness of touch that helps elevate the show to another level.
Not really a duo, they are two individual artists who happen to collaborate. And compete. Much of their previous works have been futile pseudo scientific experiments that question what art is and how it works. 'Take Two' was a live stream of them playing squash in their studio and the marks the ball left became a wall drawing. For another piece, 'The Explorers' they rolled their combined bodyweight in clay from their studio off Mare Street in Hackney, to Standpoint gallery in Hoxton.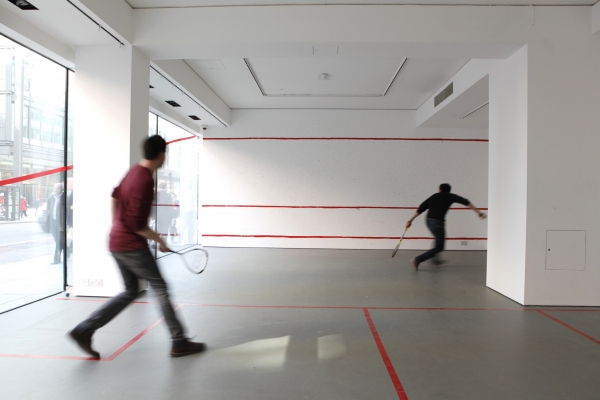 Image courtesy the artists
An artist duo who are not a duo, a sculpture which is not a sculpture, a drawing which is not a drawing. This is a show that is minimalist and baroque at the same time. A show full of contradictions yet crystal clear. Floor throws up many questions but don't expect too many answers. What you will get though is a show that lingers in your imagination.
I get the feeling we will be hearing more about these two but this show isn't on for much longer so catch it quick. Highly recommended.
MOCA - Closes 8 December - Open Thursday - Saturday 12pm - 6pm