People often ask how we choose artists and curators, decide on shows, make press contacts etc. In the first of a series, I will attempt to explain the inner workings of a gallery from several different points of view, and hopefully demystify how small independent galleries like ours put shows together with very little budget, lots of friends, many arguments and buckets of sweat.
PayneShurvell's next show is a group show called Your Garden is Looking a Mess Could You Please Tidy it Up, so it is probably best to start with the title.
Andrew Curtis, one of our artists, is the person I asked to curate the show (more about him in part two).
Whilst he was studying for his MA at the Royal College of Art, he was writing his research paper, his wife had just given birth and he was living in the suburbs. He woke one morning to find an anonymous note slipped under the door, reading: "Your garden is looking a mess could you please tidy it up." Andrew showed me the note eighteen months ago and when we initially discussed working on a show, we used this title from day one, exactly as written, with no punctuation or question mark. It makes sense, as you will see.
Most people have no idea what a curator does. Some of the most influential curators like Hans Ulrich Obrist are unknown to the general public. There is a good reason for this; the role of a curator is both fluid and ambiguous. Some curators see themselves as directors or interpreters, some as wranglers and some as artists-curators. So much depends on the show, the work, the art and the egos. The artist John Baldessari is quite scathing of [some] curators:
"What disturbs me is a growing tendency for artists to be used as art materials, like paint, canvas, etc. I am uneasy about being used as an ingredient for an exhibition recipe, i.e., to illustrate a curator's thesis. A logical extreme of this point of view would be for me to be included in an exhibition entitled 'Artists Over 6 Feet 6 Inches', since I am 6'7 inches".
Curtis is a natural curator. As an artist, he often works closely with other artists and craftspeople and is always interested in other artists' work. This respect and curiosity for other artists' work is so important when it comes to group shows, where often the curator will appropriate context never intended, just to fit in with a 'theme'.
A good curator is also a grafter. In the months leading up to the opening of a show, this is an extremely important asset.
Small galleries like ours, often have group shows because you can guarantee an audience. PayneShurvell, on the other hand, tends to have solo shows, because it is our personal preference. Our solo shows always steer clear of being a 'retrospective' and the curators we have worked with really engage with the artists and the concepts of their shows on a profound level. We spend a lot of time and effort getting this right.
Solo shows can be quite intense affairs and draining for the artist. It is a lot of responsibility to shoulder. This is why it is so important that the artist and the gallery have a good relationship. We have given many emerging artists a solo show, and are not afraid of risks.
However, after a solid year of working on solo shows, one-to-one with our artists, I wanted to take a break from the intensity of solo shows and have a group show. With twenty artists in our upcoming show, there is more actual work for the gallery, but the relationships are less intense.
The problem is though, that getting a group show to work is more difficult, as it is easier to lose grip on an editorial approach, often leaving you with 'salon' shows. This is where a skilled curator comes in.
We are a small, young independent art gallery. To us the artist is paramount and curators are trusted to safeguard the artist's ideas.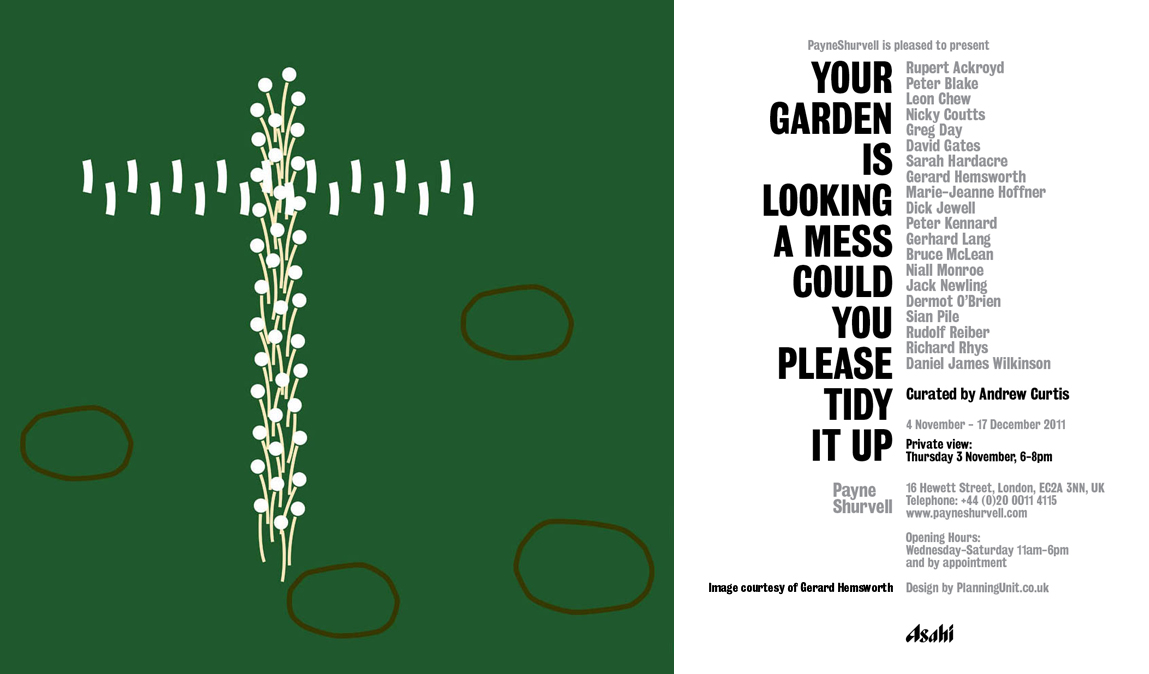 The show Curtis eventually came up with, Your Garden is Looking a Mess Could You Please Tidy it Up is an ambitious exhibition that mixes recent graduates, emerging artists and artists whose names are familiar to anyone with even a passing interest in art. In the next part of this series I will be asking Andrew Curtis about how he came up with the idea for this show.
Your Garden is Looking a Mess Could You Please Tidy it Up opens at PayneShurvell on 4 November 2011.