I was fortunate enough to be part of National Student Pride last weekend in Brighton.
Now in its seventh year- student pride returned to the city for the fourth time, bringing together students from across the country and in some cases, from far flung learning institutions across oceans and seas.
All these people came together to debate, discuss, network and most of all celebrate student life within the LGBT community; and I was delighted to be right in the middle of such an event.
I found myself on the Question Time debate, hosted by Attitude's Matt Todd and with fellow panelists including Dan G Sells of The Feeling, BBC News presenter Jane Hill, Actress Sophie Ward, England Cricketer Steven Davies, Ex-NBA Basketball player John Amaechi and the legendary human rights campaigner Peter Tatchell.
Throughout the debate, I was struck by how incredibly politically motivated the audience was, bearing in mind that most were in their late teens or early twenties. These young adults had all grouped together in Brighton to celebrate and branch out - which the club night in Revenge would later ensure, but before all of that, there was important business to deal with.
The day continued into the night, and the students who had come together far and wide, let their hair down and celebrated fully in venues across the city.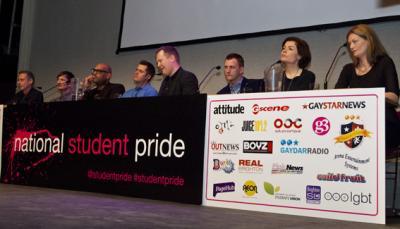 Whilst enjoying the day event, I was asked by an elderly gentleman "what's all the fuss about?" to which I naturally presented an answer.
The look on the man's face suggested bewilderment, and I knew he was either about to throw out some horrendous homophobia, or continue to quiz me over the celebrations... "But why do they need to wave it in everybody's face?" I could tell that the gentleman was speaking in rhetoric, and immediately moved on before I could counter his comments anyway... but it lead me to think, 'why' indeed?
I'd love to say that this is the first time I've been on the receiving end of such a question, but it's sadly not. It appears, there are quite a few people in our country who don't quite understand the meaning of Pride and why the events are so important.
With Pride events soon to be getting fully under way around the UK; North Wales Mardi Gras in April, and a host of events including Birmingham pride, Blackpool pride and Oxford pride in June before the huge main event of World Pride in the capital on the 7 July; it's extremely important we fully understand exactly why these events are held nationally and the history that has passed before them.
We have all been on the receiving end of discrimination at some point in our lives, none more so than the public homophobic messages being handed out by Lord Carey, and just this weekend by the Head of the Catholic Church in Scotland- Cardinal O' Brien. This pathetic pair, along with a handful of politicians and other church figures have backed the Coalition for Marriage petition calling for a stop to the introduction of equal marriage in the UK.
We still live in a world in which a professional footballer will tweet homophobic messages to thousands of followers and not think of the consequences; will also still live in a world where people are being hung because they are gay. There's clearly a fight still to be won, and events such as National Student Pride underline this very fact.
Of course, the answer to these problems aren't going to be solved simply by marching around places like Brighton and London making lots of noise; but along with political pressure and professional campaigning by groups such as Stonewall and the online petition of C4EM, we will come through this victorious.
Pride is not about "Waving it in people faces", but is about remembering the great things we as a community have achieved over the past 50 years. It's about meeting new people, forging relationships and coming together. It's about celebrating the gay community and our contribution to the United Kingdom.
But most importantly, it's about continuing the fight for equality!
The more noise that outdated generation of Daily Mail readers make about us as a group of people, the more noise we need to continue making in response to their blatant, overt and offensive homophobia.
That's the point!