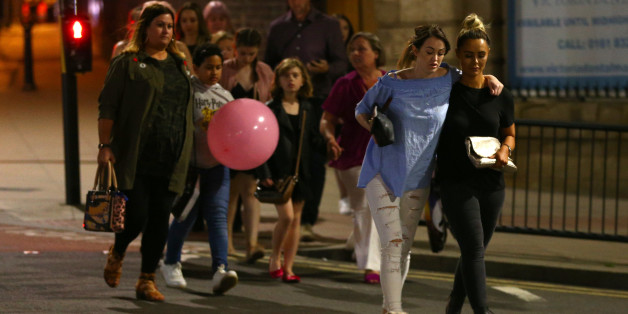 Dave Thompson via Getty Images
At around 10.30pm in Manchester yesterday evening thousands of people were enjoying Ariana Grande closing her show at the Arena. Just minutes later at around 10.35pm it's believed that there was an explosion in the foyer of the arena, this is very busy area before and after any show at the arena, there is a large box office, a McDonald's restaurant and usually a merchandise stand. There are several doors into the arena staffed by security and stewards as well as the doors leading in the opposite direction to Victoria Train Station.
At this time it's unclear who, what or why this as happened. What is known and confirmed by Greater Manchester Police at this time is that 22 people have lost their lives and around 50 more have been injured. North West Terror Counter Terrorism Unit and GMP are treating this as a terrorist incident until they know otherwise.
It's important to pay tribute to all the emergency services, staff and those who run towards danger when instinctively we should run away. This is a situation that the emergency services train for and I know the arena and Showsec who provide the arena with security and stewards train for this, from reports it sounds like they did and continues to do an incredible job.
As an avid music fan and someone who has worked in and around the music industry for over seven years, it is a particularly distressing event. To know that this could have been any number of shows that I, my friends or family may have attended or been working at is just unthinkable. It takes you straight back to Paris 2015 and what happened at the Eagles of Death Metal Concert, the band's Merchandise Vendor was a British lad, the next day I was working the same job for Newton Faulkner in Liverpool. I'd be lying if it didn't scare me.
The fact is those that work in music and entertainment do it out of love, often there isn't a huge amount of money involved and the aim is to create a safe space and an awesome event for people to enjoy music or art and make memories. For lives to be at risk and events to be overshadowed by anxieties around being attacked is not acceptable.
I am due to go to a show on Wednesday in Manchester, I am also due to attend Slam Dunk at the weekend in Birmingham at the NEC and Leeds City Centre. Whatever happens, if these shows go on and I hope they do, not for my convenience, but so I along with everyone else can attend and show those who intend to endanger our friends and family of the music community a huge middle finger.
Music and art are something that so many people across genres, religions, genders, sexualities and nationalities unite over. Music and art speak to everyone. If fears are confirmed that this was an attack, then we must show our strength and our resilience through our love and kindness for the musical community and beyond. Nobody will divide us. The show will always go on.