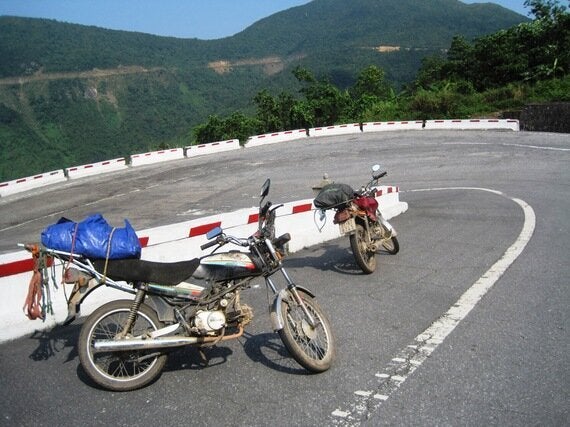 The winding ribbon of tarmac that makes up the Hai Van Pass glistens in the sun as the hot tyres of our motorcycles tear across it. The mountain pass, with the South China Sea on one side and the rest of Vietnam stretching away on the other, is one of the most iconic roads in the world. Hairpin bends bunch up on top of one another as the road climbs and descends the green coastal mountain from Hue to Da Nang.
Since the opening of a tunnel in 2005 that goes beneath the mountain, the pass has been largely deserted, but the road is still ridden by thrill seekers and for the spectacular views it provides.
Up ahead, my friend Matthew pulls over with a wave of his gloved hand. We have been riding together for long enough now that we can tell in a glance how each other are feeling. Today we are both ecstatic with joy.
We have been looking forward to riding the Hai Van Pass for some time and today the conditions couldn't be better. Vistas of mountains and ocean stretch out around us under the clear sky. The road is dry, less cracked than we thought it would be, and full of exhilarating curves. There is no room for error on corners like these - beyond the edge of the bends, the mountain drops away to oblivion.
Motorcycling in Vietnam is a growing trend with backpackers in the region. Many just rent bikes for short periods of time, but some, like us, buy them for extended trips and sell them at the end.
Liam Tufnell, a British biker who co-founded Hanoi Motorbikes, one of the many businesses that has sprung up to cater for this demand, told me: "It has become the new way to travel. Everyone is doing it."
I bought my motorcycle about two weeks earlier at Hanoi Motorbikes. The business specialises in selling motorcycles to travellers who want to do the Hanoi-Saigon road trip. Since setting up in 2013, they have opened a second shop in Saigon, Ho Chi Minh Motorbikes.
"Riding through Vietnam is a unique adventure - it's exciting and yet so easy to do," Liam said. "It can be dangerous, but that's part of the reason people love it, for that true adventure feeling. You're not on some tour's itinerary that a million other people have done, everyone's trip is different.
"I've driven up and down the country numerous times and every time I do, I discover something different or have a unique experience that makes it fresh and new again, which you just don't get on tours."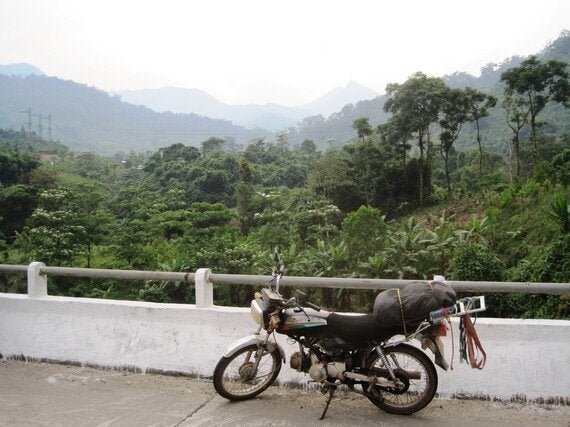 The motorcycle Hanoi Motorbikes sells most frequently to travellers is the Honda Win or, more specifically, Win copies. This is the kind of bike I bought. They cost US$350 from Hanoi Motorbikes and are easy enough to sell for a similar price in Saigon. The business also offers a guaranteed buy-back option at their shop in Saigon, prices dependent on condition.
The bikes are proper, swing-your-leg-over motorcycles with all the works exposed and free from the tacky plastic that covers most of the scooters in the region. The engines are small but feisty with kick-starts and manual gears. They are large-wheeled and lightweight, making them ideal for riding off-road. Crucially, however, they are easy to repair.
"Ask anyone who's done the trip," Liam said. "They won't say, 'yeah it was fun, I had no issues'. They will go into a long story about how they broke down in the middle of nowhere and a Vietnamese family took them in, fixed their bike for free and got them drunk on rice wine. It's part of the adventure."
The Honda Win is found all over the country so any mechanic would be able to take the thing apart and put it back together with their eyes closed. And because Vietnam is full of motorbikes, there are mechanic shops everywhere.
Vietnam is a country where the vast majority of road users are on two wheels. Everything goes on the back of a bike here. I have seen bikes whizzing between paddy fields in the countryside with live pigs strapped to the back seat; bikes in the cities teetering down alleyways with stacks of televisions; bikes transporting families of four, the kids, unfazed by the madness, nattering away to each other. It really is a country liberated by the motorcycle.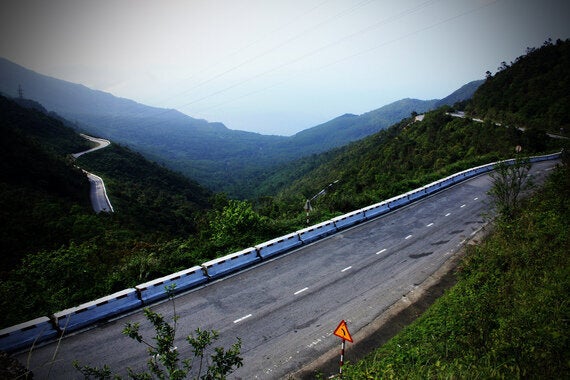 Riding a bike through Vietnam gives a totally different perspective from the more conventional modes of transport. Travelling by bus, it is easy to hop from tourist spot to tourist spot and see nothing in between. The beauty of the motorcycles in Vietnam is actually in their limitations. Virtually all the bikes are around the 100cc mark, and for this reason, they can only take you so many miles in one day, so you have to stop in places between the sites. This means staying in places you would never see if you travelled by bus - places most travellers never see.
So what if you want to see the country by bike, but can't ride yourself? The Easy Riders are a collection of motorcycle tour guides that take tourists on the back of their bikes for trips around Vietnam. The business set up in 2004 and the success of their idea led to a number of copycat companies starting up under the same name. Easy Riders, both official and unofficial, can be found in many tourist spots around Vietnam, but are particularly concentrated in central Vietnam.
Tuan Tran, one of the original Easy Riders, told me: "We have about 120 to 150 customers per month booking tours with us. Our goal is to make our customers experience the real Vietnam - the people, history, cultures.
"Vietnam has everything that a biker or adventurer wants to explore - the beautiful flat area of the Mekong Delta, the scenic coastal villages in the South, the stunning winding roads of the Central Highlands and Ho Chi Minh Trail, or the picturesque rice terraces in the North."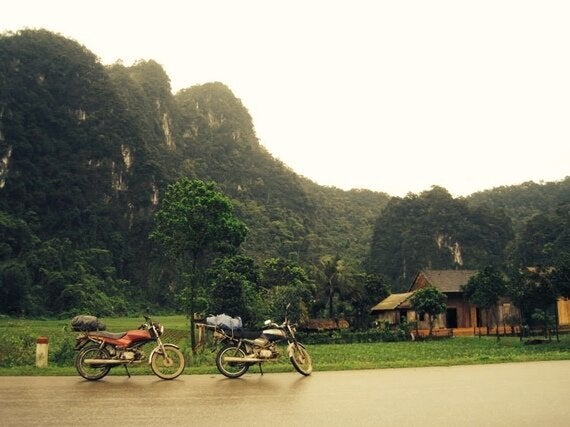 Just that morning we met a man who was about to set himself up as an Easy Rider. As with any business that caters to tourists, being an Easy Rider is incredibly lucrative. We met Hùng Nguyen in a mechanics shop in Hue where we were changing our oil. The mechanic himself, Kim Thiên, is well known to biking travelers in the area. He has specialised in catering to foreign riders and has made a name for himself in the biking backpacker community as a trustworthy mechanic.
"Foreigners must ride good bikes," Kim said. "Bad bikes, not safe. I make them safe."
Hùng, like all Vietnamese people, was brought up on motorbikes. Inside Kim's shop was Hùng's 125cc cruiser bike, big enough to comfortably seat two and luggage. Its chrome bodywork sparkled in the morning sun.
"I want to be an Easy Rider because I want to show foreigners my country," he told us. "I want to take tourists to places they would not see another way. In Vietnam, you must travel by motorbike. This is how Vietnamese people travel."
One of the greatest things about riding a motorcycle cross-country is that you experience much more intimately the geography of the land. You feel every bump and every change in the weather. You get wet when it rains and dusty when it's dry. You are much more vulnerable to the dangers of the road and people appreciate this. In Vietnam, you are using a vehicle that the local people use. People are far more receptive to someone who pulls up on a battered old bike like the one outside their own home, than to someone who steps off an air-conditioned tour bus.
Motorcycle travel takes you from the third-person perspective you get by viewing the world through a coach window, to a first-person perspective where there is nothing between you and the land - you can put your foot down and touch it if you want to, and you can feel it all around.