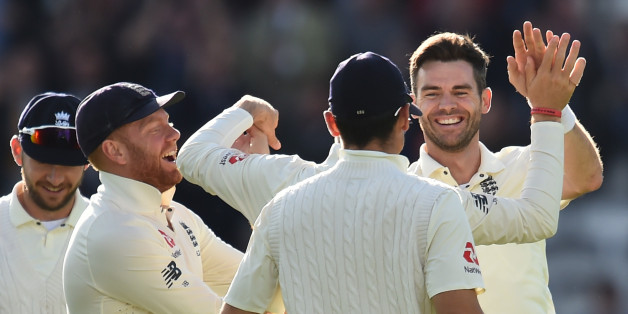 GLYN KIRK via Getty Images
To many of us, it seems like yesterday that a fresh-faced young quick bowler from Burnley first ran in to bowl for England. It was not yesterday of course, it was fifteen years ago. My first memory of him was bowling not in the Test arena but in one day internationals, notably in the 2002 World Cup where he demonstrated an ability to produce prodigious swing in both directions. Bowling at pace is rarely sufficient to remove top quality batsmen and he was certainly quick, it is the movement that was the key for him in the early part of his career, coupled with the mystery of being an unknown quantity in the international arena.
It is interesting to note that many of the tributes that have rightly come his way make reference to knowing that he was special from the moment they saw him bowl. Interestingly, that was not the way I saw it. His bowling action concerned me, particularly his unusual practice of looking at the floor when in delivery stride and I was also concerned about his effectiveness when the ball was not swinging.
A degree of humble pie needs to be eaten here. Bowlers do not take over 500 test wickets only being able to bowl in favorable conditions. He has shown himself to be adaptable in addition to his natural ability. It is easy in these good times, to forget the testing times he has come through. Much of the testing times for Anderson, and many other quick bowlers are down to one aspect: injury.
Those who try and bowl fast do so knowing that injuries are part and parcel of their craft. It is not a normal activity for the human body to launch a cricket ball at pace. It was a knee injury that seems to have been the first issue for Jimmy Anderson but much worse was to follow with the feared stress fracture of the back then making an appearance at a relatively early stage of his career. For fast bowlers, this represents a worst nightmare scenario but for modern cricketers, advances in medicine and sports science at least give them a greater chance of recovery. However, physical recovery is one aspect but how those injuries impact on the technical aspects of their bowling and the psychological effect and much harder to quantify.
The greatest fast bowler, it is generally believed is a man called Dennis Lillee. A Western Australian who burst on to the international cricket scene in 1971 and left it in 1984 with 355 test wickets to his name. What is often forgotten is that his career should have been over in 1972 when he was diagnosed with stress fractures in his back. The reason I cite him as en example to all cricketers is that he got himself back to the top with sheer, hard work. Whilst Lillee will have had a team around him, this was a different era and the onus was very much on him to do the hard yards. There was a need to remodel his action to a certain degree to prevent re-occurrence and he undoubtedly lost some pace by doing so but he became much more in tune with the art and craft of fast bowling which led him to such success.
Modern cricket has seen more specialist coaching, including those that specialize in bowling. To understand bowling needs a blend of awareness of fitness, bio-mechanics and cricketing know-how. Whilst each of these is fundamentally important, bowlers cannot reach 500 test wickets without possessing talent and the all important motivation. There are plenty of talented bowlers who could have made it but, perhaps, did not have that drive to get there. When the curse of serious injury strikes, it is how that bowler responds that is key. The notion of "luck" gets banded about and there may be an element of this but we should remember the old saying, the harder you work the luckier you become. Modern bowlers could be considered fortunate to play in an era where the science of fast bowling is better understood and orthapeadic surgery may give them more of a fighting chance but it is bowler themselves that is the key to ultimate success. It is not Jimmy Anderson's fault he is playing today and what is of greatest significance is that he is bowling better now than at any other stage of his career despite advancing age. Like Lillee before him, there exists now a greater understanding of the craft.
An interesting footnote to the Jimmy Anderson's story is that my abiding memory of him (apart from some rather bizarre haircuts!) is not of him bowling but him crying! Having just been dismissed late in the day in a test to hand a victory to Sri Lanka, he fronted up at the presentation only to promptly burst into tears. It brought home to the viewing public how much playing for England meant to him.
With all this 500 test wickets, sports science, specialist coaching and crying at the end of matches, one wonders what the late Fred Trueman (the first to 300 test wickets) would have made of it all?