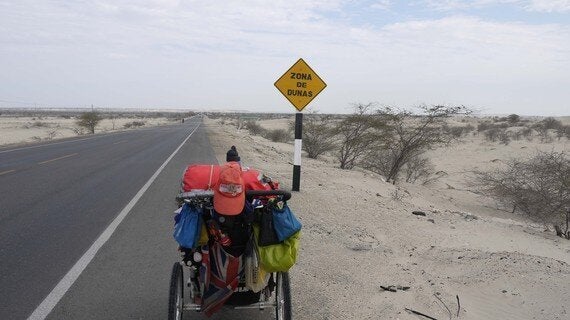 Throughout this expedition I have constantly had to overcome different challenges. There have been mountains, cities, seas and arid spaces. This week it was the turn of the desert and a proper desert it was. At times I could stand in the middle of the road and see nothing but flat, endless sand stretching in every direction. This was the northern part of the Sechura Desert and will be the setting of my expedition for the next 2000km or so as I make my way down Peru towards the Atacama Desert. A blog post on Smithsonian.com states that "no place compares to the unrelenting lifelessness of Peru's Sechura Desert.
When one thinks about running across a desert the immediate concern is where am I going to get water but believe me when you stand at the edge of this desert a lot more fills your mind. Water is obviously the main concern and I made sure I had enough water to keep me going for at least a couple of days with water bottles of all sizes stuffed into every available space. Every litre of water adds extra weight so the balance has to be perfect. The next concern is where am I going to sleep? Luckily I am equipped to deal with this with my Force Ten tent and sleep bag. Food can be a problem and I had to make sure I had enough calories to power me through the 200+km till Chiclayo just in case there were no shops or restaurants.
But these are all issues I have had to deal with on a weekly, in not daily basis, since I started my expedition over a year ago. The main concern was not what nature would throw at me but the risk of what other human interaction may result in.
I had received an email from a friend who had cycled through this section a month ago and he informed me of a terrifying ordeal that involved three gunmen robbing him on the side of the road. He was luckily saved by a passing lorry driver but he said he was scared of what they were going to do to him if help had not arrived. Now I have had warnings about "bad people" the whole way down the coast of the Americas and luckily I have not been targeted (yet). But when you hear a story from someone you know then you start to really worry. This worry was only made worse while running towards the edge of the desert by warnings that included "you will die" and "don't go there alone" etc etc. each warning was usually accompanied by people, normally young girls, trying to depict the danger by running their fingers across their throat. Let's not beat around the bush - this was concerning but there I was standing at the edge of the desert ready to make my move.
Just before I started a police car arrived and this concern would mostly disappear. It transpired that they too were worried about my safety and decided to lend their assistance. Without any planning or organisation they cobbled together a police escort to see me across this treacherous part of the desert. Now this obviously was an amazing outcome for me but it did come with its downsides which became apparent later in the journey.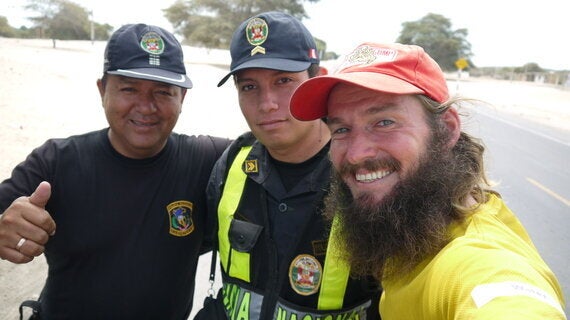 As you run from Piura south the landscape slowly but dramatically changes from an arid undulating landscape with bushes, trees and farm land to a landscape void of anything but sand and solitude. The shacks on the side of the road stop and after 30km you enter a land of nothing. It was at this stage that my first police escort ended and the second took over. It was also at this point I was joined by my friend Brooks. Brooks has been cycling a roughly similar route to me but doing more detours than me. This was our third meeting this year and it was great having him with me. Our new escort quickly made it clear that we were to stick together and also made it very clear that rough camping was not an option. This meant we would need to find a house or restaurant to make camp next to. It also meant that I was going to be running as far as I needed to rather than as far as I could. We were informed that the first night would be spent at a restaurant about 20-30k ahead. With Brooks keeping me motivated we continued on into the dusk. We finally arrived at a restaurant that was either deemed too remote or didn't want us. It was going to be another 8km until we arrived at our destination. It was a remote roadside restaurant with a couple of men tending to a small stall set up on the steps. The restaurant had been closed down and while being able to see the food inside we were restricted to what the men could rustle up, which was surprisingly good. Our police escort left with strict instructions to be ready by 7am the next morning. We sleep on the floor of the deserted restaurant and tried to cobble some sleep together through the constant interruption of trucks pulling over for food, drink or sleep.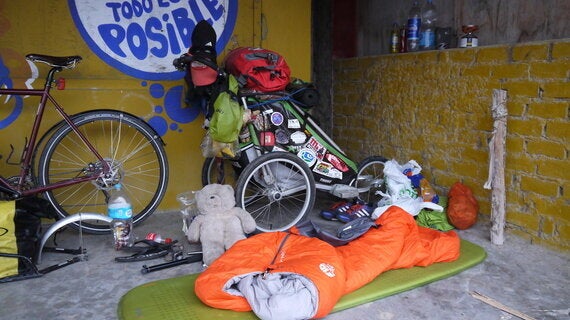 At 7am our police escort arrived and were insistent of a quick start. I was immediately filled with dread that they would expect me to run the full day as they were eager to get us to Chiclayo as soon as possible. The morning stretch was spent with the police car just ahead or just behind and issuing words of motivation each time it drove by. By lunch we had covered about 38km and after a quick meal we were back on the road. Our second escort handed over to the third and kilometres and time rolled by. It became apparent that our new guards were less concerned with our safety and the occasional drive-by seemed to suffice. We continued to push on and as the sun set disaster struck. Part of Brooks' bike had buckled and dived through the spokes of his rear wheel. So here we were 68km from where we started with a very broken bike. As the sun set we pushed on determined to get to a restaurant 10km ahead. The bike was nearly unmovable so we waved down a passing van who very kindly gave Brooks a lift. I now had a mad dash of about 8km to do before the sunset and after 70km already covered.
I finally arrived as the sun dipped below the horizon full of relief to be somewhere safe and back with my friend. The plan was to eat, set up camp and sleep as quickly as possible. The only problem with this plan was that I didn't take enough time to check my food while I ate it. There was definitely a pink bit of meat but in my ravenous state I just gobbled everything down. It wasn't until the next morning that the problem struck. I had packed up camp and said goodbye to Brooks who was getting a lift to Chiclayo and was taking the first steps of the day when I felt my stomach rumble.
I have not mentioned that there are no toilets in the desert... no toilets! Not even at restaurants. You just walk into the desert and drop your pants! Well here I was with a bad stomach and in the middle of a desert. The dash to the side of the road became a regular activity and by km 10 I had been at least five times. Every time I ate or drank I was running to the nearest bush or dip in the landscape. It wasn't long till my inhibitions had disappeared and I was squatting next to the road watching buses driving by. By km 20 I was feeling dreadful. My toilet paper had run out, my energy levels had depleted and morale was low... It's at time like this you need to dig deep and find something you know is there but unsure where - wet wipes!
I dragged my sorry body forward not knowing where I was going to end up or how far. I studied my map and no towns where shown. I noticed that two roads converged 20kms ahead and made that my destination. As I got closer the desert started to turn to arid farmland and people started to appear. There was a town ahead. I kept pushing and finally arrived having covered about a marathon (42km). During that time I had been to the side of the road over 10 times, had drunk less that 500ml of water and anything I had eaten had not lasted long. I collapsed on a bed and set about recovering for the next day.
I woke up at 7 and it became apparent that all was not well but after an hour of being awake I decided that the best option was to continue to Chiclayo 34 km away. I dragged my sorry body back onto the road and managed to muster enough energy to get to Chiclayo and to end of my 212km desert stage.
This may sound like a pretty horrible ordeal but on reflection it was actually a really rewarding part of the journey. Who would have thought I could have stood at the edge of a desert with so many threats and dangers and just fearlessly set off into the unknown? A year ago that would not have happened. I am learning how to tackle problems, I am learning how to deal with fear and I am learning how to motivate myself through difficult times. All this is just self-belief and if that is going to be part of what I take away from this expedition then the whole thing is even more worthwhile. Another thing to take from this is that even when you are alone in a place that is literally desolate and barren of anything, there are always people there to help and assist you - you just need to believe it and look for it.
*****This was added to www.jamieisrunning.com on 10 September 2012****
I am a British Adventure runner who is currently 11,700km into a solo and unsupported run from Vancouver to Buenos Aires. I am running to raise money and awareness for CALM (Male Suicide Prevention), Macmillian (Cancer Care) and WaterAid (Water Provision). You can donate here
You can follow me on Facebook at - www.facebook.com/jamieisrunning - on Twitter at - www.twitter.com/jamieisrunning - on Instagram at - www.instagram.com/jamieisrunning - and on my website - www.jamieisrunning.com
Popular in the Community