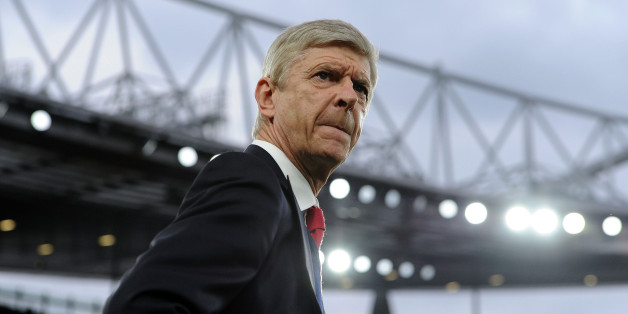 David Price via Getty Images
Arsenal slipped to sixth place in the Premier League standings this weekend after slumping to a 3-1 defeat away at West Brom, putting a top four finish and Champions League qualification in serious jeopardy with only two months of the season left to play.
The Gunners first qualified for the revamped Champions League in 1998 after completing a domestic double in Arsene Wenger's first full season in charge and have been dining at European football's elite table every year since.
It was May 1997 the last time the Gunners didn't make it to the Champions League. The club finished third that season in the days before England, or any country for that matter, was granted the four places taken for granted today, and the world was a very different place.
The internet and social media may dominate the planet in 2017, but in 1997 the 'World Wide Web' was still in its relative infancy. Amazon was only three years old, Google was merely a research project and didn't become a registered domain until September 1997, or an incorporated company until September 1998.
The launch of Facebook was still seven years into the future - Mark Zuckerberg hadn't even started high school at the time. YouTube was eight years away, and Twitter wouldn't go live until 2006, nearly a full decade off. Certainly, nobody in 1997 could have possibly imagined what a 'selfie' was or that you might need a stick to take one.
One-hit wonder trip hop group Olive went top of the UK singles chart with 'You're Not Alone' on the same day the 1996/97 Premier League season finished.
Killed in March 1997, The Notorious BIG's posthumously released single 'Hypnotize' was #1 over in the United States at the time, and Hanson's brilliant but much since maligned 'MMMbop' would then take over charts both sides of the Atlantic Ocean by June.
In Hollywood circles, James Cameron's ultimate historical romance 'Titanic' still hadn't hit cinemas when Arsenal last missed out on the Champions League - Rose and Jack were only introduced to the world at the very end of 1997.
The world had absolutely no idea who Harry Potter or J.K. Rowling were either. A multi-billion pound franchise today, the first book of the iconic series was first published in June 1997.
At that time it was only five years since the European Union was formally brought into existence after the members of the European Community signed the 1992 Maastricht Treaty. Fast forward to 2017 and the EU is starting to creak after the Brexit referendum in the UK and major calls for reform from elsewhere.
20 years ago, Britain had just welcomed Tony Blair's New Labour party into power, enjoying a huge landslide win in the 1997 General Election. It's a far cry from the shambolic and un-electable mess of a Labour party we can witness today.
Rather than being a long since former president of the United States, George W. Bush was still more than three years from entering the White House and was satisfied with his lot as Governor of Texas and part-owner of baseball's Texas Rangers.
The landmark 'Good Friday Agreement' in Northern Ireland's recent political history after decades of the rather euphemistically named 'Troubles' didn't come into being until April 1998. Meanwhile, Hong Kong still belonged to the UK in May 1997. The transfer of sovereignty to China went through two months later in July, effectively marking the end of the 'British Empire'.
In football terms, Arsenal's 1996/97 finish was still a week before Ruud Gullit became the first non-British or Irish manager to win the FA Cup when Chelsea beat Middlesbrough at Wembley. In the years since, only one Scot (Alex Ferguson) and one Englishman (Harry Redknapp) have held the trophy aloft as foreign coaches have more or less dominated.
Rather than being immortalised in statue form outside the Emirates Stadium, Thierry Henry was just a fresh faced youngster in France fast emerging at Monaco. The Emirates of course didn't exist back then, while Cliff Bastin would remain the Gunners' all-time leading goalscorer for another few months until Ian Wright broke his 50-year-old record in September 1997.
The only 'Ronaldo' we knew was a phenomenal youngster from Brazil, while Diego Maradona's playing career was just about still going as a fast declining 37-year-old in a farewell stint back home home with Boca Juniors.
Heavily moneyed in 2017, Manchester City were languishing in the second tier of English football in May 1997 and would even drop in the third tier the following year before beginning their ascent back up the leagues and into the arms of a certain oil-rich Sheikh from Abu Dhabi.
Today's hottest youngsters like Marcus Rashford, Renato Sanches, Christian Pulisic and Kylian Mbappe weren't even born when Arsenal last missed the Champions League. Ousmane Dembele was born in northern France four days after the 1996/97 Premier League season finished.
20 years of Arsene Wenger, 20 years of almost unrivalled consistency for Arsenal in a world that is fast becoming unrecognisable from what it was back in May 1997 at a time when the Gunners last failed to qualify for the Champions League.