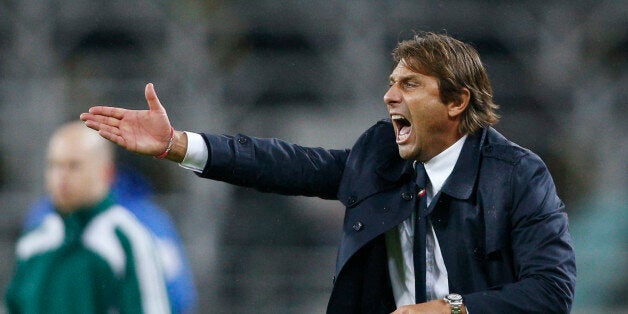 There are two Premier League teams that everyone is talking about as the most serious title contenders right now.
Manchester United are struggling to find consistency, Manchester City are quickly discovering that Pep Guardiola's presence alone doesn't simply guarantee success, Arsenal are still Arsenal, Leicester are, unsurprisingly, nowhere to be seen after last season's fairytale, and Tottenham just don't quite have IT, whatever 'it' might be.
No, the teams on lips are Chelsea and Liverpool after both have wowed audiences to rise to first and second respectively in the league standings after 12 games of the season.
For Chelsea, the rise back to the summit after a latest win over Middlesbrough made it six straight victories in the Premier League with 17 goals scored and none conceded, it has been a long time coming. Not since the Blues lifted the trophy in May 2015 have they sat top of the pile.
Liverpool lead the league in scoring, have some of the most in form attacking players anywhere in Europe right now and are led by one of the most popular and genuinely likeable coaches that English football has ever seen. It's a far cry from struggling to break into the top six.
Both teams have obvious merits and have blown more than a few opponents away this season, but one more than the other has the power to sustain it. And that's Chelsea, not Liverpool.
At this moment in time, what Antonio Conte has done since taking over at Stamford Bridge in the summer seems more lasting.
He's reinvigorated the whole club, stamped his authority on the dressing room by banning things like pizza and fizzy drinks, has put fresh emphasis on fitness, implemented new tactics, improved player discipline and is using every tool at his disposal to ensure that last season's 10th place finish with a team of title winners was a mere blip and no more.
That he has so callously deemed Cesc Fabregas surplus to requirements, isn't using £33m signing Michy Batshuayi just for the sake of it, and has brought Victor Moses back in from the cold to such good effect all speaks volumes of positive and lasting change.
Jurgen Klopp has also done an awful lot at Liverpool in the year he's been in charge, improving the squad no end from the dilute and weak mess left behind by Brendan Rodgers. That must not be forgotten, but the Reds have come from much further back than Chelsea and still have much more to do yet still before they can be considered an elite side.
At base level, with all other things being equal, Chelsea have a better squad of players, better funding and a much more recent history of success that all equates to a more consistent future.
Liverpool have weaknesses that Chelsea do not. Their leaky defence has been their downfall before, and despite new personnel it hasn't particularly improved.
It hasn't hurt them yet this season because of all the goals they've scored going the other way, but 0-0 draws against Manchester United and Southampton have shown that competent defensive performances are capable of stopping them. If their attacking players should fail to perform on any given day, can they rely on their defence to stay strong as a foundation for a scrappy narrow win? Probably not.
Chelsea, on the other hand, do have that strength and resilience. As much as it seemed mad at the time, David Luiz has proven to be a good signing. John Terry is no longer missed and the shift to a back-three has covered up the problems and lack of protection that was there all too clearly only a few weeks before.
Chelsea also have a greater depth of quality to call on. Beyond Philippe Coutinho, Roberto Firmino and Sadio Mane as a front three - does it remind you of Suarez, Sturridge and Sterling in 2014? - there are few places Liverpool can look for inspiration. James Milner is a utility midfielder playing out of position at left-back, while Jordan Henderson is a semi-decent player whose inflated passing statistics have painted a false Xavi-like impression of his qualities.
It all seems more fleeting where Liverpool are concerned. How long before Barcelona make a serious move for Coutinho and things need rebuilding once more as they did when Luis Suarez walked two and a half years ago? Will someone swoop for Firmino or Mane? Or will injury strike and derail any one of them as it did with Sturridge? It's impossible to escape Klopp's record with hamstrings.
Chelsea aren't nervously looking over their shoulder in the same way when it comes to their best players, of which there are more. They are just much better equipped to make this last.
It's always 'Liverpool's year' and then it never is. They might well get close to breaking their long league title drought, very close, even. But you'll never believe they'll go all the way until it actually happens, if it ever does. Chelsea are just different.
For more fan views or to join the conversation visit www.90min.com