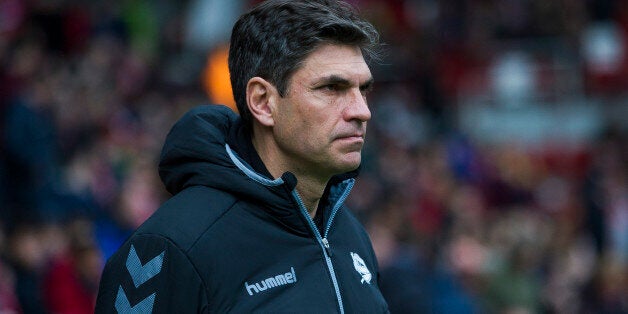 ​New manager Mauricio Pellegrino arrives at Southampton with an impressive résumé to his name and fans at St Mary's can be optimistic that times will continue to be good despite a fifth new boss taking the reins in as many years since the club's return to the top flight in 2012.
Pellegrino spent most of his playing career split between Velez Sarsfield in Argentina, where he won numerous domestic titles, the Copa Libertadores and the Intercontinental Cup, and Valencia, taking La Liga twice, the UEFA Cup and playing in two Champions League finals.
He also had brief playing spells at Barcelona, under the guidance of Louis van Gaal, and Liverpool, where he continued an existing relationship with Rafa Benitez.
As a coach, Pellegrino has worked in four countries to date - England, Italy, Spain and Argentina - and it is perhaps his longstanding connection with Benitez that could determine how he sets up in the Premier League with the Saints in 2017/18.
Having played under Benitez for both Valencia and Liverpool, Pellegrino then took his first coaching job as a member of his mentor's backroom staff at Anfield. He spent two years there before then following Benitez to Italy as an assistant when Inter Milan came calling in 2010.
Pellegrino's Alaves punched above their weight in Spain last season. The newly promoted club finished 9th in the final La Liga table, as well as going on to reach the Copa del Rey final for the first time in their history - they were ultimately defeated by Barcelona.
That involved masterminding a narrow 1-0 aggregate victory over Celta Vigo in the semi-finals, and navigating previous rounds with sound tactical displays - a 0-0 home second leg to preserve a 2-0 aggregate lead against second tier Alcorcon in the quarter finals, for example.
It certainly sounds familiar when one considers how Benitez's Liverpool were the ultimate cup pragmatists on the very biggest stage, winning the 2005 Champions League and subsequently reaching a second final just two years later.
In the league, Pellegrino's Alaves conceded only 43 times and enjoyed a better defensive record than Sevilla and Real Sociedad, clubs who qualified for the Champions League and Europa League respectively. They conceded just thrice more in 38 games than Real Madrid.
That pragmatism, for which Benitez has long been famed, allowed Pellegrino's Alaves to secure as high a league position as they did in spite of what was a very modest attacking output. They managed just 41 league goals over the course of the campaign - only Granada, Osasuna and Leganes scored fewer, with all three of those sides finishing in the bottom four.
Sound tactics always come first and teams in the Benitez model are built on solid defences, and sometimes at the expense of scoring goals if necessary.
Liverpool were outscored by 13th place Fulham in Benitez's debut season in England. The Reds then had the second best defence in the league the following season, conceding only 25 times, but were significantly outscored by Manchester United who finished just a single point better off.
When Benitez guided Valencia to the 2001/02 La Liga title, his team, featuring Pellegrino alongside Roberto Ayala at centre-back, had the meanest defence by far. They were outscored by at least 13 goals by each of the five teams that finished below immediately below and still sealed the title by a significant seven point margin.
But that's not to say that Southampton supporters will necessarily have to put up with bore fests all season with Pellegrino at the helm. When Benitez was blessed with genuine attacking talent he used it, both at Valencia and Liverpool.
That much was clear in 2003/04 when Valencia won La Liga for the second time in three seasons, again with Pellegrino in the side, with the strongest defence, and the second most prolific attack. Striker Mista had emerged and finished third in the individual scoring charts.
Similarly at Liverpool in 2008/09, a freer side with Fernando Torres, Steven Gerrard and Dirk Kuyt all reaching double figures in the Premier League saw the Reds challenge for the title with the most prolific attack in the division, outscoring champions Manchester United by nine.
Again, Napoli generally had much more naturally attacking players when Benitez was in charge and it showed when they led Serie A in goals in 2012/13 and were only outscored by Juventus in 2013/14, all the while maintaining one of the best defensive records.
Although primarily built on solidity, Benitez has always taken advantage and used the tools he has in front of him in the best way he can to get results. Based on the evidence on display last season at Alaves that approach is what Southampton can surely expect from pupil Pellegrino.
With skilled attacking and creative players - Manolo Gabbiadini, Shane Long, Sofiane Boufal, James Ward-Prowse, Dusan Tadic (if he stays) and any possible new signings - on top of a defence that Pellegrino will make his first mission to drill hard, there is every chance the pragmatic approach could make the 2017/18 season a very positive one for Southampton.
"Mauricio believes with the quality we have we can play exciting, attacking football, taking the game to our opponents by playing a high-intensity game," director Les Reed said when the announcement was made, pointing towards exactly that bright future.