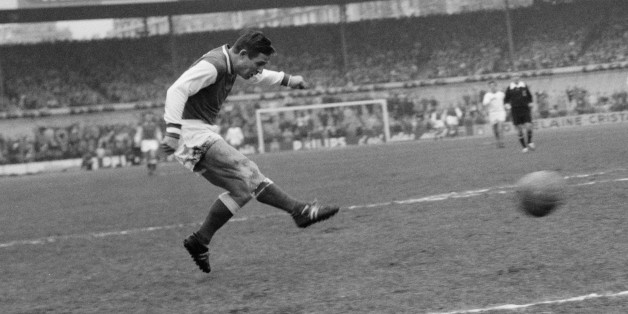 Universal via Getty Images
​He won more Ballons d'Or and played in more European Cup finals than Ferenc Puskas, went to more World Cups than Alfredo Di Stefano and scored more World Cup goals than Sir Bobby Charlton. However, while those and others remain iconic around the world to fans born many years after their respective playing days were over, Raymond Kopa is not a name that has stood the test of time quite so well.
The French legend unfortunately passed away at the age of 85 last week. And while news of his death was widely reported and suitably observed by media outlets, fewer and fewer modern football supporters -those who know all about the likes of Pele - knew very little of Kopa or had even heard of him.
Born to a family of immigrants hailing from Poland, Kopa was originally a coal miner like his father and grandfather from the age of 14 until his professional football career began at Angers in 1949.
The young inside forward, who only stood a little over 5 ft 6 tall, went on to join Stade de Reims in France's top flight just two years later and was a league champion by the age of 22.
Noted as a quick dribbler with deceptive strength who as at ease scoring himself as he was setting up team-mates, Kopa was soon a superstar of his time, claiming a further league title with Reims in 1955 and entering into the inaugural European Cup that was arranged for the following season.
Prior to the 1950s, the club from the north of France had only previously won one French title. But it was Reims that was responsible for the country's first 'Golden Generation' and Kopa was at the leading edge of it. As such, Reims and Kopa progressed all the way to the very first European Cup final in 1956 where they faced Real Madrid.
Ahead three times in the game, only a spirited comeback from the Spaniards denied Reims the trophy and a landmark win that would have altered the course of football history forever.
It was Spanish publication Marca that had earlier given Kopa his nickname of 'Little Napoleon', presumably for the way he ran the game, following an international friendly between France and Spain in 1955 in Madrid - Kopa scored one of the goals in 2-1 French win.
Kopa joined Real in time for the 1956/57 season. As a club player in Spain, his star rose yet further. He was a La Liga champion immediately and was part of the side that claimed the club's second European crown in 1957, this time a 2-0 win over Fiorentina.
Kopa was a European Cup finalist for the third time and winner for the second time in 1958 as Real edged out AC Milan in a five-goal thriller in Brussels. That year then saw him make his mark on the global stage when France finished third at the World Cup.
Only Pele's Brazil prevented Kopa's France from reaching the final. That tournament is now remembered for the emergence of the 17-year-old from South America, while Kopa's France team-mate Just Fontaine set a single tournament goal record that still stands to this day. For that alone, the name 'Fontaine' holds greater meaning these days, but at the time it was Kopa who was very much on top of the world.
Later that year, he became the first French player to win the Ballon d'Or, scooping only the third edition of what was then a new award - Michel Platini (1983, 1984, 1985) and Zinedine Zidane (1998) remain the only other French players to have matched that level of individual recognition nearly 60 years on. Kopa also finished third in 1956 and 1957.
In 1958, Kopa had won his second La Liga title with Real, and was back in the European Cup final again in 1959. It was his fourth final and he was to meet his former club Reims. It was a more straightforward job for Real than it had been three years earlier, buoyed by Kopa in their ranks, as Enrique Mateos and Di Stefano scored early in each half for a 2-0 victory.
In 1998, all 22 members of France's World Cup winning squad and coach Aime Jacquet were awarded Légion d'honneur titles, the country's highest civic merit. Kopa had been the very first footballer in France to be bestowed with such a title as many as 28 years earlier in 1970.
He had returned to France after his third European Cup triumph in 1959, rejoining Reims and helping the club win further national titles in two of his first three seasons back in 1960 and 1962. Further contemporary recognition followed for Kopa and he eventually retired in 1967, already a legend.
For history buffs, he remained that way, one of the first superstars as football on a more international level took off in the decade after the Second World War and undoubtedly one of the all-time greats. For most others, he became another name printed in the pages of books seldom opened.
Raymond Kopa rubbed shoulders with the very best in the world. He was one of them. Perhaps his passing will serve to remind people that he deserves to still be a household name, too.