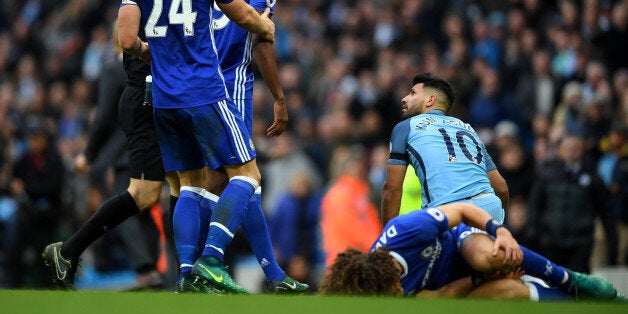 ​Manchester City lost ground in the Premier League title race after Saturday's 3-1 home defeat at the hands of Chelsea. But rather than simply being beaten by a direct rival, the far greater damage came from the late red cards for Sergio Aguero and Fernandinho.
The key pair will now serve four and three game suspensions respectively, meaning City will be without their two most important and influential players at a critical time of the season.
With Aguero banned for games against Leicester, Watford, Arsenal and Hull, City have lost their single biggest goal threat. The Argentine superstar has scored 10 times in 12 Premier League appearances this season and is responsible for 33% of the club's goals.
Expected replacement Kelechi Iheanacho actually has a better goals per minute ratio than Aguero (66 compared to 101), but the raw Nigerian youngster hasn't scored or even started a game since October. He played just 12 minutes of action in November.
Nolito as a 'false 9' is manager Pep Guardiola's other likely replacement option, but the Spaniard signed from Celta Vigo has also been in and out of the team.
Aguero has the kind of innate quality to do things on his own that simply isn't matched by the club's other forwards. He has performed 2.9 dribbles per game in the Premier League. City will have to change their style because they cannot rely on Iheanacho (0.6) or Nolito (0.7) for the same.
Similarly, Aguero has been more willing to shoot this season, striking at goal an average of 5.1 times per game. That figure is 1.9 and 1.6 for Iheanacho and Nolito respectively.
Where the pair can rival Aguero, who has no assists despite his 10 Premier League goals, is with 'key passes'. Iheanacho leads the three with 1.2 per game, while Nolito and Aguero are level on 1. But their ability to create opportunities will have a limited impact if there is no one to finish.
Fernandinho was quickly identified by Guardiola as a vital player in summer and his absence, albeit for one game fewer, may be even more problematic in terms of what City will lose. Fernando or Yaya Toure are primed for a run in the team as a replacement in central midfield, but neither compare with what the suspended Brazilian brings to the role.
Fernandinho has made an average of 71.5 passes per game and is the second most prolific passer in the Premier League as a whole. For Fernando that number is just 27.1, while for Toure it stands at 36. Fernando has made no 'key passes' this season, while Toure has made 0.7 per game. Fernandinho crucially gives an attacking edge to his destructive side with 1.1.
The former Shakhtar Donetsk man is City's leading midfield tackler with 2.8 per game. He is also the leading midfielder when it comes to interceptions with 2.1 per game - only centre-back Nicolas Otamendi has won the ball back more at the club this season.
Toure has made no interceptions and barely any tackles since his return to the fold. Fernando is more suited, but is still more than 1 per game behind Fernandinho in each category.
The one area where both Toure and Fernando can offer an improvement is in terms of being dribbled past. With Fernando in particular, dribbled past 0.3 per games compared to Fernandinho's 1.9, likely to sit deeper, City may have greater defensive protection in midfield. But, even so, it will come with a much more detrimental loss of dynamism and energy.
For more fan views or to join the conversation visit www.90min.com
Popular in the Community