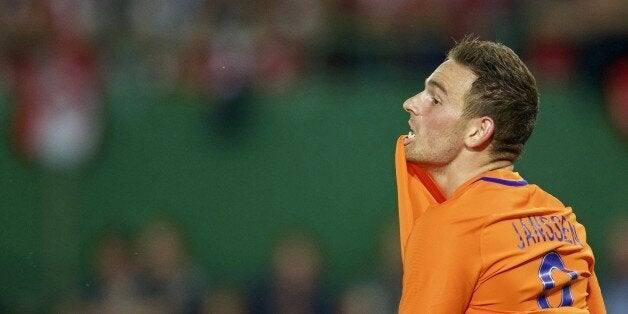 Vincent Janssen is the latest in a long line of Eredivisie top scorers to make the move to the Premier League. After 27 goals for AZ Alkmaar last season there will be big pressure on the 21-year-old to replicate that form in a Tottenham shirt straight away and take some of the burden from Harry Kane.
Here's three former Eredivisie top scorers he'll hope to emulate in England...
Luis Suarez joined Liverpool just over six months after picking up an Eredivisie golden boot for the 2009/10 campaign, moving to Anfield for around £23million in January 2011.
The Uruguayan had scored 35 times in only 33 appearances in his final full season in the Netherlands. And, despite a relatively slow start to life in England, he bagged 23 goals during the 2012/13 campaign, followed by an incredible 31 in 2013/14 as Liverpool narrowly missed out on the title.
Suarez, who has since moved on to even bigger and better things at Barcelona after becoming one of the world's most expensive players, remains one of only seven individuals to have scored 30 or more goals in a single Premier League season.
Following a serious knee injury Ruud van Nistelrooy's British record move to Manchester United was postponed for a year until 2001. But when the two-time Eredivisie top scorer finally arrived he showed no signs of the problem that had threatened his career.
Van Nistelrooy scored 23 times in his debut Premier League campaign and then laughed in the face of the notorious 'second season syndrome' to score 25 the following year and claim the Golden Boot as United wrestled the title back from Arsenal.
The only season he didn't score at least 20 league goals during his time in England came in 2004/05 when injury limited him to only 17 appearances. All in all, he scored 150 times in 219 appearances across every competition during his time at United.
Dennis Bergkamp didn't move directly from the Netherlands to England, taking in a two-year spell at Inter before signing for Arsenal, but the 'non-flying Dutchman' soon became a Premier League legend during 11 incredible years with the Gunners.
Bergkamp, often later described as a scorer of great goals rather than a great goal scorer, was the Eredivisie's most prolific striker for three seasons in a row between 1990 and 1993, sharing the first of those with Brazilian superstar Romario.
He was never quite so prolific with Arsenal, hitting a maximum of 16 Premier League goals in a single season, but if Janssen can have even just half the overall impact that Bergkamp on the other side of north London, he'll be a big success.
Brazilian forward Afonso Alves was scoring more than a goal a game for Heerenveen when he was snapped up by Middlesbrough for a club record fee in January 2008. The season before he'd scored 34 times in 31 Eredivisie games, and was equally prolific in the first half of the 2007/08 campaign.
Alves didn't actually get off to a bad start in England. He scored more than a goal every other game in his first half season but it was it was the following year that things went spectacularly wrong.
The player found the net only four times in the Premier League in 2008/09 as Boro were relegated to the Championship. He was sold on to Al-Sadd in Qatar for a significant loss that summer.
Mateja Kezman arrived at Chelsea in the summer of 2004 with a world of expectation on his young shoulders after leading the Eredivisie scoring charts in three of the previous four seasons - he had scored 66 league goals in 2002/03 and 2003/04 alone.
More of the same was expected at Stamford Bridge, especially because he would continue to link up with chief partner in crime from PSV Eindhoven, Arjen Robben.
Chelsea cruised to a first Premier League title in 50 years under the management of Jose Mourinho, but Kezman's impact was minimal. He scored only four times in 25 appearances and was shipped out to Atletico Madrid after just 12 months, never again to rediscover his old Eredivisie form.
Compared to a young Cristiano Ronaldo, Memphis Depay had first announced himself on the global stage with a few impressive cameo displays at the last World Cup. The winger went on to back that up with 22 Eredivisie goals in 2014/15 to help PSV Eindhoven to a first title in seven years, earning a £25million move to Manchester United.
But despite all the hype, a promising pre-season and good early performances in the Champions League, things just didn't fall into place for Memphis in a United shirt. He scored only twice in 29 appearances and was effectively out of the starting line-up by Christmas.
The one thing still on the 22-year-old's side is time but he has to make a strong, positive and early impression on new boss Jose Mourinho if he's to survive at Old Trafford.
For more fan views or to join the conversation visit www.90min.com
Related