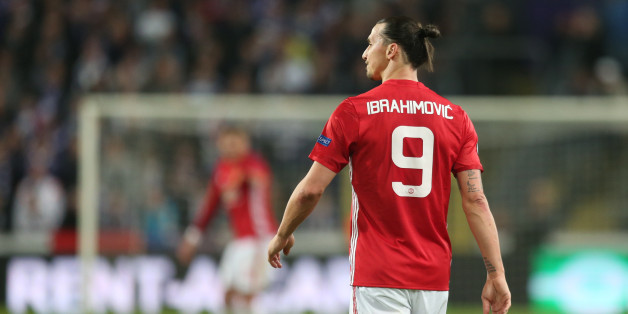 MB Media via Getty Images
A story from one tabloid newspaper over the weekend claimed that Zlatan Ibrahimovic's family is moving out of their rented Cheshire mansion, even though the current terms of the lease won't run out until August.
That, combined with a supposed planned rehab in Sweden, was deemed enough evidence to jump to the conclusion that the veteran's short Manchester United career is now definitely over.
'It's a clear indication Ibrahimovic isn't staying at United,' wrote Steve Bates of the Sunday People. Is it, though? Because this writer doesn't believe that to be the case at all.
Ibrahimovic's future has been up in the air ever since he suffered a potentially career threatening knee injury in a Europa League clash with Anderlecht last month. It required surgery, which the player has already successfully had, and a lengthy period of rehabilitation that will keep him sidelined until January of next year - halfway through the 2017/18 campaign.
The operation was carried out by leading surgeon Dr Freddie Fu of the UPMC Sports Medicine programme in Pittsburgh. From the mouth of Mino Raiola, Ibrahimovic is expected to remain under the watchful eye of Fu and partner Dr Volker Musahl throughout his rehab.
Further rumours claim that he will also return to hometown Malmo, where he maintains a family home, as he works through the initial stages of his recovery, suggesting that his time over the coming months will therefore be split between the United States and Sweden.
In light of that, of course his family would give up their rented house in England more or less immediately as there is nothing to keep them there. The Ibrahimovic clan have no ties to the region or country that extend beyond the last few months and it is only natural that his wife and children would return home to Sweden or go to Pittsburgh, wherever Zlatan plans to be.
There is no causal link between that action and Ibrahimovic's future as a footballer. Should a new house be required next season a new arrangement will be made, but there's no point continuing to pay for it now and extending the lease when it wouldn't actually be lived in for another seven months.
The 35-year-old will officially be released as a free agent by United at the end of the season. That much is quite clear, but it doesn't mean his Old Trafford chapter is over. Far from it, in fact.
We know that his injury was not career threatening, as first feared. We also know that Ibrahimovic has claimed he now feels stronger after going under the knife, while Raiola has since additionally claimed that the affected knee is so clean and healthy the medical team in Pittsburgh actually want to study him further.
Quite how true Raiola's declaration is remains to be seen, but the point about making a return to the level that he was previously at still stands up. This is a player who has shown that age has actually served to improve him over time rather than slow him down - he's played the best football of his career since turning 30 and would hope to pick up from where he left off.
Gossip in April suggested that Ibrahimovic had turned down a 12 month extension to his existing £13m United contract on the basis that he didn't want to take the money while injured and unable to repay it on the pitch. Further updates last week revealed that United have opened their doors for him to resume training at their Carrington base when he is ready.
There seems to be a clearly defined path developing. Zlatan will leave Old Trafford as a free agent in June, but he won't do so to sign with another club. Possibly even with some kind of verbal agreement already in place, he'll remain a free agent until a time when he is fit enough to start playing again and will likely sign a short-term deal with United until the end of the 2017/18 season. It's the increasingly obvious choice.
We know that Ibrahimovic never backs away from a challenge and returning to the top level, especially a building club like United, is now the ultimate challenge.
"I'm a person when I go into something I put my head 200 per cent, and I do what I'm good at. I go in, I go for the kill and I go out. And when I go out there is no complaints, that's what I do. I never leave a job unfinished," he said in March.
He was speaking about his future in a different context then, but the words are still very much applicable to this new situation as well, perhaps even more so now.
When Zlatan Ibrahimovic next pulls on a football shirt, it won't be LA Galaxy, LA FC or a random Chinese Super League club, it will be Manchester United.