There's only one episode left of Better Call Saul - sad face - and it's got me all nostalgic about the time I met Breaking Bad's RJ Mitte AKA Walt Jr (AKA Flynn). Actually, when I say 'nostalgic', it was only actually a couple of weeks ago, I just don't get out very much. Anyway enough of my sad existence, we were meeting to have a chat for my Comedy Central UK interview show, Whenever!
Fans of the Breaking Bad will know that Walt Jr loved him some breakfast. Whilst his dad was Breaking Bad, he was eating good! So it made total sense to take RJ for a stroll down London's Brick Lane to visit the 'Cereal Killer Cafe' , which is apparently the UK's only cereal bar (it probably is). And I'm happy to report that Mitte's enthusiasm for the most important meal of the day lived up to his characters, to the point where he even ended up putting in a turn behind the counter to serve cereal to hungry hipsters.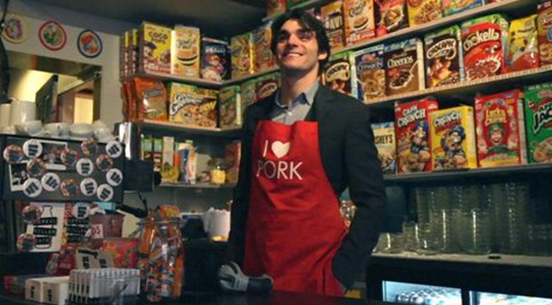 It's another string to add to the bow of a young actor who has refused to be typecast. Despite starring in one of the most successful shows of the last decade, Mitte has decided that he's got more to his repertoire than playing confused/annoyed teenagers (unlike Michael Cera from Arrested Development) and his most recent work includes playing a bodyguard (Nikki Lorenzo: Work That Charm), the lead in Who's Driving Doug and a strip club manager in upcoming crime drama Dixieland. He's also a model, a DJ ("Breaking Beats"), and when he's not doing all that he's traveling the world to raise awareness of disabilities in the work place. He's finally proving that some men can multi task.
RJ has cerebral palsy, like his character, although his is a less severe case, for example in real life he doesn't need crutches. However, he did reveal to me that he 'stole' the crutches after shooting the final season! In fact, at first Breaking Bad creator Vince Gilligan felt that RJ's condition wasn't pronounced enough to earn him the role, meaning that he had to revisit his earlier struggles in life to exaggerate enough to earn him the part. It's incredible to hear him describe his disability as an "ability", he credits his marine grandfather for teaching him that there's "no such thing as can't", and this positivity has led to him working with the charity Scope and speaking at universities all around the world.
He's also a lot of fun, and something we like to do with Whenever! is get our guest to do something outside of their comfort zone - we've had Slash performing in a retirement home, Professor Green fearing that he might be a werewolf (with Dr Karl Kennedy from Neighbours diagnosing him), Hodor from Game of Thrones actually refusing to say Hodor, and Dappy trying to find a new audience by reinventing himself as Lord Dappington of Camden. No, your eyes do not deceive you!
Which brings me back to the impending Better Call Saul season finale and the fact that Tuesdays will never be the same again. So, we thought it'd be fun to imagine what Walt Jr's Breaking Bad spin-off might be like. Following in the tradition of great TV sitcom spin-offs such as Mork & Mindy, Frasier and Joey, we filmed a trailer for a potential sitcom showing RJ as a breakfast café manager! There's meth in the cereal, he fires a member of staff for selling vegetarian-bacon, and he eats all the profits himself because he's so addicted to breakfast! Anyway, you can watch it for yourself by clicking below. You're welcome.
Whilst we'll probably never see a fully-fledged Walt Jr sitcom, it did get the team and I thinking about some other Breaking Bad spin-offs... that'll also never see the light of day.
After cooking the books at Beneke Fabricators, what next for "Mr Grabby-Hands" himself?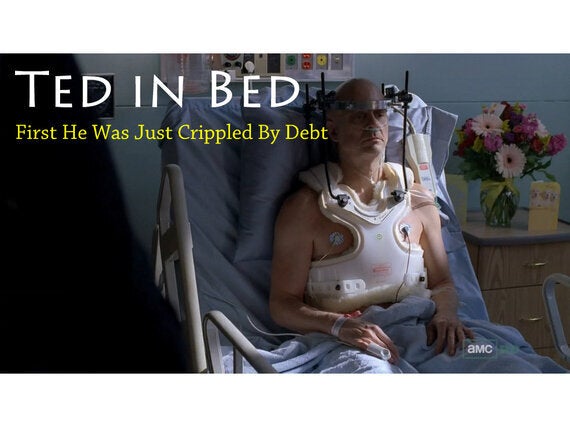 What happened next to Hector Salamanca's bell? Did it settle for a simple life sat upon a reception desk, or maybe surviving a bomb blast gave it a taste for danger, setting out on a new career as a super hero.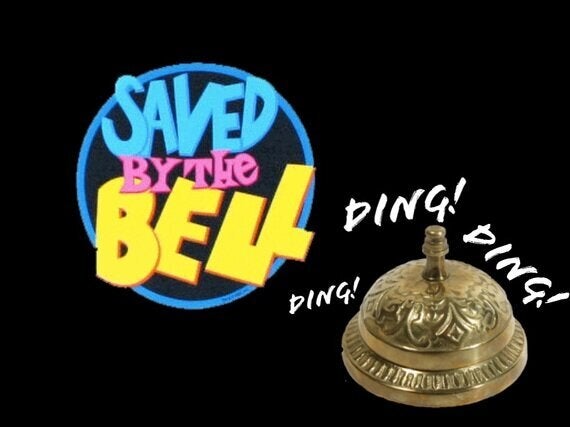 Everybody's favourite DEA agent comes back as a crime fighting ghost!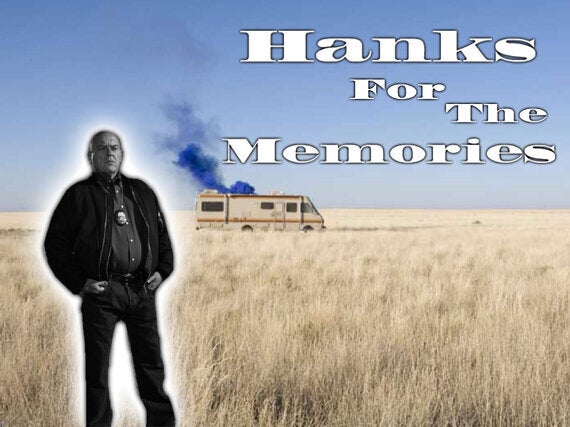 What's that Vince Gilligan? You're not interested?! Well, in the words of Walt Jr,/Flynn himself - This is b-b-b-bull shit!!
Whenever! is live over at www.comedycentral.co.uk/whenever