As London Fashion Week opens, Animal Defenders International has launched the ultimate accessory for those looking to put compassion at the heart of fashion.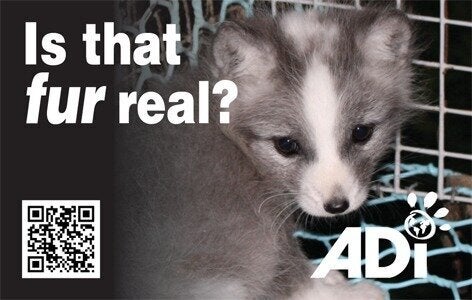 Our new design features a young fox - one of the millions of animals farmed for fur each year - and through our fashionable friends this handy card will alert designers, retailers and shoppers of the pain behind products featuring real fur.
Despite fashion's continuous evolution, a number of designers have doggedly clung to their use of fur and will, once again, be showcasing their deadly creations during London Fashion Week. They include Joseph, Mulberry, Paul Smith, Burberry, Tom Ford, Matthew Williamson and Julian McDonald.
Once seen as the ultimate symbol of wealth and glamour, fur is now quite rightly reviled by most, who know the reality of this highly unethical trade. Yet more fur is creeping back onto the catwalk and our high street as the industry rebrands itself, glossing over the brutal reality with the assurance of so-called 'ethical' certifications.
Our investigations have revealed the true horror of animals farmed for fur. We went undercover in 30 fur farms across Finland - a major fur producer -including those 'certified' by the Finnish government.
In scenes that could only be considered as categorically unethical, we found animals - like the young fox featured on our card - with open infected wounds, hideously overgrown gums which made eating and drinking difficult, deformed legs, infected or missing eyes, and chewed off tails. The barren cages in which they were kept were dilapidated and dangerous, with babies becoming caught in the mesh flooring.
It was impossible to distinguish the 'certified' farms as there was little difference in the animals' shocking conditions.
This is the grim reality of fur.
No matter how you dress it up, that fur coat, bag, accessory or trim is the product of a lifetime of unimaginable suffering and a painful death for the animals involved. The fur industry inflicts this suffering on millions each and every year.
It doesn't have to be this way. There are better, kinder alternatives to fur so please always make it fake and order ADI's 'Is that fur real?' card to let others know about these victims of fashion.
'Is that fur real?' cards are available from ADI at info@ad-international.org. Find out more about the fur industry: www.ad-international.org/fur