Over the last couple of weeks there has been a lot of media discussion about 'lad culture' and how it affects female students, sparked by the publication of a National Union of Students (NUS) report revealing a culture of harassment, sexism and 'laddism' at university campuses.
'Lad culture' refers to errant display of adolescent-inspired masculinity, diffused through 'pack' mentality of heavy alcohol consumption, sexist 'banter' and worse - sexual harassment.
"I don't know anyone, any of my female friends who haven't had some kind of encounter that was harassment whether it be verbal or physical since they've been at university."
As if to confirm these findings, the London School of Economics rugby club was caught distributing misogynistic leaflets to prospective members at the beginning of the new academic year last week. The club was promptly disbanded.
I was at university in 1999 - 2002, and I cannot say I have ever been harassed or even just made feel uncomfortable. Granted, we drank too much and too often, we wore skimpy outfits to fancy dress parties and went out 'on the pull'. There was a bit of 'pack' mentality, there was aspiration to 'belong' but I cannot recall anything beyond ordinary adolescent behaviour of both male and female students, striving to 'fit in' and make the most of their first 'independent' years away from family homes.
I played football and basketball, rowed, worked as a waitress at my College canteen and was busy learning about price elasticity of demand and market equilibrium. My concise English-Russian dictionary could not help me define specialist economic terms and neither were there entries for "minger" or "lad". Perhaps I cruised through 'lad culture' at university but I like to think today's phenomenon is previously unprecedented.
I am guilty as charged. Throughout my career in the City my aspiration was to be 'one of the lads'. That meant dressing like one (always shirts and suits, never a dress or a cardigan), drinking like one (a pint, please) and living by 'work hard, play hard' mantra. It was an insult to be considered 'girly', and I was ambitiously imitating male investment bankers, in the absence of female role models.
Looking back, I question myself. Why was it so important to maintain a poker face, listening to 'lads' discussing their trips to strip clubs, fantasising about a 'fit' secretary or setting a wager on whether a female colleague would make it through the next round of redundancies? Why did I start drinking pints? Why was I so particular about double-cuffed shirts?
In the world where junior bankers were made to work hundred hour weeks, where leaving the office at 9pm was considered lucky, where Red Bull was replacing exercise, natural sunlight, home-cooked food and, of course, sleep, I was on track to fit in perfectly well with the ubiquitous grey suits.
It is only now that I understand how and why it happened. The answer is simple: there were no female role models in the vicinity. Most women in my bank were junior and they took care to behave like 'one of the lads'. Senior women were few and far between. One senior woman in my team was simply unavailable to mentor junior female bankers. Another senior woman on another team was intimidating rather than inspiring.
In January 2014 at a Ladies Who Impress event I interviewed one of the most inspiring women I have ever met, Helena Morrissey, CEO of Newton and founder of the 30% Club. She was eloquent, appeared incredibly approachable and genuinely inspiring. Morrissey talked about her career at Newton rising to become the fund's Chief Executive. She addressed her experience of office politics, how she put herself forward and was not intimidated to make herself heard and earn respect in the boardroom, whilst also maintaining the importance of family and social life (she has nine children). I have left the City in 2009, but I could not help but think that with Helena Morrissey as my mentor or just a visible role model, my career might have taken on a different path. I am certain my aspirations would not have been confined to imitating men.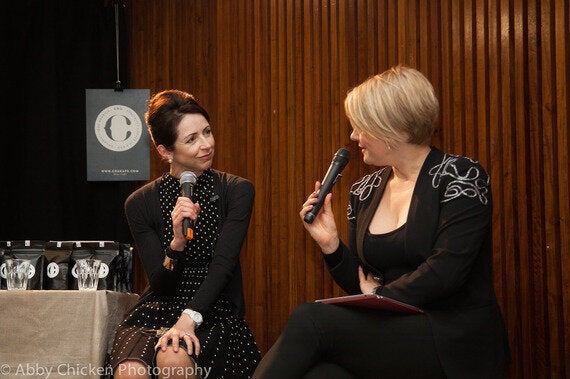 Last month at an alumni gathering in London I listened to a talk by Jane Platt, Chief Executive of National Savings and Investments. Platt shared her experiences as a fund manager in the City where she built a successful career in a male-dominated environment, serving as Chief Executive of Barclays Stockbrokers before moving to Reuters as President of their global division, Services for Asset Managers, and finally accepting the top role at National Savings and Investments. Calm and inspirational, Platt too drew a picture of a career in finance which celebrated merit and experience not being 'one of the lads'.
It is with benefit of meeting and listening to talented, successful and grounded women that I can confidently say that pitfalls of 'lad culture' at universities or at work can be avoided if only we did more to celebrate female role models and put them into the spotlight for the benefit of both young women and men at the beginning of their careers.