In May 2014 The Sunday Times magazine published its annual Rich List, and, predictably enough, it was dominated by men. The magazine has helpfully drawn a few tables, highlighting the most generous charity and political donors, the wealthiest aristocrats, the music and fashion millionaires and even a pie chart of the richest Britons by their star signs, but somehow they did not think of showcasing women. Many women are listed as wives or as family members who inherited a fortune from previous generations but what I was looking for is something putting spotlight on women and their financial success.
There is, in fact, no shortage of British women who made their money through business. Tamara Mellon, left Jimmy Choo shoe business to start her own fashion label. Her net worth is estimated by The Sunday Times at £180 million. Joanne Rowling increased her wealth by an estimated £10 million last year to a total of £570 million from Harry Potter royalties and merchandising.
Whilst the Rich List is dominated by men, it is by no means an indication that British business success is a men's club. Over the past 12 months, I've met and interviewed dozens of female entrepreneurs at the helm of British start-ups. Their ideas and activities are diverse and are not limited to "lifestyle" or predictably female interests.
Kathryn Parsons is one of the founders of Decoded, a business on a mission of "digital enlightenment" offering one-day coding and data intelligence courses to help business executives and entrepreneurs understand the language of programming so that they can "build an app in a day" or actively participate in engineering of online applications of their business.
Emily Brooke launched Blaze, a brand of helpful products for urban cyclists. She invented Laserlight, a bike light which projects a laser image onto the road ahead, warning large vehicles of the approaching bicycle, preventing drivers from turning across their paths. Emily studied Physics then product design before starting a company and learning the ropes of entrepreneurship.
Alex Depledge and her two friends founded Hassle.com, a website helping Londoners connect with local services providers. They started with cleaners: one can find a vetted local cleaner and pay for the service £10 an hour with no hassle via the website.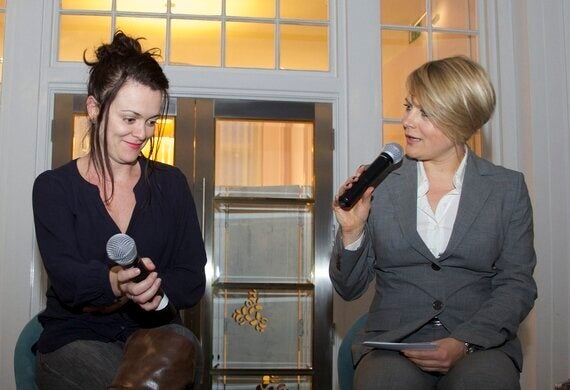 Alex Depledge and Jana Bakunina © Clare Stuart-Adams
The reason I care so much about showcasing successful businesswomen is because they inspire other women to feel more confident, set higher goals and challenge themselves. By relating to female role models, women can feel that they too can reach new heights with a bit of hard work, passion and determination.
If The Sunday Times editor bothered with analysis of the wealthiest Britons by star signs (the distribution is almost perfectly homogenous, I must add), then I'd like to put women into the spotlight here. And rather than count their money or reveal their star signs, I'd rather show that successful women are very ordinary, they have the same inhibitions and worries as you and me. Alex Depledge was telling me of her lack of confidence when meeting potential investors into the company. She said: "I felt like an impostor in front of them, but I just had to pull myself together." It takes courage and an act of will to soldier on, and this is what women are brilliant at. With Hassle securing a round of funding and growing rapidly, it pays to recognise that it is Alex who is taking one day at a time and tackling each challenge as it comes in the background.
Another inspiring example is Nadine Mortimer-Smith who had a successful career in the City before taking a "leap of faith" and re-training to become an opera singer. With her background in finance, she treated herself as a "project" estimating the time and the money it would take for her to get to the stage where her investment would pay off. Today Nadine is an award-winning soprano in increasing demand on both the operatic stage and the concert platform, having appeared in the Royal Festival Hall, the Royal Opera House and with Opéra National de Lyon. Many women would relate to the dilemma of whether radical career change is a sensible goal to pursue, but most would be encouraged by Nadine's incredible, but genuinely inspiring story.
The reason I champion daring, ingenious women is because their stories make me feel that I too can make the most of my talents, aim higher and dream bigger. Let's celebrate women and get inspired to challenge ourselves.