For previous generations a honeymoon promised little more than a hotel on a beach and the hope that housekeeping wouldn't knock too early in the morning. And that was fine for love-struck couples who probably hadn't yet experienced the ups and downs of living together.
Today's generation of honeymooners is very different. Typically, they have co-habited for many years and enjoyed a string of exotic holidays. So it's no surprise that many are looking for a different kind of thrill.
According to UK tour operators, increasing numbers of couples heading on honeymoon are demanding adventure rather than rose petals sprinkled on the bed cover. They still want romance, but they want a good dose of adrenalin mixed in.
Here's my selection of the best adventure honeymoons.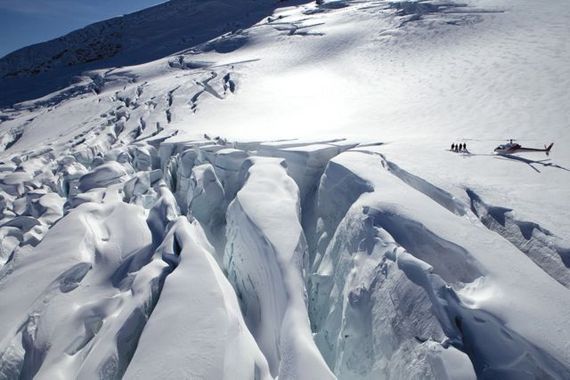 Heli-skiing in New Zealand
You may have been skiing in the Alps, but head to New Zealand for some incredible heli-skiing amid jaw-dropping scenery. The season runs from June to October, promising powdery snow and sunny blue skies. Couples can ski up to four mountains in one day with a private helicopter to take you and your private instructor / guide to the best slopes.
Extend your trip with a few nights in Queenstown, hailed as the adventure capital of the world with white-water rafting, bungee jumping, jet boating along the Dart River and mountain biking.
How much?
Exsus offers seven nights from £2,350 per person including flights, transfers and luxury hotel accommodation. Heli-skiing is an additional £1,875 per person including lift passes and lunch.
Learn to dive in St Lucia
There's little to beat the sense of mutual trust - and achievement - from learning to scuba dive together. You can be dive buddies for life! The delightful Anse Chastanet hotel in St Lucia offers couples a Romance Below and Beyond experience - a shared beginners course just for the two of you - and your instructor. You can even leave your honeymoon with a PADI Open Water certification after a five-day course.
How much?
A week at Anse Chastanet costs from £1,595 per person half-board including flights and transfers with Caribtours. The beginner's course, including a DVD, costs $375 (approx. £220 plus 10% service charge and 10% VAT).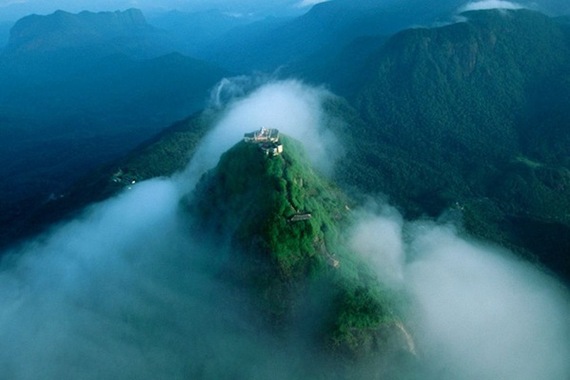 Climb Adam's Peak in Sri Lanka
The classic two-centre honeymoon of Sri Lanka and the Maldives combines culture, wildlife and adventure with plenty of R&R on the beach after your adventures. For added spice and a physical challenge, you can climb Adam's Peak in Sri Lanka - it's an adrenalin-packed six-hour climb undertaken at night in the company of a local guide.
See the sun rise from the mythical mountain peak as you enjoy a champagne breakfast - an experience that you'll reminisce about throughout your married life. Other Sri Lanka activities include wildlife safaris in Yala National Park and climbing the rock fortress of Sigiriya.
How much?
Barefoot Traveller offers a two-week honeymoon combining a week in Sri Lanka and a week in the Maldives from £2,779 per person including half-board in Sri Lanka and B&B in a luxury resort in the Maldives, flights, transfers and sight seeing. The Adam's Peak climb costs an additional £65 each.
Sea-kayaking in Turkey
Take to the water on a sea-kayaking safari along Turkey's deserted Lycian coastline from Ucagiz to Aperlai, exploring ancient ruins, sarcophagi and medieval towns and villages from the water and camping on a deserted wild beach. At the end of your two-day sea kayak safari, retreat to a luxury pool house at the boutique Deniz Feneri Lighthouse and relax in your private pool with views over the Aegean Sea.
How much?
Exclusive Escapes offers a two-day sea-kayaking safari and overnight wild camp from £220 per person including all meals. Seven nights' B&B in a pool house at Deniz Feneri Lighthouse costs from £1,425 per person including return flights, transfers and a day's gulet cruise.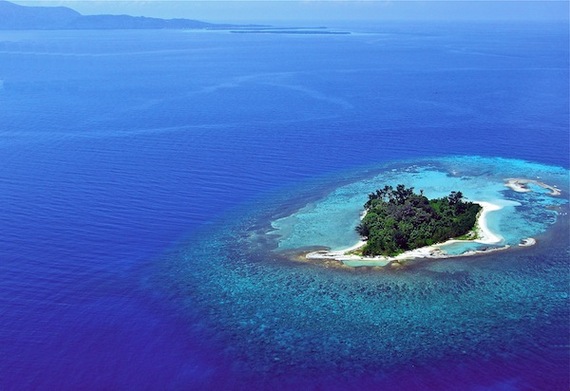 A real desert island in Indonesia
Make like Robinson Crusoe in the middle of the Karimunjawa Archipelago, between the Indonesian islands of Java and Borneo. From Kura Kura private island, home to a gorgeous barefoot resort, you can arrange a boat to take you to Krakal Island for a back-to-basics stay in total isolation. There's no electricity or kitchen facilities on the island - light is provided by lamps and candles. Kura Kura guests can hike up to the incredible crater-lake of Rinjani Volcano, one of the highest volcanoes in the eastern hemisphere.
How much?
Black Tomato offers an 11-night honeymoon to Indonesia including a stay on Krakal Island from £3,679 per person including flights, half-board accommodation, activities, and transfers.
Hang-gliding in Andalucia
How does a honeymoon in a traditional gypsy wagon, spiced up with a free hang-gliding flight grab you? Casa del Mundo is home to a handful of charming and characterful gypsy wagons, each individually furnished to reflect a different part of the world from the Bosphorus to the Punjab, Zambia to Sumatra. The Alicante coast is nearby with scuba diving on offer or head for the hills for hiking or horse rising, try the local Via Ferrata or go caving.
How much?
Canopy & Stars offers stays at Casa del Mundo from £51 per room per night on a self-catering basis. Hang-gliding costs about £40 per person including a film to take home. Flights to Alicante are not included.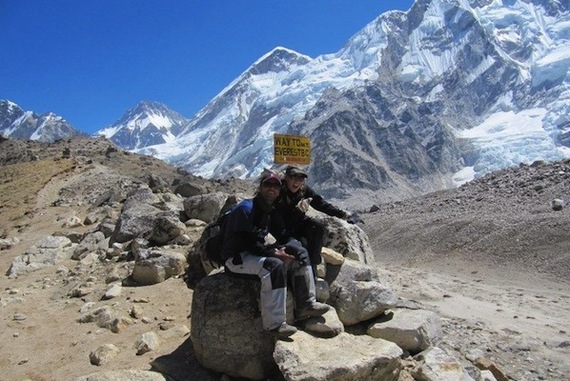 Trekking in Nepal
It's challenging and not for the faint-hearted but a trek to the 'Roof of the World' in the Himalaya Mountains is hard to top. You'll view Mount Everest itself and combine sheer hard physical effort with stays in comfortable trekking lodges and hotels wherever possible.
How much?
Audley Travel offers 18 nights from around £4,000 per person including all meals on the 10-day trek, guide, porters, flights, transfers and excursions in Kathmandu.
Elephant Caravan in Laos
Love elephants? Book an unforgettable honeymoon centred around the Elephant Conservation Center in Laos, reached only by small boat. You will not only can go trekking on elephant back but will also learn about the work of the resident vets, Mahouts and villagers in caring for these animals, many of whom are recovering from logging-related injuries. Help with bathing and feeding the animals, and stay in camps each night.
How much?
Selective Asia offers five-days from £1,440 per person beginning and ending in Luang Prabang. Stay-on options include the beaches of Thailand or Vietnam.
Climb Mount Kilimanjaro
Imagine the sense of achievement and bragging rights when you get back home - spend six days climbing up to Uhuru Peak atop Kilimanjaro, the highest point in Africa. You don't need to be an experienced climber on the Rongai route, a more gentle option than some and you will be accompanied throughout by expert guides and porters. Catch your breath afterwards with on a beautiful beach at Kenya's Breezes Beach Club.
How much?
Rainbow Tours offers the 7-night Kili experience and 4 nights on the beach in Zanzibar from £3,300 per person including flights, accommodation, transfers and some meals.
Pacuare Lodge in Costa Rica
Accessible only by raft, Pacuare Lodge in Costa Rica has managed to combine a hidden rainforest setting with all the comforts of a luxury hotel. Best described as an idyllic riverside jungle lodge, there are myriad rainforest activities to enjoy before returning to your stylish palm-thatched cabin for an evening of fine wine and excellent food. White-water rafting, zip-wiring, kayaking and hiking to visit the indigenous Cabecar community are some of the highlights.
How much?
I-escape offers rooms from £333 per night on an all-inclusive adventure package. Flights are not included.
Tiger safari in India
Explore the Indian jungles - both leafy and urban - on this spectacular safari honeymoon. Explore pulsating Delhi and Mumbai as well as visiting the Taj Mahal, before heading to four of central India's wildest national parks for the chance to see the Royal Bengal Tiger and other wildlife.
How much? A 14-night private tour costs around £2,500 per person excluding international flights with Enchanting India.
Orlando
You don't have to head out to the wilds for an adrenaline rush. Hole up in the Disney Grand Floridian Resort & Spa as you plan which theme park rides to enjoy each day. Highly recommended for thrills and spills are the Hollywood Rip Ride Rockit rollercoaster, the new Transformers The Ride-3D and The Amazing Adventures of Spider-Man (which includes a virtual 400ft freefall experience) - all at Universal Florida, Orlando. If you're honeymooning in 2015, head to Busch Gardens for Falcons Fury - it will be the tallest freestanding drop tower in North America.
How much?
Seven nights at Disney's Grand Floridian Resort & Spa costs from £1,189 per person including flights and transfers with American Sky.