If you're planning a wedding in the near - or distant - future, take a tip from a celebrity: the rich and famous don't always pick the most lavish locations. Instead, they tend to seek out unique venues far from the madding crowds (and the prying lenses of the paparazzi). Here are 10 of the most desirable celebrity wedding venues - and how to book a room there for yourselves.
Provence, South of France
Keira Knightley married musician James Righton in a gorgeous low-key wedding in the south of France. The vows took place in the town hall of the hilltop village of Mazan followed by a reception in a £3million farmhouse owned by the bride's family. Kiera wore a strapless tulle dress, cropped Chanel boucle jacket, ballet pumps and sunglasses. Some guests stayed in Chateau de Mazan, a five-star hotel, once home to the Marquis de Sade, where rooms start at just €157 in high season.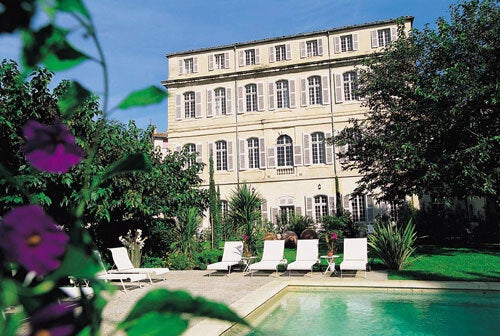 Chateau de Mazan (Photo: Chateau de Mazan)
American actress, model and singer Kate Bosworth married her long-term boyfriend, director Michael Polish, at The Ranch at Rock Creek in the mountains of Montana. Some guests stayed in rooms at the property's Granite Lodge while others slept under canvas in tented cabins in the grounds. On her wedding day, the bride switched between two custom-made gowns by Oscar de la Renta.
Actress Emily Blunt and American TV actor John Krasinski wed at a private outdoor ceremony at the palatial Villa d'Este on the shores of Lake Como. The newlyweds stayed at George Clooney's luxurious lakeside pad in the run up to their big day. Rooms at Villa d'Este start at €440.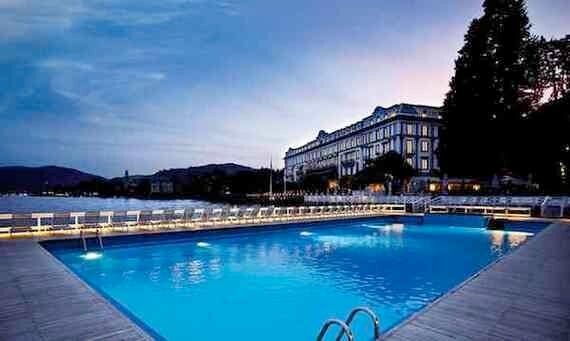 Villa d'Este (Photo: Villa d'Este)
Hollywood highflyers Justin Timberlake and Jessica Biel wed at Borgo Egnazia, a sumptuous country hotel in Puglia in the south of Italy. As befits his musical talents, Justin serenaded Jessica with a song specially written for her as she walked down the aisle in a spectacular pink Giambattista Valli gown.
Anne Hathaway and Adam Shulman's nature-inspired wedding took place on a private estate in Big Sur on California's Pacific Coast Highway after a rehearsal dinner the previous night at the Ventana Inn and Spa. The bride wore Valentino and the guests danced the night away to a San Francisco-based jazz band. Rooms at the inn cost from £526 including taxes.
Turks & Caicos Islands, Caribbean
Actors Ben Affleck and Jennifer Garner tied the knot in style at Parrot Cay, a private island resort in the Turks & Caicos Islands. The happy couple spent their wedding night on this luxury island in a lavish villa belonging to fellow actor Bruce Willis.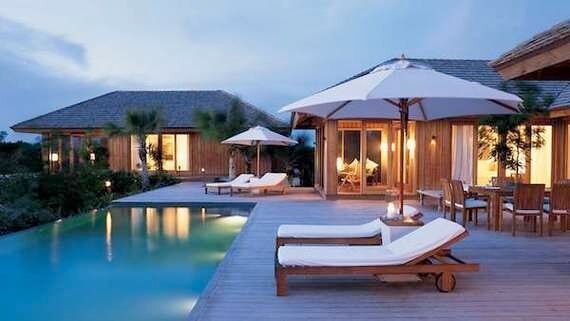 Parrot Cay (Photo: Como Hotels and Resorts)
Great Smoky Mountains, USA
Grammy-winning country singer Kelly Clarkson and Brandon Blackstock's rustic chic wedding took place at Blackberry Farm in the Great Smoky Mountains just outside Nashville, Tennessee. The singer wore a floor-length lace dress by Alice Temperley and carried a sunflower bouquet. Rooms at Blackberry Farm cost from £530.
Christina Ricci married long-term boyfriend James Heerdegen at the elegant Harold Pratt House and Peterson Hall on Manhattan's Upper East Side. She wore a Givenchy haute couture gown.
Russell Brand and Katy Perry headed to the Indian state of Rajasthan for their lavish six-day wedding celebration, which included a Hindu ceremony, elephants, drummers and a luxury tent at the Aman-i-Khas resort outside the Ranthambhore Tiger Sanctuary. Sadly, the marriage lasted just 14 months. Nightly rates at the resort cost £595 plus taxes.
British Virgin Islands, Caribbean
Holly Branson (daughter of Sir Richard) married shipbroker Fred Andrews at her father's private island in the British Virgin Islands, Necker Island. Holly chose the same spot and wedding date (20 December) as her parents.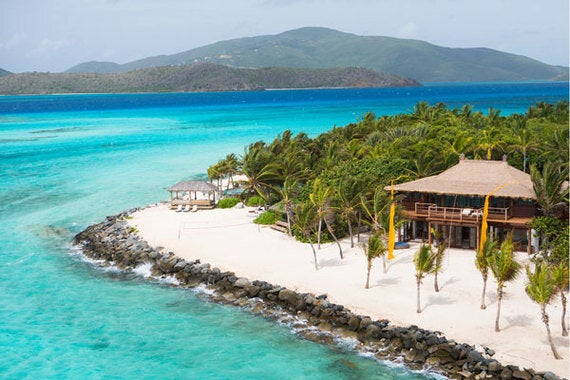 Necker Island (Photo: Virgin Limited Edition)