If you're planning to tie the knot in 2015, your first thought might be a luxury hotel on a beach. But in a world where many couples have already travelled extensively, there's a search for something with more pizazz. More of a "wow" factor. Here, I check in with some of the UK's leading tour operators to find the key honeymoon trends to follow in the next 12 months.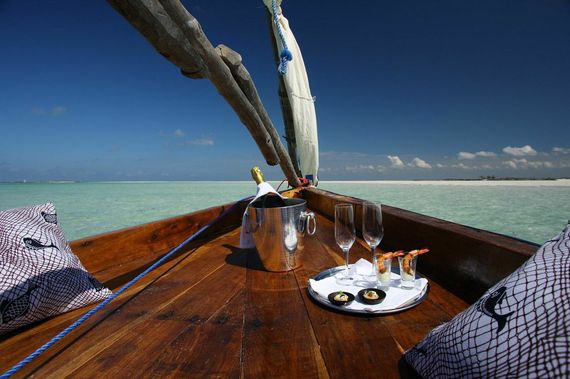 Mozambique. Photo: Original Travel
Cool combos
Adventurous young couples are looking to create interesting combinations of destinations. Tom Barber, founder of Original Travel, says: "Very popular combos at present are Japan and Hawaii (seriously!) and Botswana and Mozambique for the ultimate bush and beach." Another way to create exciting mashups is to fly via Paris or Amsterdam to a former French or Dutch colony that can't be reached directly from the UK. For example, spend a romantic few nights in Paris (by Eurostar perhaps) and then fly to the exclusive island of St Barts in the Caribbean.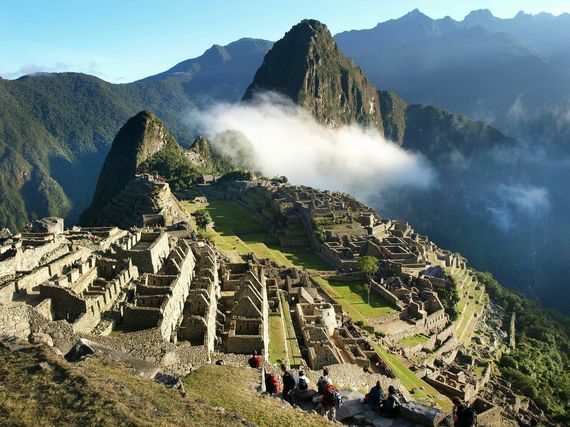 Machu Picchu. Photo: Abercrombie & Kent
Adventure-moons
More and more newlyweds are turning their backs on conventional fly-and-flop honeymoons, instead looking for a more adventurous and fulfilling way to start off married life. For some, there is a need for a full-on activity break, whilst others enjoy some time out at the end of their trip, enjoying the R&R all the more having earned it. Kerry Golds, of Abercrombie & Kent, says: "Adventure-moons are increasing at a phenomenal rate, with couples looking to tick off bucket list trips such as trekking to Machu Picchu in Peru, cycling coast to coast in New Zealand or riding a Harley-Davidson across the USA."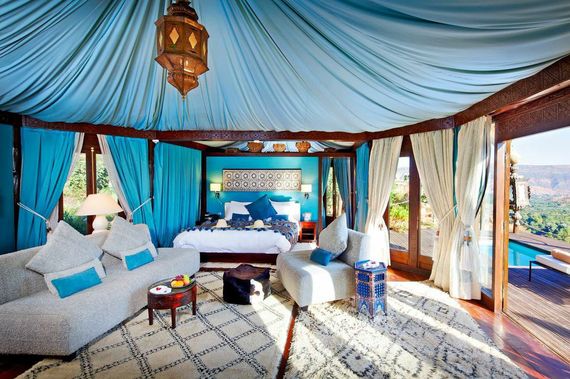 Kasbah Tamadot Berber tented suite. Photo: Classic Collection
Mini-moons
Time-poor couples are increasingly opting for a short indulgent break immediately after the wedding, perhaps followed by a longer trip later in the year. Hannah Saville, of Classic Collection, says: "Morocco is a popular mini-moon choice. We recommend a couple of nights at Sir Richard Branson's Kasbah Tamadot, a sensational mountain hideaway in the Atlas Mountains. Opt for a Berber tented suite with an open-air whirlpool Jacuzzi overlooking the mountains followed by a night or two at La Sultana Marrakech, with its intimate spa."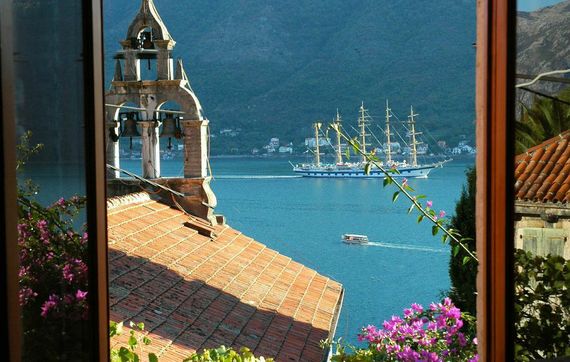 Montenegro: Photo: i-escape
Unusual destinations
Rather than picking conventional destinations, some couples are opting for less obvious alternatives. For example, Montenegro and Malta rather than Sardinia or the Amalfi coast. Liz Simpson, of i-escape, says, "Couples are also seeking new parts of old-favourite countries. In Sri Lanka for example, it was once all about Bentota and Galle. Now there are exciting honeymoon openings in the Cultural Triangle. The focus in India was on Rajasthan, but now areas like Tamil Nadu and Madhya Pradesh are all the rage. Vietnam hotspots have shifted from Nha Trang and Danang to off-the-beaten-track places like Phu Quoc or Nam Hai."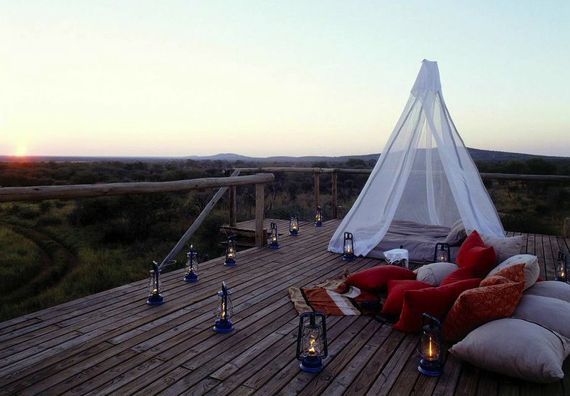 Makanyane Safari Lodge. Photo: Turquoise Holidays
Once in a lifetime romance
Every now and then a truly remarkable itinerary emerges, a once-in-a-lifetime trip that no one has done before. For 2015, this Island Hopping and Star Beds honeymoon stands out. Sue Bell, of Turquoise Holidays, says, "Couples begin in South Africa at Makanyane Safari Lodge, sleeping in a unique bed set up outside under the stars, before island hopping in northern Mozambique and sleeping on the deck of a traditional dhow before disembarking on historic Ibo Island for a stay at the newly-renovated Ibo Island Lodge."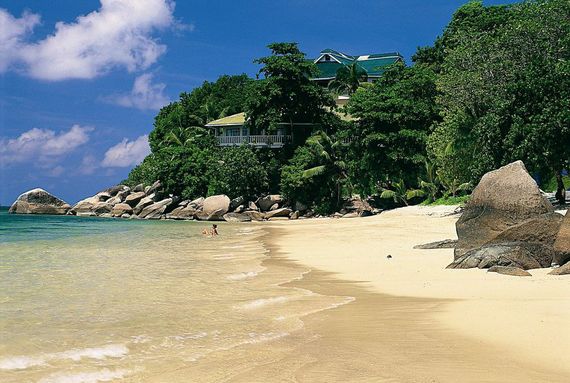 Coco de Mer beach, Seychelles. Photo: Just Seychelles
The Seychelles are back
The Seychelles - where William and Kate enjoyed a secretive honeymoon - are enjoying a renaissance as couples make the most of new island combinations and stopovers en route. Owen Davies, of Just Seychelles, says, "We've seen an increasing trend for twin-island honeymoons in the Seychelles. Also increasing in popularity are stopovers in the Middle East, as flights to Seychelles operate via either Dubai or Abu Dhabi. Two or three-night stays in the Emirates provide the perfect partner to a beach honeymoon in Seychelles."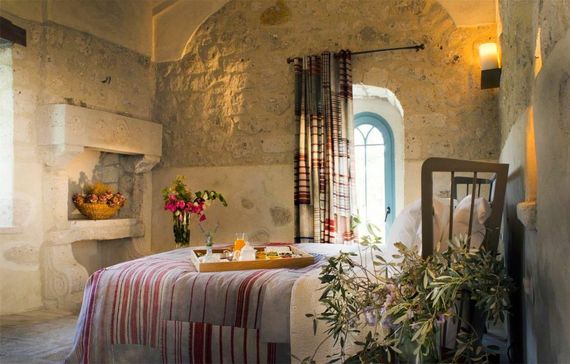 Alavya, Turkey. Photo: Exclusive Escapes
Short haul is the new long haul
There's a certain cache in avoiding a long flight, especially for ecologically-minded honeymooners and those on a budget. Andrew Lee, of Exclusive Escapes, says, "The emerging Turkish destination of Alacati, an Aegean town on the Çeşme Peninsula, combines all the exotica of a long-haul destination, with white-sand beaches and chichi beach-clubs - but just a four-hour flight from the UK. The super-stylish Alavya is now attracting the honeymoon set. It boasts a top-notch slow food culture, with the emphasis on homegrown, locally-sourced Mediterranean dishes. For a spot of culture the UNESCO heritage site of Ephesus is just an hour away."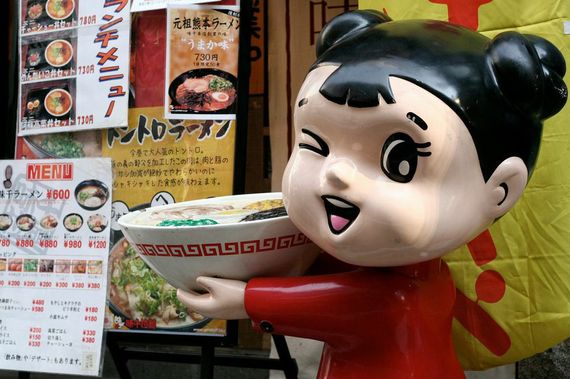 Ramen bar in Tokyo. Photo: Mark Hodson
Foodie romance
Gourmet honeymoons are becoming increasingly popular. Couples are looking for the ultimate gastronomic indulgence combined with luxury travel experiences. Emma Douty, of Exsus, says, "Newlyweds are opting for foodie-oriented honeymoons as there has never been a better time to indulge in world-class cuisine. New Zealand and Japan are fantastic destinations for this."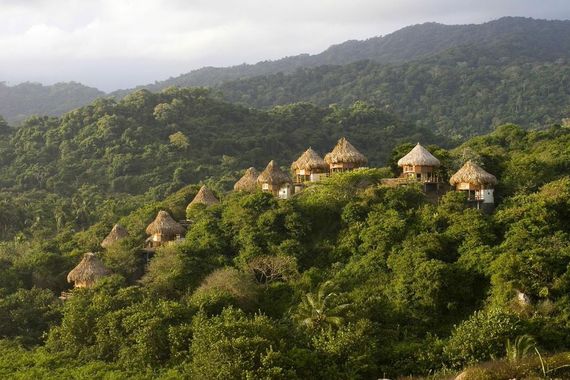 Eco Habs, Colombia. Photo: Rainbow Tours
Latin lovers
Latin America is seeing a surge in popularity and Peru is top of many couples' to-do lists. Amanda Sweeney, of Rainbow Tours, says, "Newlyweds can keep away from the crowds by following a less travelled path - stay in luxury lodges and unwind in a hot tub surrounded by the snow-capped Andes. Or try out The Eco Habs in Colombia, set on beautiful Canaveral beach. Stay in bungalows built from native wood, inspired by the ancient Tayrona tribes, with wonderful views of the Caribbean Sea."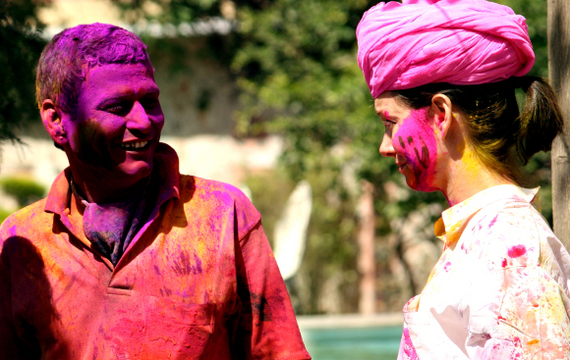 Holi festival in India. Photo: Enchanting Travels
Getting under the skin of a place
In a quest for authenticity and real life experiences, honeymooners are seeking out local experts for first hand insights into their chosen destination. Parik Laxminarayan, of Enchanting Travels, says, "Many of our clients are professionals such as doctors, lawyers or musicians, and they love the chance to meet their counterparts and find out about their lives, challenges and successes. We have local insiders in 31 destinations so we can facilitate this as part of a tailor-made honeymoon in Asia, Africa or South America."