'I love this place', says our smiley driver Rui, momentarily taking his hand off the wheel to put it on his heart, as he drives us from the airport. '
My grandfather and father were both born here before me and it is very special, historically and spiritually.'
We are travelling to Martinhal, a luxury resort on the unspoilt south-western coast of Portugal, near the historic fishing of Sagres. Although Martinhal has featured yoga daily since opening a few years ago, Chitra, the owner, tells me that she decided to introduce yoga weeks as she is seeing a lot more stressed out parents at her family-focussed hotel.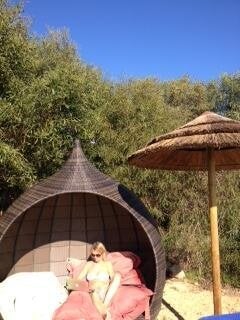 Martinhal prides itself on offering barefoot chic at the beach and my friend and hairdresser, Nancy and I, who have come to experience Martinhal's first yoga week, don't put our shoes on all week. We patter from our beautiful wooden cubed beach room with beachfront view to our 'pod' complete with beanbags, overlooking the ocean.
Nancy , who happens to be London's only cycling hairdresser, thinks nothing of cycling 100km before breakfast. She has biked up the Alps and is delighted to discover the hotel is also offering a dedicated bike week, with rides led by international pros.
'We don't say 'Om; when we go on our rides', jokes one of the leaders, who clearly has no idea how challenging and comprehensive our yoga classes are. And also no idea how experienced Nancy is, as he warns her, 'we will be going 80kms tomorrow, are you sure you want to join?'
Our yoga classes take place in one of Martinhal's luxury villas away from the beach. Andrea, our yoga teacher is surrounded by i-phones, speakers and alarm, and teaching from a book: I am woman: influential, creative, divine. She explains that we can't practise yoga on the beach as we would not be able to hear the special music and mantras that accompanies her kind of Kundalini yoga.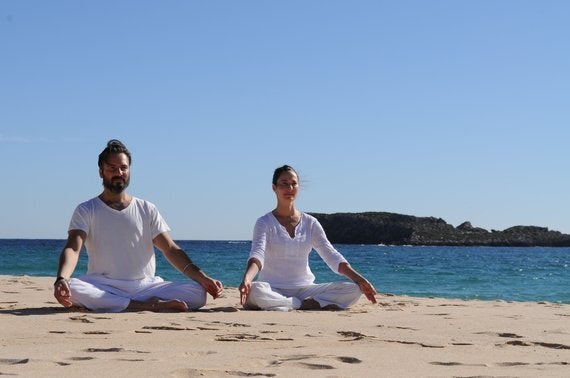 'You haven't done this kind of yoga before', Andre Danke, her partner, our other teacher and New York model tells us. 'It is 22 times stronger than other types of yoga', we are told, and all of us, despite having done yoga before, find it very challenging, physically and mentally.
We dance with our arms about our heads for ten long minutes, walk around in downward dog for another ten. I self-consciously stick out my rolled up tongue and try to snore loudly in exercises I have never encountered before. 'We once did this with 90 people in L.A.', says Andrea as she gets us to roll around the hard floor to clear our magnetic fields.
The next morning we drink Gwyneth Paltrow juice (me) and cava (Nancy) on the terrace in the sun. It's a perfect 25 degrees with just a gentle breeze on the surfing beach, even though it is November. After yoga I have a signature relaxing massage at the Finisterra (which means 'end of the earth') spa, which is one of the best I've had in my life.
In the spa and in our rooms are organic Voya products, possibly now my favourites. So often hotels miss a trick with the products they provide, but Voya's, based on hand-harvested seaweed are a delight. The almond and algae anti-ageing cleansing balm and the illuminating clay mask are both gorgeous and the shampoo and conditioner leaves my normally fine, dry hair full of volume and shine. Nancy is impressed.
She has returned from her mountain bike ride with the pros declaring that her cycling app has made her 'Queen of the Mountain' for her record speed. The others are dripping with sweat but Nancy is simply beaming. The theme for the week is 'Peace in difficult times' our German instructors, Andre and Andrea, both wearing white complete with turbans, tell us, smiling benignly. 'Many of these exercises will hurt a lot but remember this is only in your mind'.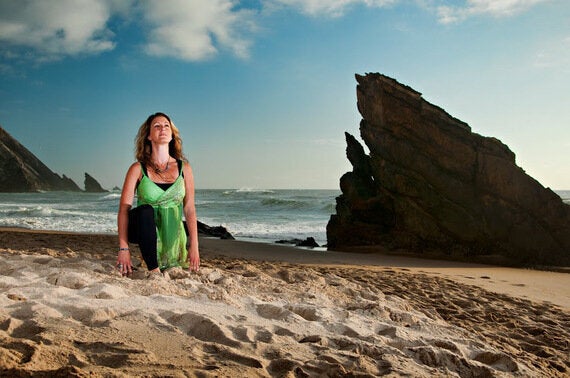 'You will feel resistance on the third day Andrea informs us, and she is right. 'We wouldn't do this if we knew what was coming', says Selma from Austria. Yet she has been on a course focussing on the heart with Andrea with extraordinary results that she is still feeling more than a year later. At our farewell dinner, it seems we all feel the same, experiencing a deep sense of relaxation combined with real energy, at the ends of the earth.
On leaving, I discover my yoga teacher from home, Piriamvada (Ali Gunning), www.yoga-adrift.com, is teaching Martinhal's next season of yoga weeks. I have been fortunate enough to experience yoga all over the globe and Ali is my favourite teacher in the world. She is a gifted, generous and inspirational teacher and I guarantee you will enjoy her classes.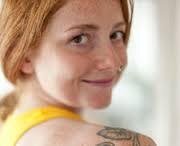 Ali's highly recommended upcoming yoga weeks at Martinhal are:
Back to the Roots 23rd to 30th November 2014
Pausing for Breath 16th to 23rd November 2014
Restore and Renew 18th to 25th January 2015
Open your heart 25th January to 1st February 2015
Martinhal Beach Resort & Hotel
8650-908 Sagres, Portugal