In news released yesterday, Alfie Boe has joined forces with Katherine Jenkins to be part of the Make Some Noise charity single. Alfie and Katherine will both sing solos alongside Alexander Armstrong and Aled Jones with other big names still to be released. The single which will be recorded at the AIR studios on 9th October and released the following day, will also feature Sol3Mio and Laura Wright. Laura has toured with Alfie in the past while Sol3Mio will join Alfie on his forthcoming UK arena tour at the end of the year. Fans can get a taste of what to expect from that liaison from the Classic FM live concert which will be broadcast on Saturday 27 September.
In addition, the single a number of big names will feature: Myleene Klass on piano, classical guitarist Milos Karadaglic and Classic FM presenters Laurence Llewellyn-Bowen (percussion) and John Suchet (trombone). Howard Goodall, pictured below with Katherine Jenkins and John Suchet, will write the single.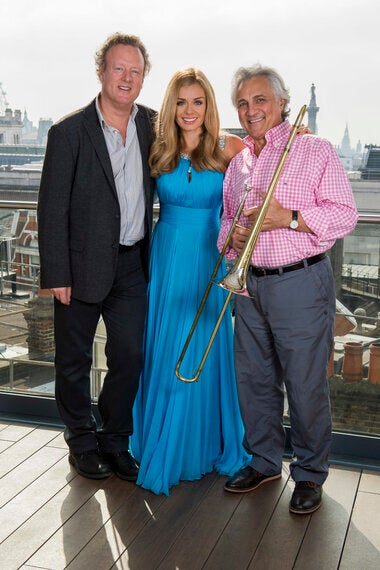 Julian Reynolds will conduct and the single will be produced by the royal wedding album producer, Anna Barry.
Make Some Noise is a new charity for 2014, set up to help children and young people around the UK that are disadvantaged by lack of opportunity, disability, illness or bereavement. Click here to find out more.
This latest charitable project joins Alfie Boe's rather crowded charity family; so far this year he has lent his name to the Royal Marsden's Big C Appeal and has appeared at charity fundraisers for amongst others, Elton John's AIDS Foundation, the Caudwell Children's Butterfly Ball, The Children's Center Utah and Symfunny, which raised money and awareness for Early Onset Parkinson's Disease. In addition, he found time to design a pair of pants for the MAD Trust online pants auction and to continue his support for Nordoff Robbins with his now annual birthday appeal.
A version of this article originally appeared on www.thoughtsofjustafan.com.
Related