In these celebrity obsessed days, it is de rigeur for celebrities to be seen supporting any number of charities, although the level of support varies greatly. Some celebrities are only involved with a few charities which they support both publicly and privately and sometimes they lend their name to a lot of charities; this may just mean showing up to a star studded function. However, celebrity is very much worth the effort of interesting them in the first place. Or it is if you have the right celebrity.
Famous names can generate a huge amount of interest for a charity, provided they are well matched to the cause. For long term support and to keep up media and public interest levels, a celebrity with a personal connection to your cause may well be the best match. This is all the more important if your charity is not what may be termed a "fashionable cause". An example of this is the hospice movement; this suffers from both being part of what the public sees as a large organisation able to generate huge amounts of funding, while the reality is that each individual hospice unit needs to do their own fundraising.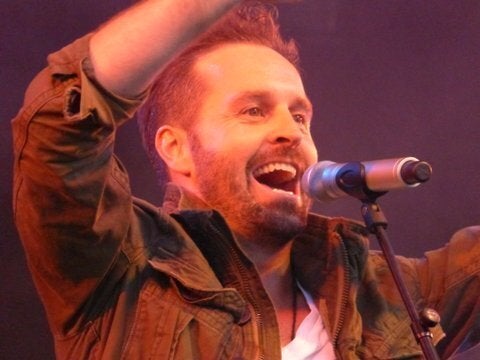 The Trinity Hospice for adults and children based on the Fylde Coast has Alfie Boe as their patron and their press officer, Shirley Morgan, says that "It's just amazing having Alfie and his team behind us and we have found so many benefits. What's also really obvious is the affection his fans have for him as a person." Shirley kindly agreed to answer a few questions about the effect having a celebrity patron has had on her charity. Alfie became a patron after being approached by the fundraising team to see if he would consider becoming an official supporter of the Hospice. Alfie of course hails from Fleetwood - just up the road from the hospice - and Shirley says they "were absolutely thrilled when we got not only a 'yes' , but the news that he would become a Patron".
Showing the importance of engaging the correct celebrity, having Alfie as Patron helps Trinity in many ways. They were able to feature in his official Storyteller tour programme last year, which gave them the kind of national exposure they usually only dream of! In addition, Alfie supports them with public messages of support which help generate a lot of interest and certainly lead to people getting involved. As a hospice, the fundraising team need to raise over £5 million a year to keep the doors open. Unusually, Trinity has both adult and children's hospices on site and funding is a constant pressure. Shirley goes on to say that donations increase dramatically whenever Alfie supports them publicly, "there is an increase in activity, and I know that Alfie's fans are a fiercely loyal bunch. He lent his support to our recent Trinity Tea parties, which was raising money for a much-needed refurbishment. He encouraged people to 'put the kettle on' and they certainly did. We had Trinity Tea parties happening across the globe, and it was lovely to think of his fans getting behind our fundraising efforts in that way. Similarly, Alfie's Angels donated $2,460.10 (a familiar number!!) to mark his birthday. Many fans see it as a way of giving something back to a performer who brings them so much joy, and we are very grateful for their generosity.
Although Trinity Hospice is not Alfie's only charity, it is definitely the one nearest to his childhood home. As Alfie and his family now live in Utah, is is perhaps fitting that he has chosen another local charity to support. Alfie recently performed at the annual fundraising gala of The Children's Center, Utah.
Alfie originally came to be involved with the centre through a childhood friend of his wife, Sarah. The Communications Director, Courtney Garay tells us more: "Sarah Boe's childhood friend [a supporter of the centre] reached out to Alfie and Sarah to share her passion for The Children's Center and they were kind enough to take a tour. From that moment, they both offered to help spread our mission; provide comprehensive mental health care to enhance the emotional well-being of infants, toddlers, preschoolers, and their families."
Annually, the centre needs $1.3 million to ensure families are able to access services regardless of income. To help with this, Alfie offered to provide a concert at the annual gala, and no surprise, a lot of enthusiasm and awareness was generated as a result. $400,000 is expected to be raised on the night.
Although Alfie is not a household name in the US yet, he is popular and well known in Utah, particularly after he appeared with the Motab Choir in 2012 and as such, this is a wise choice of celebrity for the Children's Center. As noted above, the best long term gains can be made from celebrities with a personal connection to the cause. This is evident here when Courtney Garay says "Alfie has also generously procured musical instruments for the children who are in our Therapeutic Preschool Program, a program for children 2-5 years of age who are failing in a regular school setting."
Related