Irish singer-songwriters these days are ten a penny aren't they? The likes of Damien Rice, Fionn Regan and James Vincent McMorrow seem to have cornered the market in recent years but there's always room for a talented artist and the latest to make a name for himself is Ciaran Lavery.
A native of Aghagallon, in County Antrim, Lavery has the kind of voice that draws you in to the song and the emotional honesty of the music. Comparisons that come to mind are Bob Dylan and Tom Waits. Love and loss are universal themes for all of us, especially songwriters but Lavery imbues his music with a sound that stops you in your tracks and demands you listen. This isn't just my take on it either as twelve million Spotify plays testify to. Left for America, from last year's EP, Kosher, has almost four million plays alone.
The emotional honesty heard in his music also extends to him in person; apparently, when fans tell him their interpretation of their favourite song, Lavery will sometimes agree with them, even if it isn't the idea that inspired the song. Now this must happen very regularly to songwriters around the world. As fans, each of us reacts in a different way to each song we hear, depending on our personal experiences. What a treat to be able to tell the writer your thoughts and have him agree with you! How often does that happen I wonder?
Coming from a small place has definitely influenced Lavery's writing. He says of Aghagallon
You could literally drive through it in thirty seconds, but it's jam packed full of characters and real, genuine people. It's the type of place where, if you're being an idiot, someone will tell you. That's just how the environment was. I guess that sort of honesty comes out in my music.
Prior to a solo career, Lavery was frontman of seven-piece alt-folk outfit Captain Kennedy. Although there were great times, the transition from being in a band to solo artist wasn't always easy: Lavery says
it was a bit strange, but I've grown into it over time. It suits my introverted style as a person.
Lavery released his debut album, Not Nearly Dark, in 2013 before following up with the EP Kosher, in 2014. He is currently working on material for his second album. In the meantime, he has collaborated with electronica artist Ryan Vail on Sea Legs, a mini-album due out in April. He plays Brighton's Great Escape Festival in May, an experience he's looking forward to:
To be playing at such a special festival as Secret Garden Party is really something else. I didn't think I would be sharing the stage with names like Angus & Julia Stone, Bears Den, Roots Manuva, Public Service Broadcasting even 6 months ago, so this will be a real treat.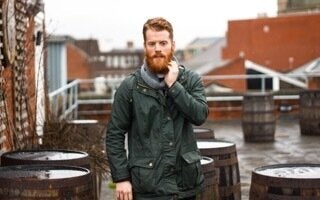 Related