With the ongoing turmoil in Thailand, many tourists are wondering where to go for their exotic beach vacations this summer. The answer is easy: head next door to Cambodia, where the prices are cheaper, the land is more pristine, and the people are friendlier.
If you want to combine relaxation, delicious food, and exotic locations with a true cultural experience, try one, or all three, of these amazing Cambodian getaways.
Koh Ta Kiev, Island Paradise
Just a short hop – 45 minutes by boat – from the tourist frenzy of Sihanoukville lies another world. The island of Ta Kiev has no roads, no running water, no WiFi, and no electricity. If this sounds like paradise to you, this is your spot.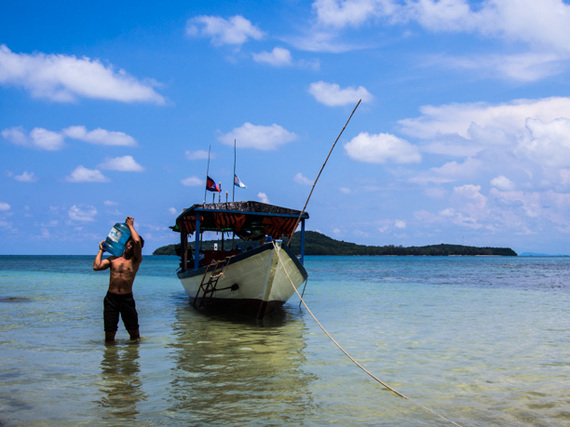 The island is dotted with a few tiny, privately owned resorts, all offering accommodation in simple huts, where a bed and a mosquito net are about all you can expect in terms of luxury.
You also get spectacular views of crystal blue sea which you can soak up all day long while swinging in your hammock.
We stayed at Ten103, where the cabins are strung along the beach, hidden from each other by thick jungle. Each one is built high on stilts, using only fallen wood from the forests – no trees were harmed in the making of these cabins. You have to be nimble to get to bed, since a simple ladder is the only way up. The height keeps you safe from jungle creatures and the peering eyes of other island guests.
The cabins have no front wall, leaving nothing to obstruct your view of the pristine water. It also allows maximum access for the afternoon breeze, which acts as natural air conditioner, making the cabin pleasantly cool in the hottest part of the day.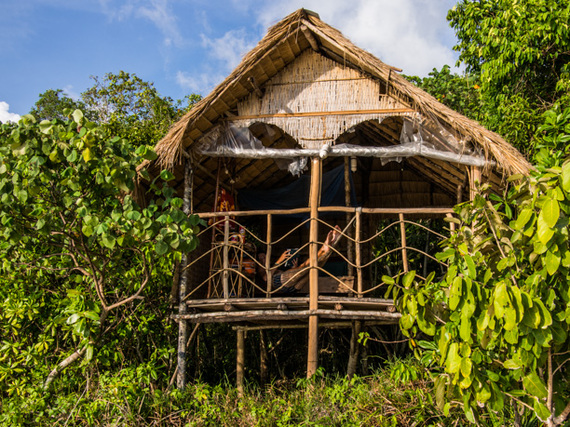 There's nothing much to do on Koh Ta Kiev, except stroll along the beach, jump in the water, or spy on the fishes swimming around your toes. At night, you can swim with phosphorescent plankton, which light up the water as you splash by. It's a magical experience. Don't miss it.
At Ten103, meals are served three times a day at the waterfront bar and restaurant, but you can order the basic but tasty fare from the menu at any time.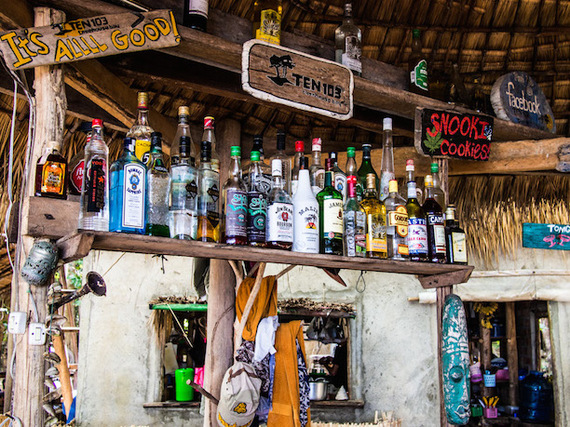 Since there's no refrigeration, save for the huge blocks of ice carted from the mainland by boat each day, ingredients are brought in fresh from market or pulled directly from the sea. Expect generous, tasty servings of grilled fish, creamy Cambodian curries, and fried rice and noodles.
Shared squat toilets and bucket showers filled with chilly well water are the extent of the bathing facilities, so be prepared to discard your usual beauty routine in favour of a simple island-friendly alternative.
Cabin per night: $20-25
Meals: around $20 per person per day
Cocktails: $5
Kampot, Civilised City Break
A charming little colonial river town, Kampot hits the sweet spot between tourist destination and liveable city. There are plenty of cafes and restaurants to serve a variety of tourist tastes and budgets, including a great selection of Western food to satisfy the weary traveller's palate.
You can choose to stay at one of the many guesthouses in town, which range from cheap and cheerful to trendy and spendy, but we opted for Samon Village, a secluded riverside resort about 3km outside of town.
The 'village' consists of a cluster of bamboo huts leading to the over-river lounge and bar.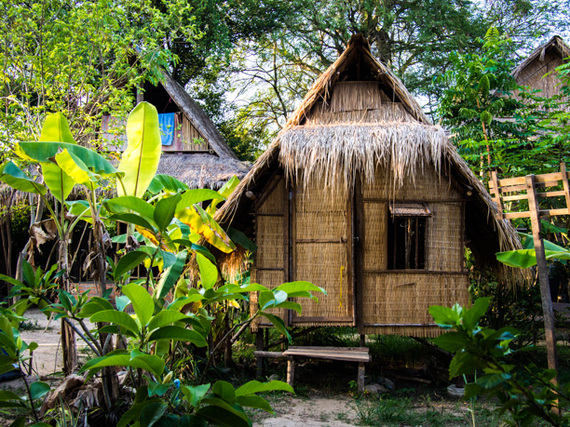 We chose a cabin set high on stilts, equipped with a double bed and an ensuite bath. It was a simple affair, with a thin mattress on a wood-framed bed draped in a mosquito net, but spotlessly clean and comfortable. The ensuite consisted of a Western toilet and a cold shower, which sprayed our sweaty bodies through a homemade coconut shower head.
For our final night at Samon, we opted to sleep in the treehouse overlooking the river.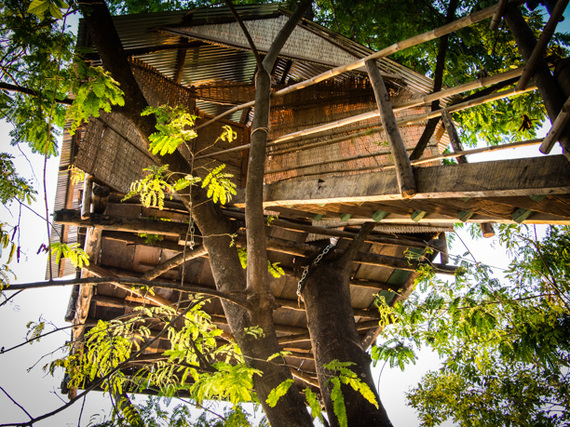 Not for the faint of heart, this little roost sways and creaks with the movement of the tree and, without a front wall, only a few bamboo poles keep you from rolling over and into the river 20 feet below. Still, if you want to feel like a cross between Robinson Crusoe and Tarzan, try it out for a night.
It's up to you to make your own fun at Samon. Bicycles can be rented, and they have an excellent swimming area, with a makeshift plank diving board.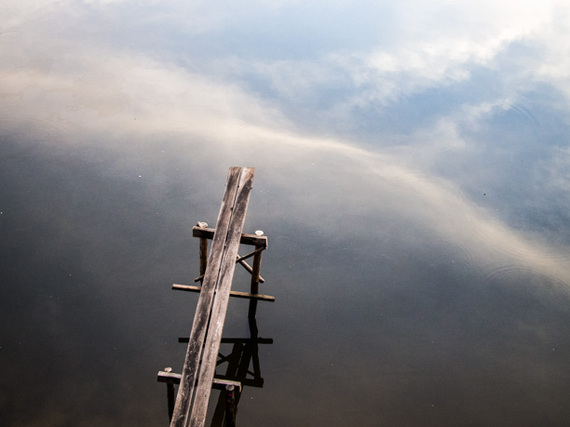 The river here is tidal, clean, and cool: the perfect antidote to Cambodia's intense heat.
For breakfast and lunch, we couldn't get enough of Epic Arts Cafe, in Kampot town. The menu boasts inventive egg dishes, quinoa salad, sandwiches on home-baked bread, and a rainbow of fruit shakes. Not only is Epic Arts an inclusive employer, providing jobs for deaf and disabled members of the community, but they also have the best service we've seen anywhere in Asia.
We only wish they were open for dinner.
Cabin per night: $8-20
Meals at Samon: around $5
Cocktails: $3
Chi Phat and Trapaeng Roung, Cultural Ecotourism
Deep in the Cardamom Mountains, a wilderness that subsumes most of Cambodia's southwest corner, lie two eco-village projects supported by Wildlife Alliance. These projects provide alternative sources of income for hunters and loggers, helping to protect the trees and wildlife of Cambodia's jungle.
Chi Phat village is in the heart of the jungle, accessible only by river or rough red dirt road.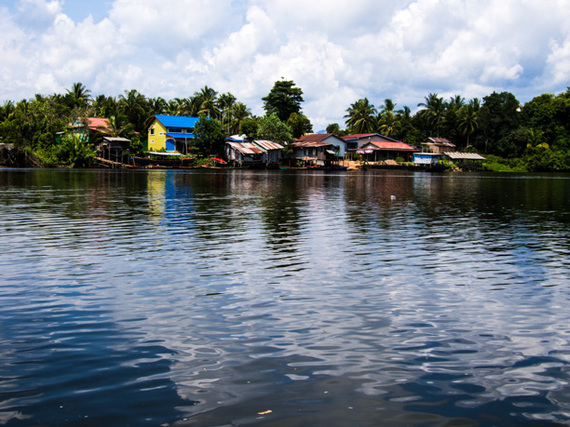 It's not easy to get there. Most tourists take the bus to Andong Teuk village and pay for a boat ride up the river, but you can also go by moto taxi if you're a little more adventurous. We rode our bikes, and the views along the 17km road were spectacular.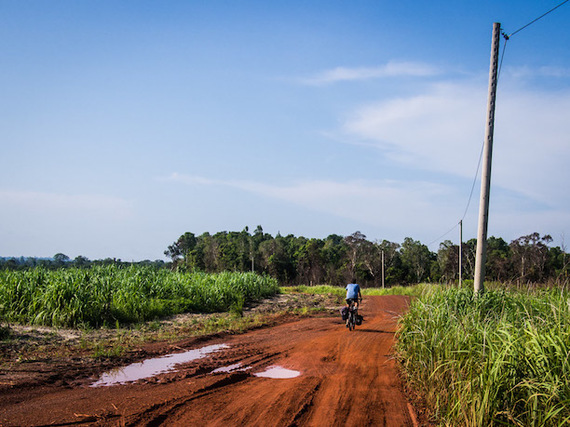 Chi Phat is full of simple guesthouses and homestays, where you can experience what it might be like to live as a local, albeit with modern conveniences like flushing toilets and a few hours of electricity each day.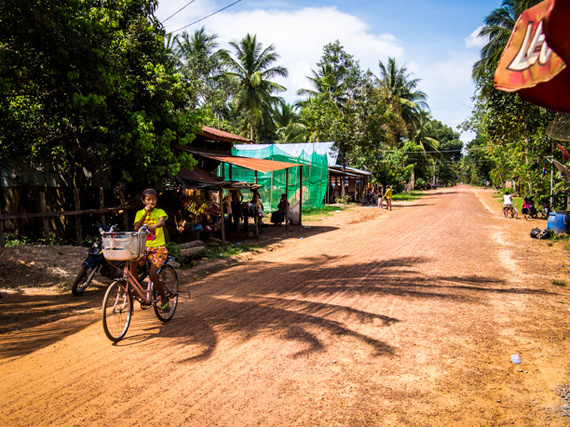 It is also full of backpackers, so not exactly an "authentic" village experience. Still, it's a fantastic jumping-off point for venturing into the jungle. Wildlife Alliance organises trekking, mountain biking, and boating adventures, all guided by local people.
In Trapaeng Roung, a little further west along the highway, the eco-village programme is still in its infancy.
If you want to experience a stay in a real Cambodian village, without the crowds of other tourists, this is the place to do it. There are eight simple homestays available, with two guest rooms each.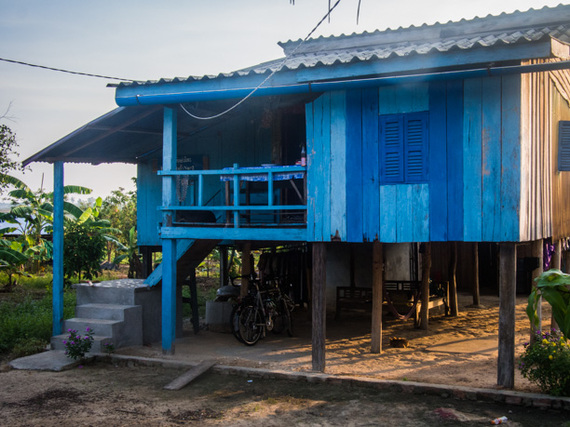 Your host, who likely speaks very little English, will welcome you into her home, cook you dinner, and see that you have access to the family's simple bucket shower and toilet. We slept just like the rest of the family, on a thin mattress on the floor equipped with a mosquito net. The only difference was, we had our own room.
Staying with this family was one of the best experiences we've had during our 14 months on the road.
Room per night: $5 for two people
Dinner: $3-5 per person
Boat to Chi Phat: $20
Treks: $8-25 per person per day
Weather Wise
It's a good idea to check the prevailing weather before you head to Cambodia. The rainy season starts in June and lasts through until late October.
From all accounts, it's a great time to visit. It is low season, so you'll have your pick of accommodations and will be able to bargain even lower prices on almost everything. But, it is still hot, making lying on the beach and jumping in the water at regular intervals a great way to spend the day.
The rains come regularly in the afternoons, lasting a couple of hours before the skies clear up again. What better time to lie in the hammock, reading, napping, and enjoying the sound of the storms?
Read more about our daily adventures in Cambodia at My Five Acres.
All photos copyright Jane Mountain, 2014.