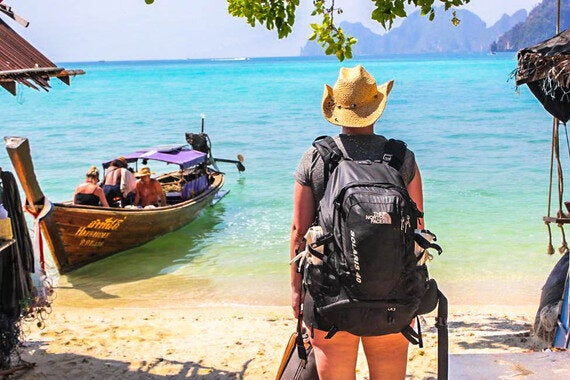 Due to the popularity of my post on Ireland's Top Travel Bloggers last year, I have decided to update the list of Ireland's best up and coming travel bloggers and writers. Most of these people are blogging full time, testament to how much work has been put into making their sites a success.
Tara is a travel blogger who really tells it like it is. Don't expect any fluff articles here as if this pharmacist-turned-travel-blogger doesn't like something, such us her awful experience with this airline, she'll tell you a bout it. She has spent the last while jet-setting around the world to beautiful destinations including New Zealand, Hawaii and the Maldives and her future travel plans include a month in Canada as well as spending some time back home in Ireland so be sure to follow along her adventures.
Carlo and Florence are two of the most inspiring people I know, and are also some of the most successful content creators on this list. They have been blogging for a few years now as they travel and work their way around the world visiting over 40 countries and living in places like Chiang Mai, Budapest and Athens. This is a couple who not only turned their passion into a career, but have actually built and extremely successful business that earned them a 6 figure income in 2015.
Nadia from The Daily Self is becoming pretty well known in Ireland as she writes wanderlust inducing articles for a handful of Irish newspapers and magazines, and can often be seen appearing on National Television. Think luxury resorts in the Caribbean, lounging on yachts in Croatia or sipping mimosas at beach resorts in Ibiza, this would be Ireland's go to blog if you're looking for advice on where to take your next holiday. She also gives excellent packing tips, weekly beauty blogs and advice on how to get in shape for your travels.
Winners of Ireland's Best Travel blog at the 2015 Irish Blog Awards, Wandering On is an adventure travel blog run by Irish couple Brian and Noelle who have been travelling the world together since 2009. They have climbed Everest Base Camp together, cycled from the Pyrenees to Costa Brava and have traversed Europe by train and blogged about all their exciting adventures as they went.
This blog is is all about travelling the world in style. Forget budget backpacking and cheap hostels, Elaine and Dave are more likely to take you to the best cocktail bars in New York or on a luxury game drive in South Africa. This adventurous couple, who seek to find not only the best luxury destinations but also many of the world's UNESCO world heritage sites, aim to visit at least 15 new countries every year all while chasing their careers back home in Ireland. These two are amazing at finding the time to climb the career ladder while simultaneously giving you travel tips on the best places to eat, drink and be merry around the world.
Jonny is one of my favourite bloggers as not only does he 'tell it like it is' but he goes to some of the world's most off-the-beaten track locations and really gets to know the locals. A big fan of budget backpacking and staying in hostels, Don't Stop Living takes you on a journey to over 100 countries around the world from Antarctica to Bangladesh to. Expect reviews of the worlds best hostels, best bars and a lot of African and Central Asian adventures.
No Hanging Around is an adventure travel blog written by Irish travel blogger and adventurer Derek Cullen. You want find package holidays to Spain or weekend city breaks on this site - you will more likely be inspired to quit your job, pack your bags and buy a one way ticket to Africa. Think camping, hiking, week-long treks and cross country cycles! If you are thinking of planning an epic adventure, such as cycling solo across the African continent, this should be your go to site.
Sarah Slattery is the brains behind The Travel Expert blog, and a travel expert she certainly is. With years of experience in the travel industry in Ireland, this lady has the ability to find the most incredible holiday deals every day of the week. The Travel Expert is by far one of Ireland's best travel resources. You can also catch her giving travel tips on National TV in Ireland so this is a face you won't be forgetting.
By far the most well known of all Irish Travel Bloggers, Johnny Ward shot to (blogger) fame over the past year when it was revealed he had managed to build a million dollar blogging and content business while travelling the world. This blog documents Johnny's world travels as he aims to visit every country in the world, a mission he is set to complete later this year. Ireland's most influential travel blogger by a long shot!
A freelance journalist and digital marketer, Sarah is blogging her way through the world one country at a time. Currently located in Natal, Brazil (thus explaining her choice of blog name!) this Irish blogger shares fascinating tales about life in South America as well as great travel guides, tips and an insight into the ore non-touristy locations to visit. A fantastic resource for anyone planning to visit South America and definitely 'one-to-watch'.
Related