What on earth inspired me to knit, crochet and cycle my way around Scotland? I have a habit of cycling with my eyes on the verge and on recent rides have found a whole drum kit in a stream, £40 along with a condom and several beer cans (we all know the story there!) and even a pair of sparkly black and gold high heels on a fence.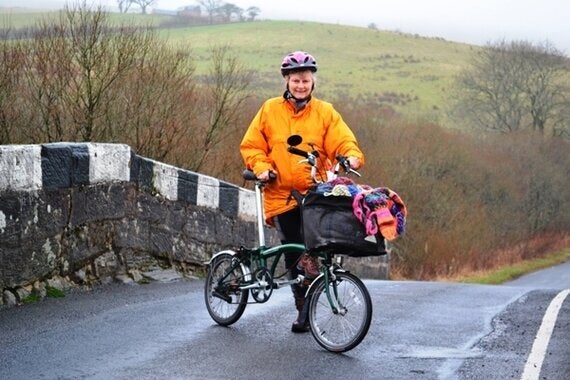 So what better excuse to set off and do 850 miles on a Brompton folding bicycle, right? And I also have an excuse to pick up all those odd/sad/weird things from the side of the road and use them for art, because I am going to knit and crochet what I see. Anything from cars, frogs, slugs and takeaway cartons to midges, wildlife, and mountains. Some of the more interesting things will go home with me. I will post them home, actually, given I will be travelling light and will crochet little baskets to put them in. Things like fragments of a car headlight, a pretty stone, or rabbit bones. The real and imaginary stories of these objects will be told in a book about the journey and an exhibition of all the things knitted, found and photographed on the way.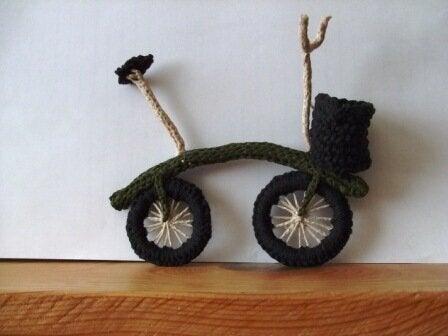 I love face to face networking and if you have read The Village Effect by Susan Pinker, then welcome to my world. Face to face contact is just so different to the phone or Internet and it is easy to forget how different. I am offering free mini workshops all over Scotland in exchange for a bed for the night therefore, as a way of connecting with others.
The very first workshop will take place on the 29 June, the day I set off, just 15 miles from home. I will often cycle just 15 miles then stop for the night and that first night will be close to where I regularly drive to do the shopping. As soon as the car is out of the picture, life becomes more leisurely and only 50 years ago nearly everyone could walk to school or work and go home for their lunch if they wanted to.
When did it become easier to look on the Internet, jump on a plane and go abroad for a holiday, than it is to just walk out the door with a tent and a bicycle and holiday for a fraction of the cost on home turf? I have vowed not to holiday abroad until there is nothing left to explore at home. It will never happen. Once you are out there on a bicycle it really doesn't matter if you are 10 miles or 1,000 miles away from home and there is so much to see that car-users don't even notice. At the end of 10 miles you have usually discovered a host of new things to explore next time!
So this artistic meander round Scotland will combine business with pleasure, cycling with knitting. I want to get off and smell the coffee, eat the cake, do the knitting and meet the people. I do not want to return home all tired out with a dodgy knee.