This weekend marks the debut of a new Le Mans racing car on the circuit, and of a truly inspired campaign to cure blindness.
On September 1st at London's Hospital Club, Dubai-based endurance racing team Storholm Racing unveiled a thing of beauty, a sleek FLM Oreca 03 race car engineered especially for the 24 hour endurance race at Le Mans.
Adorning the race car were not the typical racing sponsorship stickers, but the eye-catching pink of The London Project to Cure Blindness, a mark of Storholm's commitment to this charitable cause.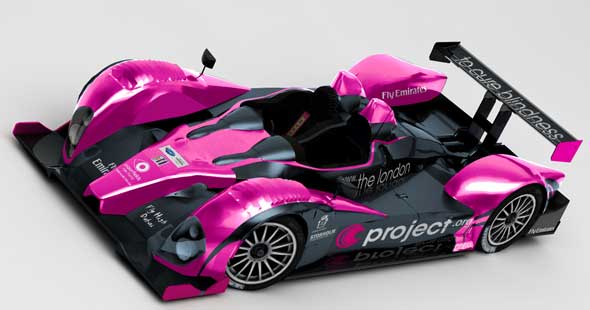 At a glance, the connection between a racing car and a project to cure blindness appears tenuous at best. But in the presence of such a remarkable feat of engineering, and standing amid eye surgeons and racing drivers alike, I was struck by the unexpected parallels.
The Storholm racecar is a beautiful, intricate and ingenious triumph of design and engineering. Years of evolution in technology and innovation have given us an impossibly simple way to race safely at exhilarating speeds for 24 hours.
Considering the economy of design of a Le Mans Series car, it is easy to feel the engineers' achievements are beyond compare.
But imagine a system where one tiny, lightweight, beautifully simple component took on the roles of your carburator, exhaust system, cleaning crew and your pit stop crew all in one. Its subtle, elegant design nothing short of a miracle, the technology quietly performing its role in the background.
To an engineer, this clever piece of technology may sound too good to be true. But the doctors, surgeons and researchers at Moorfields Eye Hospital know these clever little cogs very well indeed; they are RPE cells, unassuming little components at the back of your eye, critical to healthy vision.
RPE cells, or retinal pigment epithelial cells, form a layer at the back of a healthy eye, protecting the retina, nourishing the eye, and clearing away toxins. In the same way the carburator delivers just the right mix of fuel and air essential to the Storholm race car's functioning, your RPE cells will help deliver just the right balance of sugars, water, fatty acids, and other vital nutrients.
In a patient with Age-related Macular Degeneration (AMD), the RPE cells are compromised, and vision gradually deteriorates. Without a healthy mechanism in place to deliver nutrients and clear away toxins, AMD patients suffer from progressive blindness.
Unlike in the racing world, we have never been able to just replace this critical component once it shows wear and tear... but The London Project to Cure Blindness aims to do exactly that.
Using the very latest techniques in regenerative medicine, the team will collect stem cells from individual patients with AMD, using a skin snip or blood sample, and transform these into healthy, personalised RPE cells.
The healthy RPE cells are then embedded on a specially engineered patch, and transplanted into the patient's eye using a delivery device designed by experts at the London Project.
Not only would successful transplantation prevent further blindness, but it would restore vision.
At the launch of this exciting partnership between Storholm Racing and The London Project to Cure Blindness, Moorfields eye surgeon Mr Lyndon Da Cruz joked about making eye surgery glamourous.
Adorned in our cocktail dresses and suits, fraternising with Le Mans racing drivers, sipping champagne, and admiring the sleek Storholm race car, the night felt glamourous indeed, but I'm inclined to disagree with Mr da Cruz.
Ask an AMD patient what it means to see their grandchildren's smiles, to watch a favourite movie or read a book, to look at old photographs, to take in the view. To live independently.
Their answer will have nothing to do with glamour, and everything to do with joy.
AMD is the leading cause of blindness in the Western world; it currently affects 25% of people over 60 in the UK, and this figure is expected to triple within the next 10 to 20 years.
Please give generously towards Phase II of the London Project to Cure Blindness:
http://www.justgiving.com/londonprojecttocureblindnessphase2
For more information about The London Project and AMD, visit http://www.thelondonproject.org
Storholm Racing will be at the Silverstone track in the UK this weekend (September 9th - 11th), Petit Le Mans (USA) later this year, and aims to compete in the world famous Le Mans 24 Hour race in June 2012.
The author runs a popular website covering family days out, knows two otherwise fit, healthy people with AMD and has worked in both stem cell research and surgery.