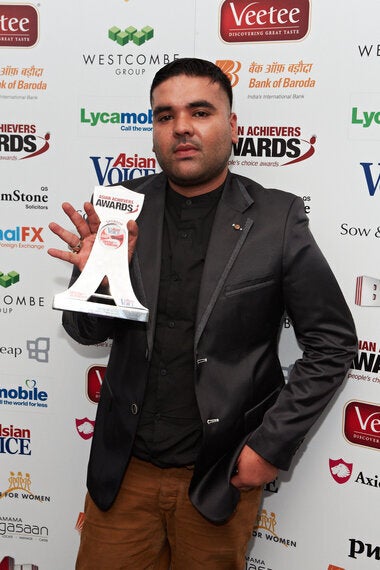 Naughty Boy With His Asian Achievers Award.
ALL PICS COURTESY-PR Mediapix.
The media industry does have a lot of awards, however they tend to go to the same people who are then pushed forward again and again. There are other people who work damn hard and are just as good, who are maybe behind the scenes or not as confident in pushing themselves forwards, but don't get the credit that perhaps they deserve. There will always be debate and lack of understanding by outside observers but when you're a part of a minority community you get it. It's needed. And that's that.
The Asian achievers awards took place at the opulent Grosvenor House Hotel in Park Lane. The Asian Achievers Awards celebrates individuals who have inspired communities and achieved outstanding accomplishments in their respective fields.
Not to be confused with its much glitzier, celeb packed awards of a similar name- the Asian awards. The Asian achievers awards is much more serious and business and entrepreneurial skewed. The night was a sombre affair with a three course vegetarian dinner, a lot of Asian men slapping each others backs in mutual appreciation society style fashion, and a great job by Eastenders actor Nitin Ganatrawho who was a great host, unlike his two female counterparts which to put it mildly, looked strained and uncomfortable.
This year the Rt Hon Phillip Hammond MP, Secretary of State for Foreign and Commonwealth Affairs made one of the first welcoming speeches (after he had been flower garlanded by the Asian organisers). He said ''There is much to celebrate in the contribution of British Asians made to our national life- be it in sports, in culture, in academia, in public service and in community life. But perhaps most strikingly and most dramatically in business and the professions where the British Asian community hunches well above its weight and produces some outstanding successes. ...So may you all go from strength to strength, building bigger and better achievements in the future. But before you do, before you go back to the hard work for which you rightly renowned, just take a few hours this evening to relax, to enjoy yourselves and celebrate the achievements that you already have under your belt''.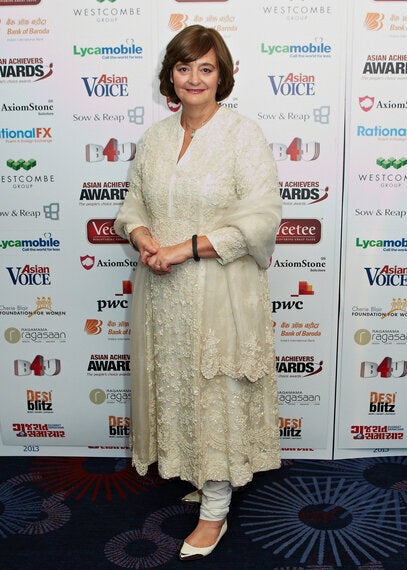 Cherie Blair rocks her traditional wear.
Next Tony's wifey Cherie Blair QC, CBE (who once again proved that any serious household name prepared to dress in Indian traditional wear can make big money for their charity of choice), made a Speech thanking us all for making her charity the charity of the night. She said ''I am so delighted to be here, on this evening to such an important event for the UK and for the Asian community. My foundation's mission is to provide with entrepreneurs in developing and emerging market with the skills, the technology, the networks and access capital they need to become successful small and growing business owners, enabling them to contribute to their families, to their economy, and to have a stronger voice in the society. Since we began in 2008, we have already reached over a 100,000 women entrepreneurs in more than 70 countries. One of the very first countries that we started in was India. A country that I know very well. So much so that I often say that I qualify as an NRI. It's in India that we have some of our most successful and award winning projects like in Gujarat, using our mobile phone project. Tonight we are raising funds for a new project that we want to start in Maharashtra, in collaboration with Mann Deshi foundation. We want to provide a 1000 rural woman entrepreneurs with business incubation, access to loans and business growth opportunities, that will have impact not only on the women themselves but also on their families and their communities. With our support these women owned businesses will be able to make enough profit to contribute to their family's future. Please give generously because tonight we are supporting entrepreneurship, so let's help these women entrepreneurs to make a difference in their lives and the lives of their great nation, India''.
People did give generously and our auctioneer for the night- Jeffrey Archer - helped milk £100,000 from guests. He really was great at hustling the cash out of diners all night. Pretty impressive!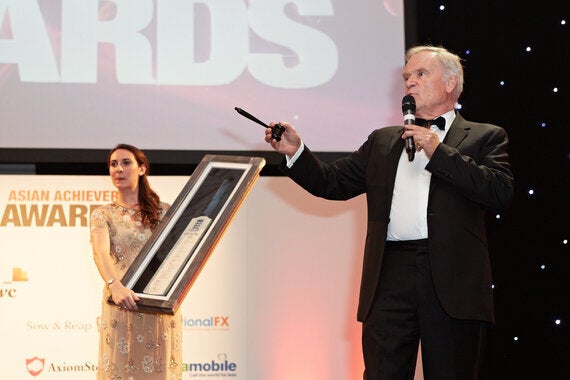 Lord Archer does a good job hustling.
Winners included Hanif Kureshi CBE for Media, Arts and Culture; Mahmud Kamani, co-founder of boohoo.com for Business Person of the Year; and Wasim Khan MBE, the first British-Pakistani to play professional cricket in England, for Achievement in Community Service.
Picking up the Editor's Award for Rising Star, was ground-breaking music producer, Naughty Boy, aka Shahid Khan, who shot to fame and critical acclaim last year with his hit single, 'La La La'. Naughty boy told the LONDON360 camera crew that he sells his talent first and then his identity- he doesn't make a big deal about being Indian.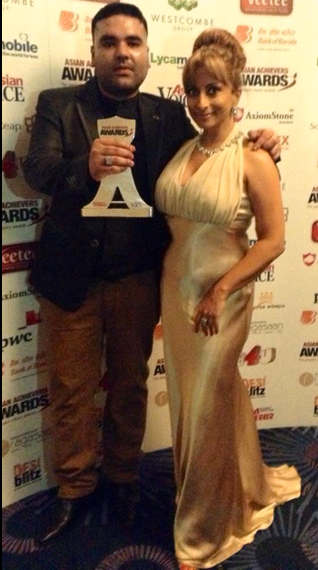 Jasmine Dotiwala with Winner Naughty Boy.
"To receive this level of recognition from my peers of fellow Asians is such a privilege. I'm proud of being a British Pakistani and I'm proud to represent the Asian community. I grew up immersed in Bollywood movies, where music, songs and extravagant dance sequences dominate, and that has really influenced the way I produce music today. "Although I've worked hard, I've been so lucky to have such amazing support from my incredible family and friends. Making music is all I've ever wanted to do, and if I can do that while being a positive influence in my community, then that is just the icing on the cake for me."
Shahid Khan was hand-selected by Founder and Chairman of The Asian Achievers Awards, CB Patel for his remarkable achievement in music. Mr. CB Patel, Publisher/Editor, ABPL Group gushed: "I am delighted to be awarding Shahid Khan with my Editor's Award for Rising Star. He had a dream and worked hard to achieve that goal. Today, he is a respected star in the music industry, working with some of the biggest names of our generation, and he is an outstanding role model for every young person who has a dream."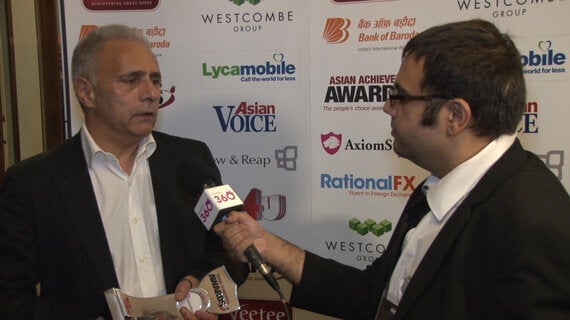 Winner Hanif Kureshi speaks to London360 reporter Usman Butt.
Also honoured was the late Flight Lieutenant Rakesh Chauhan, whose parents collected the Editor's Award for Bravery and Patriotism. Fl Lt Chauhan tragically lost his life in Afghanistan during a routine flight and was honoured for his service to his country. His father, 61-year old Kishor Chauhan, received the honour and said: "It's with great pride that I accept this award. It's a very difficult thing to accept and I'm proud of Rakesh and what he achieved in his short life. That is why I agreed to accept this recognition."
The young pilot died alongside fellow Intelligence Corps non-commissioned officer Lance Corporal Oliver Thomas, Captain Thomas Clarke, Warrant Officer Class 2 Spencer Faulkner and Corporal James Walters from the Army Air Corps. The funeral service for the 29-year old drew in more than 1000 mourners in Leicester, who lined the streets to pay their final respects.
Woman of the Year, Priya Lakhani told London360 reporters "I think it's incredibly important. It's one of those communities', I think, where we have generations of women before us, who have had a very typical role. That's generally been in the house, you know, making sure everyone is fed and raising the children. I think that now that women are more equal, its important to celebrate that, so that the younger children and the younger generation can look up and say, hey I can do that, It's already happening''.
Since launching 14 years ago, The Asian Achievers Awards has helped raise millions of pounds for charity, as well as give a platform to high achieving individuals, who would but be overlooked by the mainstream..