One young lady that I've been hearing about over and over again this past year is Charli XCX.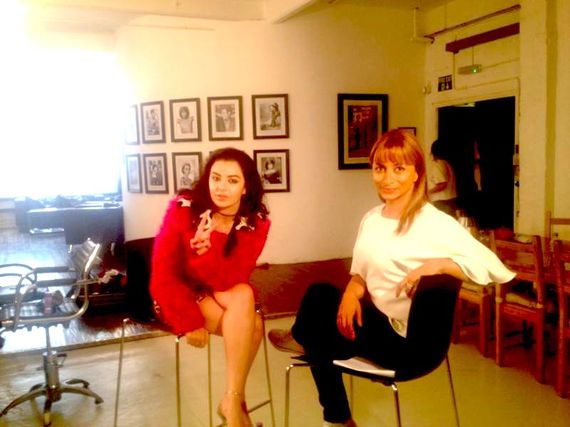 JASMINE WITH CHARLI XCX. ALL PHOTO COPYRIGHT JASMINE DOTIWALA.
My music industry mates both behind and in front of the radio, would whisper in conspiratorial tones ''keep a look out for Chari XCX - she's about to blow up!'' This year she's featured on both Icona Pops hit ''I love it''- which she wrote. She also appeared on Iggy Izaea's hit ''Fancy'' and this past month she performed her own hits Boom Clap and Break The Rules at the MTV Video Music Awards.
A quick check on twitter confirms that she's spent the past year flying across the globe daily, for tours and promo, as well as having been nominated for loads of global ''ones to watch'' and awards this year. So, she's a bona fide singer songwriter that's flying that British flag globally.
Like so many of this digital generation, this mixed race, Hertfordshire girl used the Internet to make it to the top in her chosen field.
At the age of 14 in 2007, she began recording her debut album on a loan granted by her parents...it takes one persuasive teen to convince adults to invest in the fickle music industry.
''I made a deal with my dad, who ran a small venue in Bishops Stortford, I wanted to record some demos so he lent me the money to do that, so as soon as I made some cash, I paid him back. I don't want people to think I was a spoilt rich kid cos I really wasn't''.
Her mothers Indian, and her fathers Scottish. Being from a mixed race background, she's representing the very current generation of young Brits ''my friends never made a big deal about my background. My parents were just happy with me doing whatever I wanted to do. I didn't really see myself as being different, there was never really a thing made about it. I was very unaware of it until very recently actually ''.
She comes from a generation of artists where blogs and social media are paramount, and acknowledges the importance of online presence in her marketing...''for me I wouldn't be here without the internet''.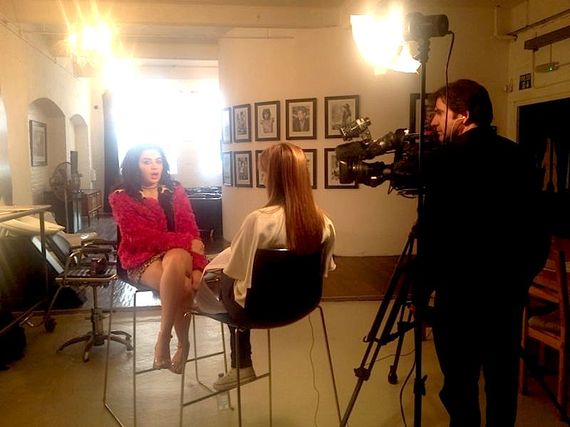 When pressed on her definition of an ''anti pop star'' she explains ''nowadays there seem to be a lot of rules about being a pop star, things you have to say the lies you have to tell, if u do something crazy it should be crazy weird and wild not walking out of a club drunk at 2am, . I don't have time to play into the traditional pop star rules''.
So like Bieber, the web and online marketing has had a huge impact on her career- in early 2008, she began posting songs from her album, on her official myspace. She also has a fascination with female alternative rappers like Iggy Azalea (I use the word 'rappers' loosely). '' I wanted to make cool rap, white girl rap and I completely failed cos it didn't sound good at all.They're just so fierce strong and powerful and I love that in a woman like Iggy or Brooke Candy''.
...''but this guy Chaz Cool found me online and invited me to come and play at a party. I'd been to London and hadn't gone out there so I was like yeay I'm so excited. I told my parents. They freaked out ''you wanna go to an illegal rave in hackney wick, I said they could come so they did, and that's how I got into that scene''.
The idea of adult parents at an illegal rave doesn't come without its awkward scenarios though. Charli recalls a story about when her father was offered the MDNA drug but thought the seller had said MDA- the flooring boards. Her father reassured the seller that he would if he had enough room in the car shocking the seller who wondered just how much he wanted to buy!
With 'Break the rules' there are young girls globally loving to embrace their rebellious side- but can be such a thing as a rebel in pop any more? Or have all the rebellious stances been played out?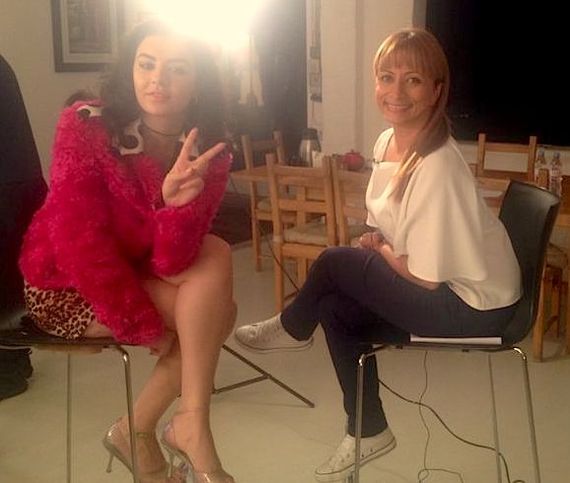 '' I think you can be a rebel still; it goes back to my earlier definition of pop star vs. anti-pop star. You can break the rules by even wearing what you want to wear and not playing by the rules of record labels. I dress how I dress for me. 'My new music album isn't a straight up pop record in way so I am reveling by making exactly what I want and I hope to push boundaries with that. Other artists like Grimes, Lorde and Sky Ferreira are really pushing the envelope too.'I've always been different; when I was younger I had media training and was told I was the worst person that she had ever media trained. Then there was a meeting just about my hair and what to do with it. I was like ' what is this about? You guys don't even have hair'.
Charli's a fan of ladies like Kate bush, Britney and Bjork- she said that when she was 7 she really wanted to be a spice girl, and that girl power never dies! '' I feel like there's a huge wave of girl power around now with feminism regularly being discussed by high profile artists, I want to encourage my fans to be themselves and be strong females and never feel like they're not adequate and that they have to fit into rules, I feel like my fans already believe that anyway''.
She's a fireball of contradictions; she delights and provokes, is passionate and pushes the boundaries of pop music with her stances on sexy outfits vs. empowered women. When it comes to sexuality and image she is strong about her position.
''I think u can be a feminist in the pop industry and I definitely see myself as a feminist. People say how can u be a feminist when you dress like that, and I don't even understand that statement because I believe that men and women can wear whatever they like cos its about equality''.
As well as girl power, she also mentioned that she'd noticed ''a decay in youth culture, stating, "I don't feel like there's anything for people to really grab onto these days. There's no movement to speak of." (Rolling stone mag)
With me she expands
''I feel like in the 60s there was a real feeling and identity in the air that everyone could be a part of and hold on to, and now I feel that's not the same anymore. There's nothing to be angry about- that's when all the best stuff in pop happens when people are angry, and that's why feminism is exciting to me cos its something that's important instead of just falling out of a nightclub going ''here I am, again, doing this, nothing really important again''
Art is a big influence in her work- she's been inspired by musicians as well as artists and photographers. At 15 she was photographed by David bailey- She name drops even more spectacularly ''David Bailey was actually my second photo shoot ever- my first was Rankin, David hated me, he was classic David bailey and I was like a right little bitch, but then we got in front of the camera we just clicked,''
There's certainly no Barbie doll TOWIE style fashion for this rock meets punk lady. Iggy Azalea says its "badass that Charli can do a dance routine in a cheerleading outfit and still be punk rock', she's been referred to as the 'dark pop princess', calls her sound '' magical, ethereal, gangsta pop.'' and calls her look Disney grunge. I laugh at the contradictions ''I am all about contradictions actually yes, I like things that sit on the edge of bring slightly wrong, so wrong that its slightly right. I like contradiction a lot and think it produces good art!''