One in eight of all jobs in London (400,000) are now in the creative industries - advertising, design, publishing, music, fashion, gaming, film and TV, among others.
So why does it seem as if more and more cuts are being made to creative arts funding, by both the government and private funders for the arts?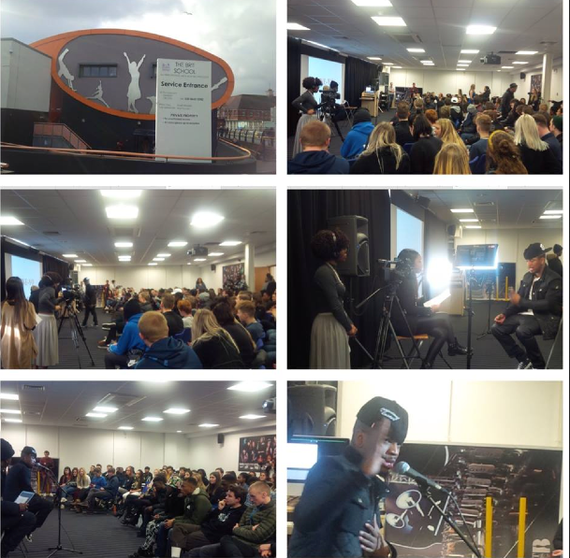 Ne Yo leads a song writing master class at The BRIT School.
ALL PICS COPYRIGHT - Jasmine Dotiwala.
This week #AdviceToYoungJournalists trended all day on twitter with social media all adding their tuppence towards advice for an industry that many want to be a part of.
Additionally, with Brits continuing to impress the world by winning international awards consistently, in mainstream shows like the BAFTA'S and Grammy's, and our mainstream TV shows being more arts focused than anytime before, (Strictly Come Dancing, X Factor, Get Your Act Together, BAFTA Awards etc), more of us want to work in showbiz than ever before.
This week my eyes have been opened to just how many projects and young people are trying to be a part of the showbiz game.
Firstly, young Londoners wanting to work in the multi-billion pound creative industries, are drawn in annually by numerous projects, that promise them entry level experience.
Last year, amongst hundreds more that were launched was a London based one that i've heard many youth buzzing about. It was launched with funding from the Berkeley Foundation, who joined forces with the Mayor's Fund for London, to launch a new £1.5m joint youth employment initiative called ''Creativity Works'' through which they are supporting 3,200 young Londoners into the creative industry over three years.
The aim of Creativity Works is to cultivate specific skills and 'real life' experiences for young Londoners and provide them with job and training opportunities in the creative industry they feel is most attractive to them ( ''i want to be a TV presenter!'' ), and also to give them a sense of focus and hope in these bleak days for youth employment.
I also told you about The Big Music Project, which does something similar across the UK, and Media Trust's London360, which gives young Londoners a multi media start in the industry, in former article's on Huff Post.
However, with all of these numerous entry scheme into the creative arts opportunities, how likely is it that young Londoners will ever really find a full time paid career in the arts?
Education Secretary Nicky Morgan nearly broke the internet, when in a speech encouraging youth to take up STEM subjects, she said teenagers should steer away from the arts and humanities and opt for science or maths subjects if they want to access the widest range of jobs. Although she later said she didn't say that exactly.
Thus, once again I question whether we are leading young people into a den of unfulfilled dreams, or whether these numerous projects can truly help change someone's life?
Next, this week I was also invited to The BRIT School to watch global music star Ne Yo lead a music master class with the students.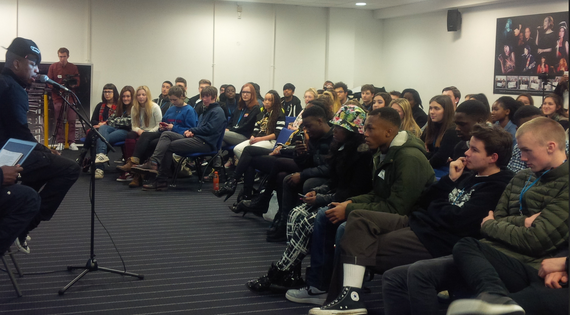 Ne Yo leads a master for the BRIT School music students.
The Kids from Fame never had anything on the kids from the BRIT school. Deep in the southern most part of South London, the BRIT School is tucked away down some very non descript residential streets, just outside Selhurst Station. The huge entrance dome with its silhouettes of singers, dancers and performers of all sorts, screams this isn't your average British school.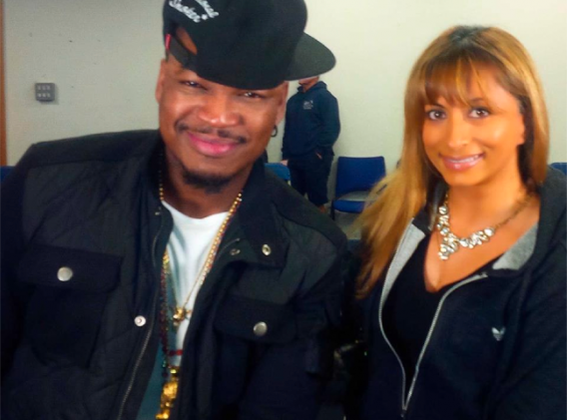 These students have excelled in their areas of performing arts, and won a place at the BRIT school, where their former alumni include Adele, Katie Melua, Lynden David Hall, Amy Winehouse, Dane Bowers and Wayne Williams (Another Level), Shingai Shoniwa, Kate Nash, Jessie J, Leona Lewis and more.
American singer Ne Yo has his latest album NON FICTION out on Feb 16th and was in town to promote it. The BRIT music students aspire not just to become pop chart stars, but also songwriters and music producers, something that Ne Yo is a triple threat genius at, and so the music students listened intently as he shared stories of his song writing history, mistakes and successes.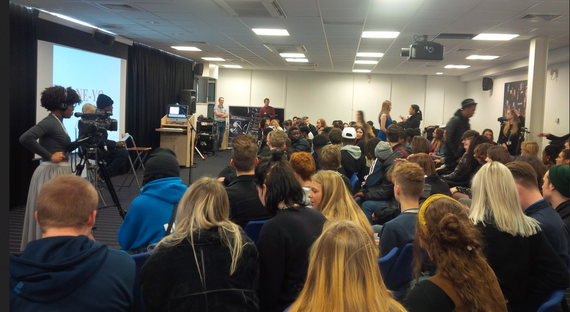 The music students were attentive, but the worry in recent years has been the recognition that with so many more young people than ever choosing to study in creative arts courses and aspiring to make a life long career in the arts, that there simply isn't space or paid jobs for them all.
The creative industries are worth millions of pounds to the UK economy every year. The government estimates its contribution to UK GDP is 8% and provides 1.8 million jobs in the UK.
The BRIT School makes a healthy contribution to this figure through the efforts of its thousands of former students who can be found across a spectrum of employment in the creative industries in general.
So we must keep questioning why the government and arts bodies continue to cut funding for the arts world for those that aren't fortunate enough to attend a school like this?
Moving forwards, let's support the future of our country's arts talent. Let's take an interest in British talent and let's speak up when funding for the arts is cut. A world without music and creative would be unimaginable.
Tourists flock from far and wide to experience British arts culture. Our performers and production teams are revered across the world. Look at America where the Superbowl, Grammy's and MTV Awards are all produced by British director Hamish Hamilton and his team.
Our TV shows are bought and re-versioned globally (Who Wants to be a Millionaire, The Voice, X Factor, The Apprentice, Britains Got Talent).
Therefore whilst so many of us like The BRIT School and The Mayor's Fund For London are trying to make the industry more successful and diverse, we need to feel supported by the powers that be.
So as you watch the BRIT Awards this month, stay proud of our diverse talent.
We're winning (but only whilst we can afford to!).
Popular in the Community