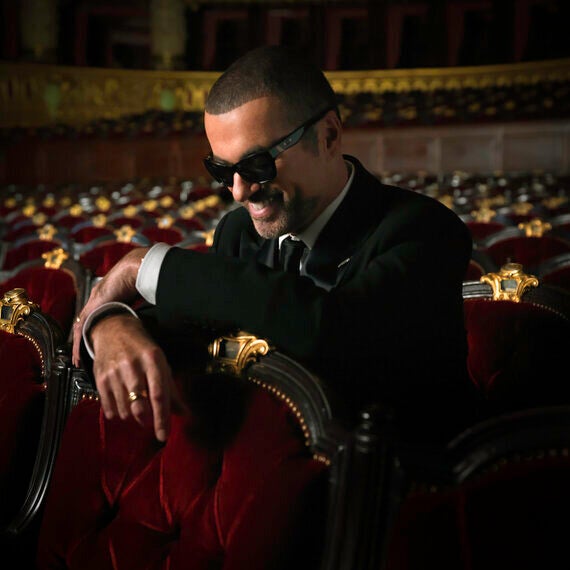 Copyright- Caroline True.
Never underestimate the power of a legend to remain timeless and transcend generations.
That was my first lesson when I received an invitation stating ''George Michael cordially invites you to a very special playback of his new album 'Symphonica' on Tuesday 4th March 2014 at the Hamiltons Gallery, Mayfair.
Intrigued by which new musical journeys my teen idol George had taken since my Wham! poster had sat alongside my ballet shoes on my childhood bedroom wall, and I was jumping around to ''wake me up before you go-go'', in the days when he had already sold over 115 million records ,I immediately rsvp-ed.
When informing my team of young media reporters of my whereabouts the afternoon before the big day, one of them implored ''OMG I love George Michael, I'm a massive fan'' etc etc and proceeded to gush about his work. Well, what a surprise! I had wrongly assumed that todays younger generation were more transfixed by EDM and other non soul style genres of music. How ignorant of me.
Modern day superstars like Beyoncé, Adele and Justin Timberlake are all George fans. So I guess their fans know about George, via the same musical osmosis that carried Al Green and Curtis Mayfield to my eardrums as a teen.
On arrival at the art gallery, guests were also lucky enough, to have a first viewing of a special photographic presentation, of candid images of multi-million selling artist George from his critically acclaimed Symphonica tour, by his old colleague and friend-photographer Caroline True.
George had first joined forces with Hamilton's Gallery in 1996, when he celebrated the release of his critically acclaimed, 6 times platinum album 'Older''. Todays exclusive listening session was just one of a few fancy events across four days which also included a photographic presentation and an evening release party.
Early into the session it became clear that George wasn't going to attend. How rude. If George is cordially inviting me then as my host why isn't he here? I guess the impact wouldn't be the same if the invite stated ''George Michaels PR team and record label invite you...''
In my early days in the music industry, it was the accepted status quo, that poor George gets extremely nervous about public moments like awards shows and performing live. The reluctant star. Many a George interview or live session, would be cancelled days before for a myriad of reasons, to no ones surprise. We accepted and understood this role-play, as his musical genius overpowered his absence. He has however, still managed to sell out stadiums from Tokyo to Tampa and deliver ground breaking tours. Only he and God know where he gets the courage to step out in front of millions when forced.
The 'Symphonica' album was a labour of love, which fulfilled Georges long-standing ambition of showcasing his extraordinary vocals alongside a symphony orchestra in some of Europe's finest, most prestigious venues.
The album's executive producer David Austin hosted the album playback and I could tell by the types of older, more serous journalists from ''quality press'' that this wasn't just any old playback of an album. It was a breakfast session inclusive of a Wolesley style spread of mini pan au chocolate, croissants, fancy pastries, mini salmon and cream cheese bagels and good strong coffee.
David spoke about the late, great, legendary producer Phil Ramone (Bob Dylan, Frank Sinatra, Ray Charles, Luciano Pavarotti, Stevie Wonder, Aretha Franklin) who co-produced Symphonica alongside George. Poignantly, Georges album was Phil's final work. David also informed us that 'George wanted us to know that
''this album has always been about the voice. That's been the main motive for this album''.
David added that so keen was Diva George to hold the listening session here, but not compromise the albums sound, that the previously echo chamber gallery, had just had new carpet laid down to ensure perfect acoustics. To his credit it sounded GREAT. George is an iconic international artist of the highest order and when he wants perfection, he delivers it!
Symphonica is Georges sixth solo album and will be released on March 17. In the vein of Frank Sinatra and modern day pretenders to the swing throne like Jamie Cullum, Robbie and Michael Buble, George has mixed it up on this album and selected songs by some of his favourite artists to cover.
Songs like ''my baby just cars for me'' (Nina Simone), ''the first time ever I saw your face'', (Ewan maccoll) let her down easy'' (Terence Trent D'Arby), and ''Roxanne'' amongst others. The covers are surprising and inspired and show off his crisp, tender, soulful vocals beautifully.
There is a sense of George using his voice like an instrument and duet-ting to and fro with his orchestra on the album and his easy swagger makes this work. The emphasis on the various sections of the orchestra and solo spots for strings is powerful and occasional dramatic.
Hugely panoramic production akin to film soundtracks, the album feels like a classic you could play anywhere. Driving, Sunday brunch, romantic afternoon strolls, smoky opulent bars.
The album apparently came together whilst George was on the road touring, recording daily and sending back tracks nightly to mix in the studio. Finally, his Royal Albert Hall shows made it all come together.
He's acknowledged respectfully by the top tier of music players and won Grammy Awards, Ivor Novellos, Brits and MTV Awards, but his coolest prize for me, is that In the highly regarded black music community, George Michael is also so loved he gets what we call a ''ghetto pass''.
Weddings blast his hits, Singers sing ''careless whisper'' at karaoke, rappers adore him and pump him in their rides, basket ballers play him to focus, and carnival sets always showcase reggae and calypso versions of George Michael classics. He's sung with Stevie wonder, was the first white male vocalist to sing with Aretha and proving the younger hip-hop generation co-signed him early, even Mary J Blige bounced on a track with him.
It's no coincidence he has respect from strong ballsy characters. He may be shy but never one not to own his own mistakes, call out injustices and stand strong with his life choices.
Having gone up against the gigantic machine that is Sony Records he fought a battle worthy of a gladiator and came out still singing. He caused political mischief years before Kanye with ''shoot the dog'', which poked fun at George Bush and Tony Blair. He spoke out against the Iraq war. Turns out he was right all along.
George has had several musical lifetimes away from the scene where he's made no music and still returned from the ashes like a phoenix with new no 1 albums. Never count this player out.
He may not be a spring chicken, (he performed at the Nelson Mandela Freedom Concert in the eighties), but George seems so young at heart, in his image, profile, style and music he is more age defying than Pharrell . He's never toed the corporate line, and this year is 50 years old with a vocal range that sounds as strong as it ever has on record and politically wit his regular socially aware campaigns and charity work. Even more so, with the experience and edge of confidence.
George has been a music great for over 30 years and sold over 100million albums. 20million more than Germanys population. He helped define the 80's chart sound with Whams cheesy pop hits, came at us with a substantial body of solo smashes as an adult icon and global hits and today stands stronger than ever with a seventh solo album coming in the not too distant future which he's working on now.
This small-town Radlett boy has done well. If anything his mysterious absence makes our hearts grow fonder.
George Michaels single ''Let her down easy''' and album ''Symphonica'' (14 or 17 track versions), will be released through virgin EMI/Universal records on 17 March 2014.