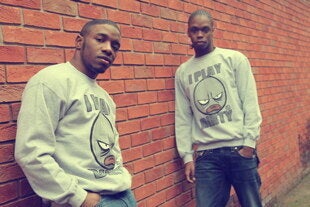 KREPT AND KONAN - THE BIRTH OF A NEW ERA OF UK RAP
The UK music scene is moving in a new strong way. Artists didn't understand how to play the game in the past. Some didn't understand the importance of clean and dirty versions of their songs. Others wouldn't turn up on time for interviews. The game has changed; Krept and Konan are proof of that.
23 year olds Konan hails from South London, Thornton Heath, Krept's from Crystal Palace. Konan smiles ''
we had mutual friends, we had a huge group of mates that did music, but we both filtered off and wanted to make it to the top together, our school teams played each other at football, and we were called Konan and Krept before we even met each other''.
Their names easily flow off the tongue. Krept ''I loved trainers, sneakers, Kreps so people called me Krep and kept missing the t off-it stuck, Konan was running around causing a madness like a wild child, so he was always Konan the Barbarian and our nicknames were born''.
Listening to the duos very strong mix tape, it's clear both MC's are equally gifted on the mic with punch lines and metaphors beyond comprehension. They tell me that's healthy and means no ego's or unhealthy competition '
'We've never had any major fallouts, petty arguments but nothing major, just the smallest of things but we always come to an agreement'
Their vocals have a powerful, passionate clarity which will no doubt resonate with listeners, and lead to success if managed properly, ''
we don't wanna get money and blow it all. A lot of people let fame get to their heads, we would never do that, people you diss on the way up will be there waiting on your way down'
My heart breaks listening to their tracks ''my story''...and ''other side'' which are about the murder of Konan's stepfather Ned, who was murdered at home protecting Konan and his mother after a gang came for Konan. ''
I was determined to turn this negative into a positive''. My Story talks about the night of the murder, and how the duo consequently dealt with their grief and kept focused on the positive side of life. Konan revealed ''at the time it was make or break for me, the police took my clothes for forensic tests I was left with absolutely nothing''
Even though TeamUK acts have their own movements and cliques, its unusual for so many mainstream acts to tweet and champion a new act the way in which they've embraced Krept and Konan.
Everyone from Tinie, to Chip, to Wretch and more have shown the boys love. Konan ''
This industry is usually competitive and people don't want to promote each other but we've been lucky enough to make some big strong, real connections''.
The boys have songs featuring all the big current acts like Chip, Tinie and Giggs, ''
we were around at Chips house the other day just reasoning and I'm still surprised cos we grew up seeing him doing ''oops-a-daisy. Even Tinies manager told us that Tinie never does verses for other acts, but he collaborated with us so we are truly humbled''.
I was friends with Funky D who used to show me how the scene operated, and then our first big break was the Otis cover we did, it got 3million views, it made people talk, but Jay Z;'s record label informed us, via e mail to Krepts phone, that we were infringing copyright! We were going through a tough time with the ''our story'' situation and we were just about to go onstage on Skeptas tour-it was hard to deal with. Next the Otis heat turned into a negative, cos people accused us of fiddling our viewer numbers on YouTube, so we carried on working and then our mix tape charted at number 19, so I think that was a big moment too. The tough times were hard, but our manager Vash told us often things backfire but we needed to buckle down and focus, he taught us a lot and we will now use that education to play the game properly''.
The duos mix tape TSUNAMI is unique in that it sounds big, filmic and panoramic. They give the credit to their team ''
we have our own movement called ''Play Dirty; our in house producers are ADP and Adot Skitz who give us our unique sound''
The duo is achieving fame and success quickly but it's important not to forget they're very young. A track on their mix tape is titled '' ''Too young'' and speaks about being too young to be rushing things in life like women and relationships. We briefly discuss social media and platforms like instagram where young ladies upload scanty photos.
'everything evolves around social media, you can meet your next girlfriend online, I have! I have cousins with instagram who are 10 years old. The porno-grafication of young people is going to get worse, we cant do anything about it, you can put bars on computers, but better still you have to educate them about life''.
Talking about the trend for young women to take numerous scanty photos of themselves and pop them online, Krept states '
'you wouldn't want your wife putting out naked pics of herself, I will like it and maybe even follow them back on twitter, but that girl could never be my wife''.
Speaking of the ladies, we touched on the recent Naomi Campbell campaign to use more women of colour in the fashion and entertainment world. The boys said they were doing their bit ''
we always make sure that in our videos we use models of colour and are inclusive, we made sure there was a black girl and white girl in our videos''
The boys have been nominated for a MOBO for best newcomer alongside Etta Bond, Fuse ODG, Shakka and more. They reveal ''
we've been getting our fans to vote; we have a big fan base so we hope they come through for us. I was watching Kanyes speech's at awards the other day, so I'm getting inspired to win. We need the MOBO's cos they highlight the urban scene, when the Brits turn their back to us we still have the MOBOs. My favorite MOBO memory is So Solid Crew coming down from the ceiling and stuff- I'll never forget it, it was crazy!''
Their new album is coming in 2014 with no title yet, but tracks starting to take shape. '
'We only hope we can not repeat ourselves and keep our lyrics fresh and real. We don't ever want to lose who we are but understand that we have to play the game and make music that the majority might want to hear as well as mix tapes for our fans. Its not selling out, its selling out stadiums!''
The fact that these two little-known MCs galvanised teenage music fans, to buy their music in a world where everything is now downloaded free, must mean they are worth a listen. If you don't know, get to know.
iTunes link for Young Kingz https://itunes.apple.com/gb/album/young-kingz/id675181006
www.twitter.com/kreptplaydirty
www.twitter.com/konanplaydirty
https://www.youtube.com/user/playdirtymusic?feature=watch