The incomparable Laura Mvula hosted an intimate album playback listening session, for the remake of her debut album ''Sing to the moon''. Singer-song writer Laura has rerecorded her critically acclaimed debut album at the Abbey Road Studios with the Metropole Orchestra, conducted by Jules Buckley.
The session was held at the push Olympic Studios in Barnes, west London where crew, tour team, family, friends, music media and press were gathered for the aural treat.
Sat in regal red velvet seats in their screening room we were treated to mini fish & chips, cupcakes and drinks and encouraged to settle back and take in the hauntingly dulcet tones of Ms Mvula- a former supply teacher often described as a relunctant star.
The session began with Laura, dressed in a structured mustard beige mini dress and her striking hair today piled high in a mohican with the sides shaved short , giving a short interview about her journey on this classical music adventure.
This was followed by a short 6 minute screening of the making of the album with Laura, Jules and others talking us through the experience. Then we sat back and allowed ourselves to be carried away on a musical journey as the room dimmed and quietened.
Laura comes from "good stock" with a very strong team behind her. Her manager Kwame Kwaten has been managing and making stars out of unknowns for years. A well focused team that see's the long road is incredibly important in this music game. Surrounding yourself with "yes people" aka enablers who make their cash off you and scarper can lead to quick fame, quick kick to the kerb!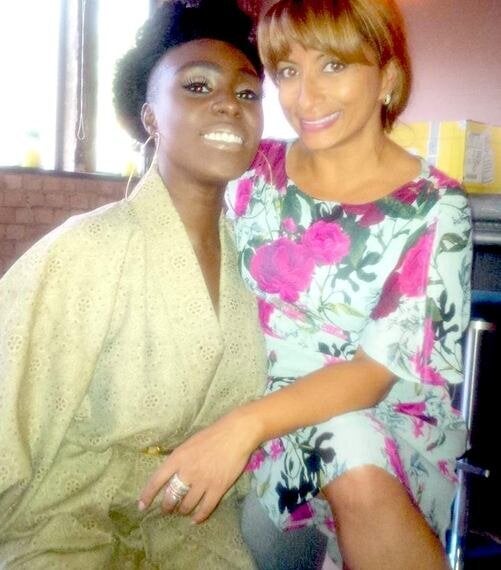 JASMINE WITH LAURA POST LISTEN OF HER AMAZING NEW REMAKE OF "SING TO THE MOON" AT OLYMPIC STUDIOS.
Afterwards we went to catch up with this strong not afraid to be silent 28-year-old, as she signed our music song sheets, which she had kindly placed on all her guests' seats. It turns out the reason that the album was remade was as in 2013, following the release of her first album, Laura was asked to perform at the BBC prom. When she had originally written the songs in her bedroom Laura had imagined them with an orchestra and conductor Jules Buckley did such an incredible job that the urban prom was a huge success.
Of course the next logical step was that plans came together for an orchestral version of the full album and as now Jules had moved and was the helm of the Metropole Orkest, the worlds leading pop and jazz orchestra, it was a no brainer to collaborate again.
The playback was a huge success and the audience left on a high. Her brother and sister usually form part of her five strong band but for her next big outting they will take a well deserved rest watching her with the Dutch National band- Metropole Orkest.
Laura really has an extremely unique voice and style and if you'd like to catch her live, then pencil Tuesday 19 August 2014, at 10:15PM at the Royal Albert Hall for a Late Night Prom in your diary, to see what all the well deserved fuss is all about. (THis is a young lady from Birmingham who counts Prince amongst her biggest fans!)
To me, she's part of what i see as the new British female movement of real music stars. The movement includes her friends Shingai Shoniwa, Emeli Sande and Paloma Faith. A strong force that are all having their day in the charts, in clothing ad campaigns and internationally.