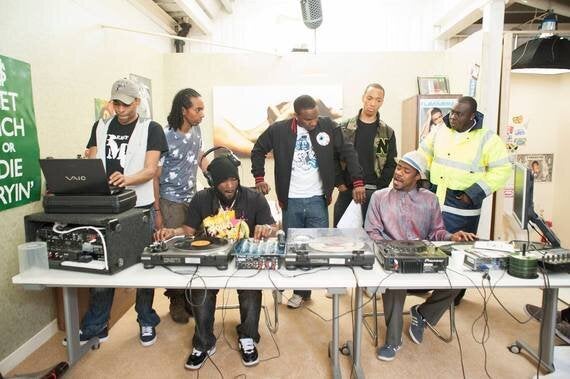 NEW BRITISH BLACK COMEDY ONLINE SITCOM; ONESNTWOS
London's been named Talent Capital of the world after 22 high-value sectors (Banking /Telecoms/ Creative arts) were surveyed. London has 1.5 million highly talented specialists employed, beating New York to second place who has 1.2 million. From people to events, this is the world's greatest city.
A visit to award-winning physical special effects company ARTEM based in a quiet industrial park in Perivale, west London to see them at work, shows just how we are beavering away quietly. Artem have been making huge SFX for TV and Hollywood movies for years, and have an annual open day engaging the local community too. They showed us how they made SFX physically in todays very digital world.
We experienced gremlins that come alive, daleks that speak, Halo characters, wind machines that swept us off our feet, 3D digital printers making feet (don't ask), giant robots cutting and moulding movie character statues, giant animated foam heads and more! Coincidently, ARTEM made loads of SFX for our next trip, which was to the theatre!
At the world famous Drury Lane Theatre, the interior of the theatre is as ornate and opulent as you'd expect and hope for from an old London venue, and was packed full of excited adults and children anticipating the evening. We were not disappointed.
The curtain rose to reveal a beautiful 3D set that floated and slid on and offstage intermittently.There were so many sets, all stunning and breath taking. From Charlie's grandparents under the railway arches poverty struck home, to the gigantic gates of Willy Wonkas factory to the numerous sweetie making workshops- it was all a whirlwind of magic!
We all already know the story but it is beautifully developed with modern tweaks, whilst retaining its original style and tone. However, it was the lighting projection and set graphics that created amazing illusions of travelling through whizzing elevators and through buildings that was mesmerizing. At one point a character (Violet) blew up onstage and her debris scattered all over us in the form of purple tinsel!
It was Artem - who we had visited earlier that week- who had been commissioned to provide tailor-made physical special effects for Sam Mendes' new stage production of Charlie and the Chocolate Factory.
The brief included devising an inflatable suit that would transform Violet Beauregarde, the gum-chewing winner of one of Willy Wonka's golden tickets, into a giant blueberry. The experiments needed to be visually engaging with bright colours, bubbles, and smoke, but they also had to be contained in a very small area on stage with dancing action around them.
Six different 'laboratory' units were built incorporating air and fluid pumps, with lots of tubing and crazily-shaped containers with bubbles floating from one and smoke rising gently from others to replicate the effects of the Oompa Loompas wacky sweet manufacturing experiments.
The inflatable suit had to fit each of the child actors playing the part of Violet Beauregarde and is self-contained under their outer costumes. It also had to be simple enough for the child actor to operate as well as being safe.
Laura Sindall, an Artem technician, created a couple of alternative designs that were trialed to get the best look. The air supply had to be tiny in order to be hidden, but at the same time had to be capable of ensuring full inflation of the suit. Other safety valves ensured the suit could not over inflate and squash the child!
I go to the theatre to see shows very regularly and can honestly say this was a magical evening. We were all in awe, the whole audience was buzzing and the visuals effects, sets and sound production was awesome! We were gasping in delight every few minutes - Willy Wonka and Charlie actually floated in an elevator above our heads! The show is booking until November 2014, and it's suitable for all ages so If you're planning a trip to the theatre with children, as a couple or with tourists, I suggest this as the one stop you make an effort to make!
From stage to screen...big thing to look out for next, is a new online TV show called Ones n Twos, which is written by Annika Allen and her co writers Ben Peters and Marc Senior. Ones n twos is a modern day sitcom in the same style and tone as well loved TV series like Desmonds and the real McCoy.
The show was released online on 14th NOVEMBER 2013, starring names and faces that you may already know and love, as well as new comers like Danny 'Slim' Gray, Kat B, Mighty Moe, Axel Comedian, Linden Walcott-Burton Leonie Elliot, Paris Robin, Lenéa Herew, Ava Charles, Monique Fontaine, Michael Moulton, Johnathan Ukeuku and Wakjira Feyesa.
Ones n Twos is a unique online comedy series that follows the lives of an eclectic bunch of DJs that broadcast live on pirate radio station OnesNTwos FM - the biggest little station in London. In each episode the DJs broadcast from the stations custom built studio in the station manager's girlfriends flat. With clashing personalities, secret crushes and power struggles life is never simple for the team at OnesnTwos FM.
This series takes the classic sitcom format placing it online for a great mix of humour, drama, comedy and entertainment.
Annika revealed how the idea was born 'We felt that there wasn't a show on TV that we could relate too or represented black culture in a fun way without focusing on drugs, guns or violence. One half of our directing team Ben Peters came up with the initial concept. He spoke to the other Director Marc Senior about being involved and me to produce it and we kick started the project from there. Coming up with character outlines and a story arc etc.''.
Annika also told us that like Jay Z said, it's a #newrules world ''We wanted to create a show that was exactly how we wanted it to be without any outside influences. Plus if we waited on traditional funding or a commission we could still be waiting now. So we decided to do it ourselves in the hope that we can re edit the format to 6 x 30 min episodes for a TX on TV. With Felix Dexter passing, ChoiceFM no more and people from BAME backgrounds leaving the creative industries in their droves, we feel its a good time for a series like this to leave its mark''.
You can watch the show here on YouTube @OnesNTwosTV
With new local London TV station LONDON LIVE starting to broadcast in April next year having set the trend by commissioning young black actor/producer Samuel Benta's online show ''All about the McKenzie's'', the time to make your mark by going it alone via the internet has never been greater!
JASMINE DOTIWALA is exec producer of LONDON360.
You can watch all the archived shows here;
https://www.youtube.com/show/london360