Like a phoenix rising from the ashes of disaster, both the MOBO and SO SOLID brands have persevered and won!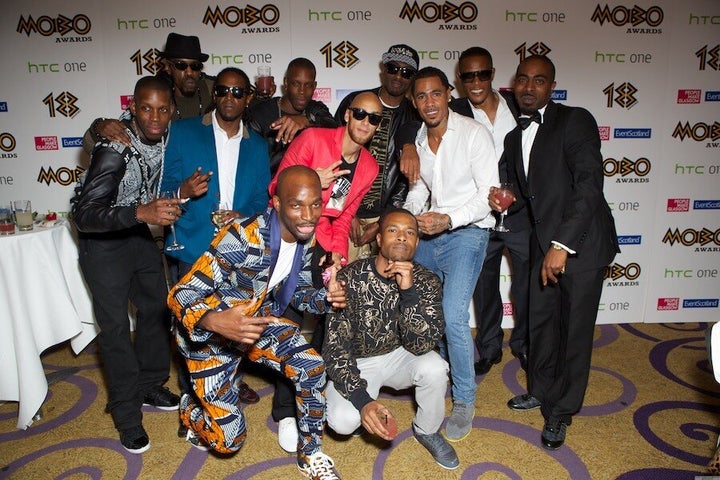 So Solid at MOBO 2013 launch.
PIC © Copyright Paul Hampartsoumian 2013
Many businesses' don't last a decade, let alone 18 years, so salute and applaud the brand that is MOBO, who celebrate their 18th birthday this year, and So Solid who celebrate 12 years!
The MOBO annual nominations launch party this fortnight at the Grand Connaught Rooms, was the best one ever. It felt as if they'd turned a corner. Its true there have been launches in the past with more car crash celebs in attendance, but this year really upped the ante in all areas. The ballroom was set up like an awards show, with beautifully dressed tables. Each table had bottles of water, wine and champagne. In each corner of the room was an exciting thing to engage with.
In one corner, a sweetie station with old skool sweets like cola cubes and sherbet spaceships, in another, a giant group sized photo booth by the Phototainment Company which had the best instruction video, with poses that had party goers shrieking in delight.
Everyone passed through the Guest Stars photo booth and had their MOBO 18 pictures printed and tweeted throughout the night. Copious amounts of mini food platters like fish and chips and mini burgers and beverages galore were served on silver platters.
Everything about this years launch felt different. Media and celebs were scanned in using HTC One devices, which were also on display throughout the venue. The tables were well decorated with Table Art coloured pixels tubesThe glamorous set up, the stage running order which saw a gorgeous Sarah Jane Crawford from Radio1Xtra hosting, a speech by long time UK music manager Kwame Kwaten, an introduction by CEO Kanya King, a totally surprising performance by So Solid Crew which brought the house down, and a similarly great set by newer act Fuse ODG and Jahmene Douglas!
The vibe in the room felt VERY positive. Hilariously, this night always see's people in attendance that slag off the MOBO brand all year round, but kill themselves to attend the evening. As Kwame mentioned in his speech, it can't be everything to everyone at all times. (Dizzee Rascal boycotted it yeas ago and has never been back).
The public vote dictates who wins. As many a black music act from Jazzie B to Tina Turner, Destiny's Child and Fugees, reflected in their MOBO speeches many years ago- MOBO was the first brand to award them recognition, even after they'd been in the industry many years!.
Mainstream brands like the Brits have years when urban music is in favour, and others where it isn't, so we always need MOBO to be the stable brand that supports year in and year out.
Years ago, the mainstream press tried to tar the MOBO brand with its incorrect, unsearched stories, blaming MOBO for a boat part shooting. They branded the front page ''MOBO after party shooting'' when in fact it was a record label party, nothing to do with MOBO. MOBO kept its head down and continued grinding in this cutthroat industry. Nowadays the mainstream press take it more seriously.
For the BAME community, it's a consistent, supportive brand that brings out the influencers in the entertainment scene. This year, those in attendance included a lady that brought up a generation-national treasure Floella Benjamin with her very handsome distinguished hubby, rapper Sway, new afrobeats Fuse ODG whose dancers had the crowd all mesmerised, MOBO CEO Kanya King in a foxy red frock, actor Adam Deacon trying as usual to stay understated but being mobbed by fans wanting pictures, ChoiceFM breakfast show host Kojo , music industry legend Mervyn Lyn ( Puffy, Alicia Keys), Paul H- the only photographer to the UK urban scene, Paola Lucktung- the go-to-lady at Adidas, Kwame Kwaten- one time member of music act D'Influence, now music manager of acts like Laura Mvula, Taponeswa Mavunga from Atlantic Records, old skool singer Gabrielle who is being brought back with a fresh sound by Watford super producer Naughty Boy, artist Baby Blue looking sweet in her dress and having fun in the photo booth, singer Kel Le Roc looking as usual, red hot in a body con dress, Radio1Xtra breakfast host Twin B, Island Records A&R Benny Scars and Island Music head honcho Darcus Beese.
Backstage though, the hype and excitement was all about So Solid. The impact they made way back in 2001 cannot be underestimated. They burst onto the scene, brashly unapologetic, and represented their endz with pride and [that] unforgettable video for ''21 seconds'' where each band member menacingly spat their lyrics inside a giant, metallic caged cube.
But juxtaposed with their chart hits, sold out shows and awards were violence, firearms offences and prison sentences. Here were a young group, that achieved overnight success, with no guidance on how to spend their money, advice on where they should live or how they should cope with their sudden catapulting to dizzy blingtastic heights. Even the police centred their infamous 696 form around the group. This stopped any live shows the group attempted in the UK.
We talk about care for young acts like Justin Beiber and Miley Cyrus, but assume that as So Solid Crew act all grown and big, that they know how to negotiate life. They didn't.
However, over the years their influence has been strong. Various members have resurrected their solo careers (Ashley Walters acting, Lisa Maffia music, Harvey and Romeo mainstream TV) and even now youth cite them as being their greatest British music influence.
When pushed on why other UK cats like Damage, Eternal and Mark Morrison weren't big UK Music influences, young people tell me ''
So Solid represented London, and they didn't try and imitate American music'
'. So many young girls, all wanted to be Lisa Maffia, the only female in a heavily male testosterone group, some even went as far as to call her a feminist icon!
So at the MOBO launch party, most journalists were falling over themselves to grab interview time with lovable rogues Harvey and Romeo, who despite being a decade into their career, still looked fresh, happy and the twinkle in their eye came out to meet every female reporter. We discussed their current life situations and music news. Both seemed older, wiser, more level-headed and very happy with their now, much more settled lifestyles.
A touching moment was when we spotted Harvey welcoming new younger acts, and giving them tips and advice on his regrets in dealing with business. So Solid leading lady Lisa Maffia wasn't in the house due to other business commitments but the men in her crew definitely represented well.
So Solid really need to be praised for their contribution to the UK urban music scene. They were the first act that really caught the nations youth up in excitement, and represented the British youth lifestyle and experience.
It's hard for some of you to imagine the climate of UK black music 18 years ago. Nowadays its normal to see acts born of black inner city culture, like Tinie Tempeh, Dizzee, Tynchy, Chip, Wretch32, N Dubz and so on in the national tabloid press, invited onto mainstream TV shows and charting well in our music charts.
18 years ago this was practically unheard of unless you were Sade or the like. British black acts back then just weren't taken seriously by the mainstream or broadcasters playlists-thankfully we've proved them all wrong.
Back then, black music teams were uninspired by mainstream rejection, and many of us who worked in the industry, were determined to fight and make the change to see a genre that we loved, make it big. MOBO and SO SOLID are just two of these brands that fought to make the urban lifestyle scene today what it is, and for that we are applauding them!
MOBO AWARDS 2013 featuring So Solid takes place in Glasgow, on October 19th.
Related