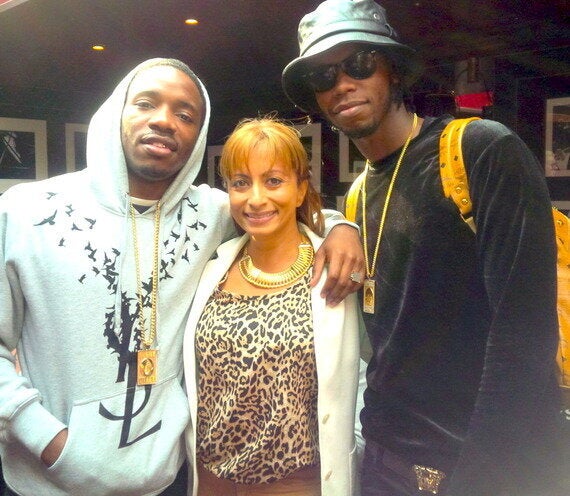 KREPT & KONAN LEAD MOBO NOMINATIONS WITH FOUR!
ALL PICS COPYRIGHT JASMINE DOTIWALA.
The MOBO Nominations party was reinvented this year. Usually an evening affair full of dressed up ladies, uber amounts of alcohol, silver platters full of canapés and a free for all party that runs for hours, this year the brand reinvented itself with a nominations reveal akin to the MTV and Brits brands, with an early morning champagne fest breakfast at world renowned jazz music venue Ronnie Scott's on Tuesday morning.
Paparazzi, print press, TV news crews, bloggers and music talent were lined up outside on the Soho pavement an hour ahead of doors opening, such was the buzz that the awards were returning this year to its London hometown roots.
Although it was a breakfast affair, there were no teas or coffees to keep our bleary media eyes alert, it was still black music glitz with hundreds of glasses of champagne lined up along the bar, with mini Danish pastries on hand too.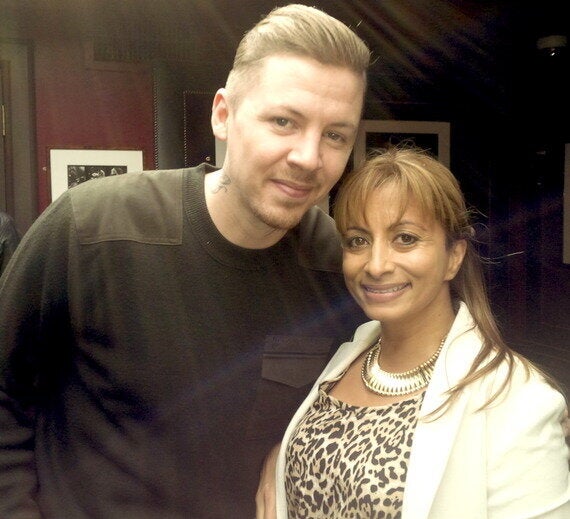 BEST HIP HOP NOMINEE PROFESSOR GREEN.
Music acts, tastemakers and media bigwigs in the house included Professor Green, Krept & Konan, Angel, Meridian Dan, Ella Eyre, Melvin Odoom, Michelle Matherson, Jonathan Shalit and more. After XTra Factors Sarah Jane Crawford welcomed us all and handed over to MOBO CEO Kanya King, we were fully awake as international actor and heartthrob Idris Elba bounded onto stage straight from the airport, to pick up his award- a new award invented just this year- for most inspirational person. Idris, dressed in a sharp suit had the paps frantically snapping away and suddenly the A List factor in the venue went sky high!
Lion-maned beauty Ella Eyre sang for us and proved why she's a worthy nominee this year.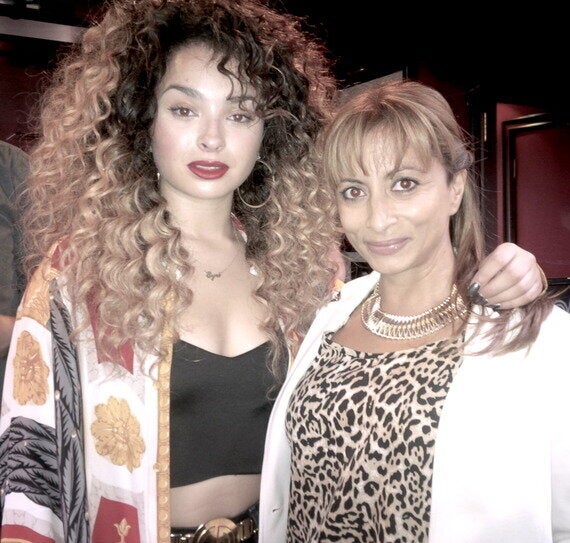 BEST NEWCOMER NOMINEE ELLA EYRE SINGS.
Taking place at Wembey Arena on October 22nd this is the MOBO 19th year anniversary, and to celebrate the brand has spread its musical tentacles, and expanded to new areas. It's moving its focus beyond just music and encouraging the next generation of creative talent, regardless of field. This will engage young people who aspire to work in film, TV, dance, theatre and visual arts. They're calling this the MOBO Movement and will partner with established organisations to make youth dreams happen.
This years show moves from its previous BBC home, across to rival ITV, and this naturally means that with ad breaks that the televised part of the show will be much shorter, with certain categories having to be announced before transmission time, and not all categories being televised. ITV2 will transmit the live two-hour show with main channel ITV running hour-long highlights. It will be interesting to see which categories are dropped for TV.
Once upon a time many, many years ago, MOBO were criticised for awarding the American talent with too many awards. Today this has swung totally the other way and in 2014 the highest nominees are British acts singer Sam smith and hip-hop duo Krept & Konan. Both Sam and Krept & Konan have been nominated for four awards each, with Ghetts, Tinie Tempeh, Meridian Dan and FUSE ODG all receiving three awards each.
To the die-hard underground scenes delight, we have a new category this year for MOBO Best Grime, which included a host of popular names like Big Narstie, Ghetts, JME, Lethal Bizzle, Meridian Dan, Novelist, Skepta, Sox, Stormzy and Wiley.
Within minutes of the launch announcement, MOBO Awards was trending on twitter with an eruption of tweets from the UK music industry on their delight at being recognised for their hard work. Even Ed Sheeran tweeted ''if there's one thing you do today you should vote for Big Narstie in the mobos coz him winning would make me happy''. Wiley tweeted '' I will support the mobo awards 4 life''
Best international act included the expected names like Beyonce, Drake, Iggy Azalea. J Cole, Nicki Minaj, Pharrell and more. The most important thing though is to realise that whether its nearly two decades old or not, there is still a real need for this brand that gives a voice and platform to British black music acts that would have no other mainstream music awards giving it a platform.
Urban music has highs and lows in the British music charts. One year we're taking over the whole chart placing's, and the next we're blanked like the proverbial black sheep of the music industry family.
Kudos to all those that continue to fight for its existence and mainstream broadcasters like ITV that understand that the black music pound and audience demographic is not to be ignored.
Related