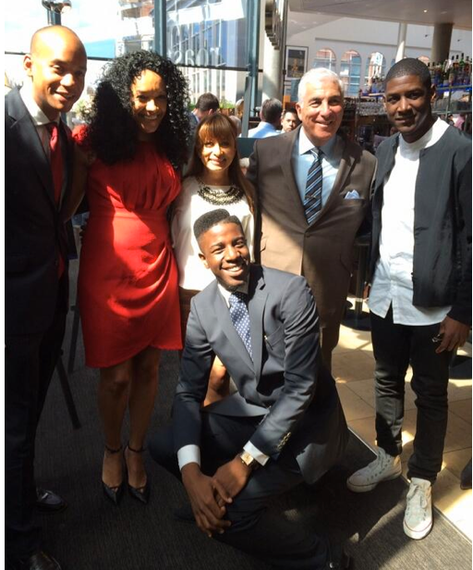 Chukka Umunna MP, MOBO CEO Kanya King MBE, Jasmine Dotiwala, Mich Winehouse, Labrinth and Jermain Jackman celebrate the launch of MOBOvation.
The great and the good from the music industry, gathered on Tuesday morning, at ROAST restaurant in Borough Market, for a fancy champagne breakfast launch for two reasons; MOBOvation- a photography exhibition that celebrates 18 years of MOBO and showcases talent and performances from the annual MOBO Awards ceremonies the exhibition is on display at Roast until November 2014.
A Very Young Craig David In The MOBOvation exhibition.
The images selected from the MOBO archives feature acts who have shaped the musical landscape spanning over two decades and various musical genres with iconic photographs and stories of such talent as diverse as a very young Craig David, a fresh Amy Winehouse, the original four piece band that were Destiny's Child, legend Sade, materialistic hip hop pimp 50 Cent, the uber talented Emeli Sandé, a then new, much less sharp Tinie Tempah and musical whizz Labrinth taken during stage performances and acceptance speeches. The second reason was to launch their annual MOBO UnSung competition.
The invite stated a 9.30am start and by 9.35am sharp, punctual media heavy weights and key influencers like former BBC chief creative officer Pat Younge, entertainment impresario Jonathon Shalit OBE, The RTS's retired chief executive Simon Albury, The Voice newspaper editor George Ruddock, Chuka Umunna MP, The Guardian's Joseph Harker, Amy's father Mitch Winehouse and more were sat knocking back strong coffee's and full English breakfasts. I was sat between former RTS Chief Simon and former BBC Chief Pat both whom were great company.
MOBO CEO Kanya King MBE welcomed industry professionals and distinguished guests and thanked them for their loyal support of her brand for the past 18 years. She reminded us that MOBO had been created to champion young music focused youth and given a platform to urban music acts for the longest time.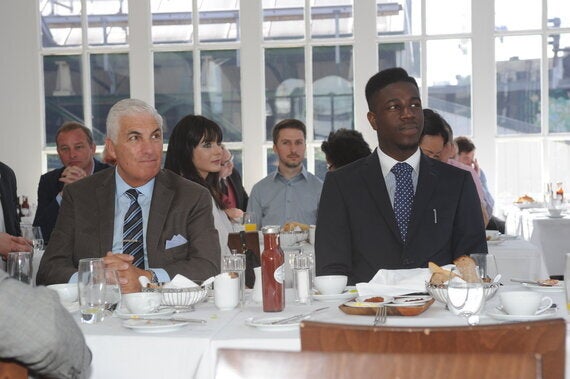 Mitch Winehouse and Jermain Jackman listen to the speeches.
Founded in 1996, the MOBO Organisation was established by Kanya to recognise the outstanding achievements of artists who perform music in genres ranging from Gospel, Jazz, RnB, Soul, and Reggae to Hip Hop. Over the past 18 years MOBO has played an instrumental role in elevating black music and culture to mainstream popular status in the UK. MOBO has since become Europe's leading urban music brand supporting urban music talent in various ways.
Kanya said, "We are proud to have been supporting music for nearly two decades and to be able to showcase some of the many dynamic acts that have graced the MOBO stage over the years. Every image has a story and we are hoping by sharing these incredible stories of passion and professionalism combined with relentless determination that we will inspire many other acts who are trying to forge a career in music."
As well as reminding us about why MOBO exists, Kanya also called upon acclaimed MOBO artists including Labrinth, Akala, Jahmene Douglas (X Factor finalist and a beacon for gospel music) and Jermain Jackman (The Voice Winner) to talk about their own experiences and memories of the MOBO brand.
Akala reminded us about why the brand was important to all British urban talent both commercial and underground, and told me afterwards that he has a very new exiting 45-minute long running, no break, style concept album coming.
Chukka was warm and welcoming to all that approached him and thanked me for my support over the past few years, he too is an incredible advocate for young diverse issues. Jonathan Shalit OBE gave a moving speech about the MOBO brand having supported and championed his own talent like Jamelia and N Dubz over the years when others hadn't been interested and that he admired Kanya's tenacity very much. He reminded us that last years MOBO host Sarah Jane Crawford had been given a platform to showcase her TV presenting skills and now had won the Xtra Factor show lead job.
Straight afterwards Kanya excitedly told me '' my favourite part about this morning was the content and the passion of the various speeches. Akala (Name is a Buddhist term for immovable and he is) talked about having a sustainable career in music despite the challenges he had overcome whilst being an independent. Jermain talked about his incredible journey so far and his ambitions for the future. Jonathan talked about the context of MOBO and all the artists and hosts that MOBO had been a stepping-stone for. I truly meant it when I said at the end of my speech thank you for listening because everyone truly did.My other favourite bit was that we now have a document of the monumental images of many of the talented acts that have been successful in the urban landscape!''.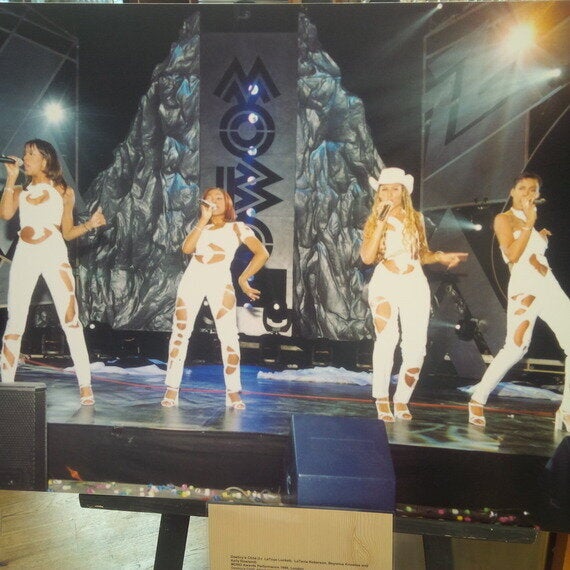 The First Line Up Of Destiny's Child Given a Platform at MOBO Years Ago.
After the speeches we were encouraged to walk around the restaurant and look at the beautiful portraits by photographers over the years and it was indeed impressive to be reminded just how many new, young acts had been given a platform in the wider commercial world when no others had been interested.
Nowadays of course urban music is the pop music of this generation, but every now and again, like when the BRIT Awards totally snub UK urban acts, you're reminded why we still and always will need a platform of our own.
Before we left we were reminded that the breakfast was also to launch the newly expanded MOBO UnSung competition, which is an initiative, dedicated to identifying and celebrating the next generation of talent in music. The contest offers a once in a life-time opportunity to champion creative individuals who are showing great promise to make it happen - the purpose is to inspire them to push through challenges whilst holding on to their creativity. By providing studio time with producers, year-round mentorship, career guidance and vital contact introductions, they are being well prepared for a potential career in music.
The project also offers a skills and talent development opportunity to an area of the industry, which generally receives little, support and has had little infrastructure until this year. Now it seems that every government body and funder is setting up new opportunities to get youth into the music industry.
As I've always stated, its not getting their feet in the door that matters, but a long-term career progression route. It's easy to open a door into the industry for a few weeks or months but the issue with diversity is keeping diverse people in the music game. In any case, learning from the MOBO project will be aired online to be of use to a wider community and the artists will be encouraged to pass their knowledge on and collaborate.
If you're an unsigned act or manager then details on how to enter #MOBOUnsung can be found on www.mobo.com/unsung
MOBO is a part of a movement that's been steadily growing for years. Our generation of key players in the music and media industry weren't content to sit back, play second fiddle and beg to be invited to the industry consistently. Many of us decided to make a stand. We regularly pool our resources to make new stars, push forwards new brands, help media train new talent, advise and consult and stand strongly together.
When you can't get into the establishment you create your own lane.
Related