(ALL PHOTOS COURTESY RICHARD PASCOE PHOTOGRAPHY)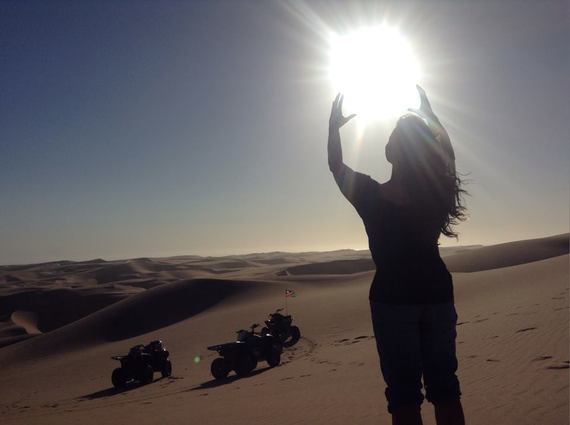 In Namibia, you can play with the sun.
You'll be hard pressed to find anything like Namibia with its diverse and rich cultural heritage anywhere else on this planet. Tourists tend to go for the camps, lodges and safari but you can experience much, much more in this beautiful country.
I quickly realised that Namibia's soaring red dunes, stark moonscapes, ancient valleys, rocky hills, unique flora and immense culture clearly aren't on everyone's holiday radar, after my facebook friends were in awe at my barrage of stunning photos from my trip out there.
Interestingly - as it was pointed out to me on twitter by Namibian's after my last write up - British tourists are the fifth most visiting nationals to Namibia, which is shocking when you consider, that it's barely on the average Brits radar.
We aren't sold package deals to Namibia commonly, our airports have no direct flights that fly there, our airport travel currency bureaus don't stock Namibian dollars, and not one person I know had ever visited Namibia on vacation, and the people I know travel a lot! Even more bizarre that Namibia was voted as top country in Wanderlust readers travel awards for 2014 but is still relatively under promoted in the UK.
My cameraman and I flew into Windhoek-the capital city of Namibia - where all the other travellers were seal wrapping their luggage with Clingfilm. Assuming they knew something we didn't, we followed the herd and had ours wrapped too.
Windhoek has a distinct African element with a mix of people from a variety of cultures who walk the clean pavements. It's normal to see a Herero woman wearing full traditional dress alongside a businessman in a sharply cut suit.
We then took a smaller plane and journeyed onwards to Walvis Bay and made our way to the nearby coastal town of Swakopmund, which is 356 kilometres west of Windhoek. Swakopmund is flanked by the Namib Desert and the icy Atlantic Ocean. Its one of the driest areas on the planet, with the dramatic Atlantic Ocean on one side of the road, and endless wavy, vertiginous sand dunes, of the worlds most ancient desert on the other.
Swakopmund is the adventure capital of Namibia and activities include sand boarding, paragliding, camel rides, ballooning, township tours and scenic ariel flights over wildlife herds below. Even though there's a huge focus on tourism activities, unlike many other places I've visited where tourists loot and pillage natural resource's, Namibia is a country clearly focused on its conservation with uber clean towns and cities and signs that remind you to respect the natural resources. (When we went fishing we were told to throw back any fish that hadn't grown yet to adulthood, and whilst quad biking through the desert we were instructed to follow only the safe trails behind the guide so as not to spoil the natural fauna).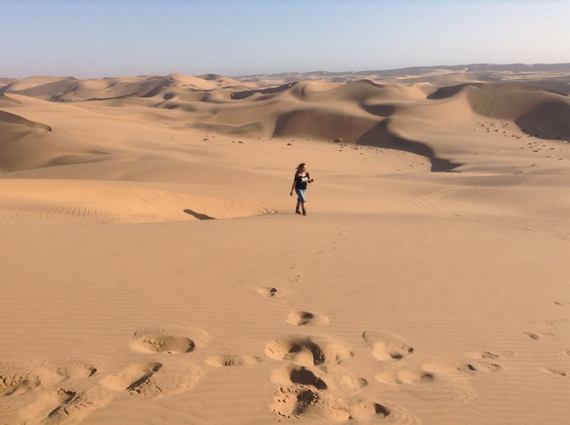 The Namib Desert is breath taking with it's vertiginous dunes.
With Swakopmund as a base you can travel to more remote safari focused areas of the country as well as enjoy all that the coastal city has to offer. The jetty has world-class restaurants on a level with Nobu and Hakkasaan. Tiger Reef, which was two minutes walk away from the main town, has a huge beachside café and lake with flamingos that that was so beautiful I squealed when I spotted it!
We stayed at the centrally located, creatively named The Swakopmund Hotel - built in and around the old station building - which combined history with fine Namibian hospitality, luxury and comfort. After 3 days working at the Namibian Annual Music Awards, we had two and a half days off to explore and we packed in as much as was physically possible via our local connect Ludovic.
On our first free afternoon we were encouraged to go on a township tour, which I had to be forced into, as it always seems to me to be very distasteful. My Kenyan relatives in Mombasa hate it but inform me it's a financially positive method for locals to earn money.I guess it even happens in Hollywood with movie stars home tours. Once I was convinced to go it wasn't bad.
The Township Tour took place on a Sunday afternoon and our guide Castro took us to a few local spots. First to the home of Talitha, who used to work as a housekeeper for a German family but lost her job. Although her living space was small, it was fully equipped with all electric kitchen appliances like a fridge, microwave, kettle, radio, and TV.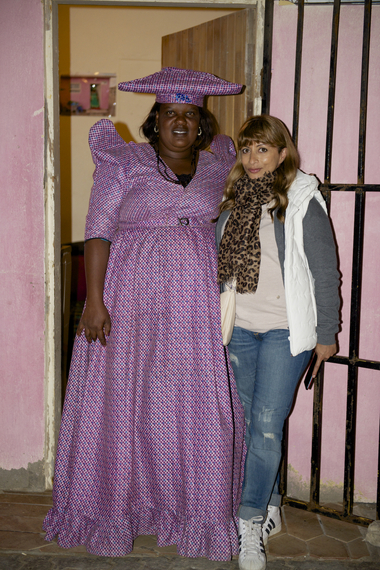 Talitha invited us into her home on the township tour.
Her style of dress was Victorian from the Himba tribe. The length of the horn shaped hat she wore dictates a ladies age. The longer the length of the horns, the younger she is and she told us that they wear these outfits from the day of their first menstrual cycle. Talitha explained that ladies have to wait for men to ask for their hand in marriage. Men with 1000 cattle can marry numerous wives. Multiple wives will ensure that their husband is chaperoned everywhere. She added that 12 years education equals two cows and eight thousand Namibian dollars. We were also told that cousins marry cousins to keep wealth and cows in the family. Talitha asked us to guess how old she was. We guessed around 18. She was 46!
The second home we visited just 2 minutes drive away, was in a poorer township area where they didn't have electricity at all so after 6pm, they used only candlelight. This was the home of a medicine herbal woman and her neighbours son who chatted in broken English with me. Theirs was a large wooden shack, which homed eight people. The lady kindly took time out to show us various herbs in jars that she used to heal locals. We were handed the jars to smell as she explained their benefits to us, which included body cleansing, weight loss, flu and more.
Our third visit was to a much wealthier family who ran a restaurant from their home, which was furnished and set up just like any other western home. Here Castro told us that '' if you are lucky you will taste our Namibian delicacy''. Intrigued and mouths watering we enquired what that would consist of? He explained ''Caterpillar, it is a delicacy in the Owambo tribe''. I like to think I'm adventurous but that was a no-no for me. I also avoided the other delicacy -tripe- instead enthusiastically munching away at porridge meal so as not to seem rude.
Our final visit was to a local bar with a lovely, friendly vibe where on entry (like a classic western), all revelry stopped and time froze as the locals stopped to take us in for a few moments. We were offered drinks so Richard, eager to impress, bought their strongest rum and downed it all- making immediate friends. The unifying powers of alcohol! I wondered over to the jukebox where popular tracks included Milli Vanilli, Pharrell, Elton John and a number of local acts. Finally, local Namibian male vocal group AFRICAN VOCAL ACAPELA BAND sang a three of their songs for us. Their soaring, stunning voices were so strong that we bought their CD ''Namibian RHYTHM'S''. (They're in Europe this month so look out for them!)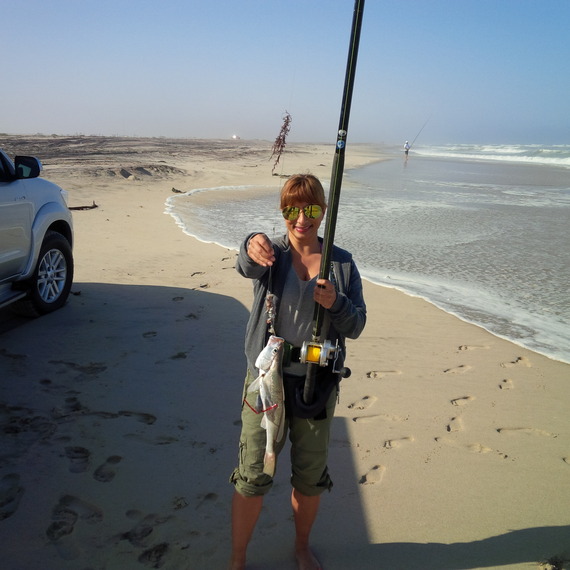 Fishing in the Atlantic Ocean.
On DAY 2 our fishing tour began at 8am and unlike many holiday tour teams that keep you waiting endlessly at reception, these guys were there 20 minutes early. Impressive. We were driven a few kilometres out of town to a wild part of the Atlantic Ocean where the waves lashed the empty, vast, wide sandy shores. The sun was beating down, but the Atlantic wind was colder and so sunblock and sweaters were needed. The friendly fishing instructor ensured we were well kitted up and helped us with bait, casting out and technique. It was only minutes before I caught a huge Cobb and 3 hours later we had a full bucket full of catfish, Cobb and more, which another fellow tourist and her camping mates were happy to take for that nights supper.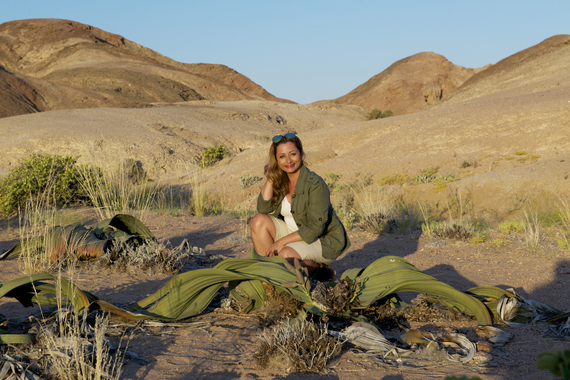 The Welwitschia Mirabilis- which grows only in the Namib.
The same afternoon we were picked up at 2pm sharp for the Namib Desert Tour where we were driven around and shown stunning views of the moons craterlike landscape. The tour guide took us to specific spots to take in the view and snap pictures. For the final part of the afternoon we were introduced to one of the worlds most amazing plants- the Welwitschia Mirabilis- which grows only in the Namib, where rain may not fall for decades-. The plant survives solely on the condemsation from The Atlantic fogs which can be seen rolling in like huge fog tsumamis daily in the mornings. In online info this plant had looked like any other Kew Garden like species. Its only when you see the size of it compared to a human, that you see its size, regality and awe at its strength to survive out in this very hostile, arid territory.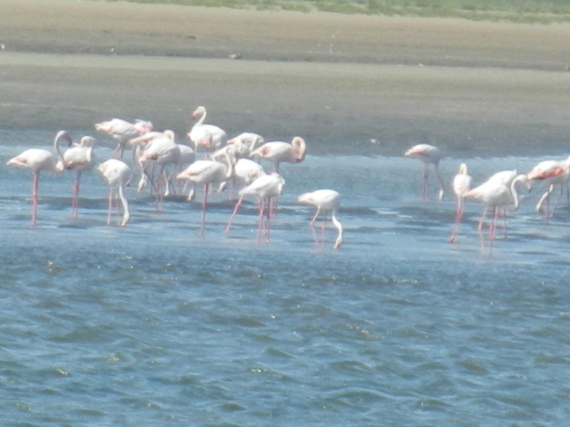 Hundreds of flamingo, seal, pelicans and dolphin can be seen around the coastline.
On our final day- DAY 3 we were scooped up at 8am sharp again for our Seal and Dolphin Cruise which was increible fun. We were driven to Walvis Bay where we all boarded a catamarrang and cruised the ocean for three hours. Yet this was no ordinary boat ride. Within minutes we were surrounded by giant red jellyfish (which I was assured were not hostile or stinging), and huge seal colonies that swam alongside us (a few even got onboard the boat to eat fish and take photos with us!). This was clearly a moment they played along with, the captain feeds them fish that they don't have to swim for, tourists get selfies, everyones a winner . The most stunning part of the cruise was as we sailed alongside the coastline where hundreds and thousands of groups of flamingo, pelicans and seal all frolicked with ease with each other and ignored us as we sailed past. It felt as if we were actually in a great David Attenborough wildlife special.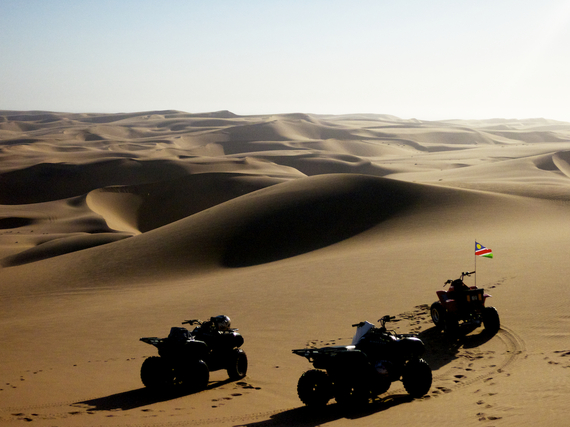 Quad biking through the Namib Deset- one of the most incredible experiences.
Our final afternoon was as breath taking as the morning, as we were taken Quad Biking for three Hours with our guide- Ngahupe. He told us to just call him ''KOBE''. I was pretty nervous abut quad biking having never done it before, but I was soon put at ease and shown slowly how to use the bikes and how to mount tall dunes and slow down and release on approach to a massive drop. We set off on flatter plains that quickly turned into steep, mesmerising scenes like never seen before. We were informed that many Hollywood film crews shoot sci-fi movies like Mad Max here. It really was unbelievable landscape. As we rode by huge skyscraper height dunes I could only wonder at the beauty and pray I'd never forget the experience. Luckily we wouldn't as we were not only taking photos but also filming our rides through the spectacular dunes!
The next day we checked in for our three flights back home still in wonder and on a high from our time here. No one at Walvis Bay airport was bothering with the seal wrap on route home so neither did we- after all this was the country where everything was in perfect harmony with each other.
Usually every African holiday destination is titled ''wildlife filled safaris, castaway coastlines, beach & bush breaks, etc but this really had been an incredible, unique experience.
Today's demanding travellers want this and a lot more and Namibia is one of the only countries I've visited that I can truly say has it all.
World-class dramatic coastlines great to fish in, abundant wildlife as great as any other African country, adventurous activities that are much classier than your average water sport with sea life safaris, quad biking through incredible dessert landscapes, and interesting, welcoming culture. Swakopmund is town that rivals Aspen!
Alas, life is full of joy and pain and balance was about to kick us in the butt. On arrival at Heathrow as our bags came spinning around the baggage carousel, we noticed that Richard's full to bursting bag now resembled a flatter pancake, and the locks of both of our baggage had been broken off with our possessions rifled through, and some contents looted.
Double bad luck; our filmed footage had been stored in the checked luggage (as Air Namibia allow only very minimal hand luggage size and weight), and was now gone for ever. So alas, the memories will have to suffice.
The moral of the story; visit Namibia, its an incredible country, but don't check anything valuable in luggage on Air Namibia and most certainly seal wrap everything. It might help deter the airport workers slippery fingers.
Africa's countries are so much more than we are shown in the west. This amazing continents music, artists, arts, culture and destinations are getting more and more popular on our shores. Don't leave it to long before you visit. Namibia puts Asian and American trips in the shade.