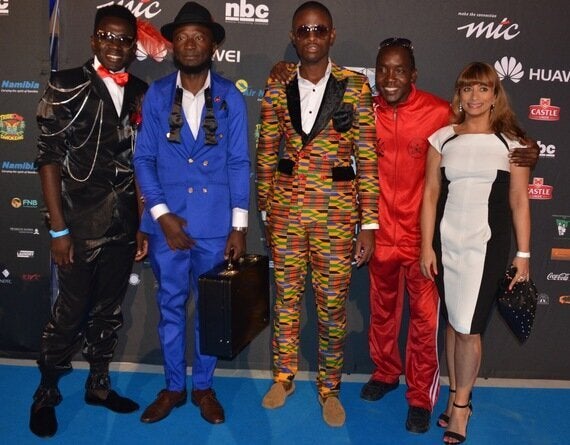 JASMINE WITH NAMA ATTENDEES AT THE FOURTH ANNUAL NAMIBIAN MUSIC AWARDS.
(ALL PHOTOS COURTESY RICHARD PASCOE PHOTOGRAPHY)
The vision that is sold to us westerners about Africa is always so far from the truth it's a blatant lie.
So it was with an open mind that I flew to Namibia this fortnight, in my capacity as one of the judges, for the forth Namibian Annual Music Awards (NAMAS) in the coastal town of Swakopmund - Namibia and Africa's favourite holiday destination where the leadership of the Erongo region was hosting the awards.
Three flights from Heathrow later arriving with packed planes full of Germans, my cameraman and I were very pleasantly surprised. There's not too much online about Namibia as a tourist spot so we weren't sure what to expect at all.
Unlike countries like Kenya, Egypt, South Africa and Nigeria, which we hear much about, Namibia is clearly Germanys best, kept secret (until my next blog when I tell you all about it as a tourist spot).
The NAMAS were for the first time being held outside of the main city of Windhoek at the Swakopmund Indoor Sports Centre, which is huge. NAMAs executive chairman Tim Ekandjo told me '' after Windhoek, we felt it appropriate for the NAMAs to relocate to one of Namibia's many other amazing hotspots, and following an extensive procurement exercise and expression of interest, the Mayor of Swakopmund, his worship Juuso Kambwehse, made the decision to host in Swakopmund this year''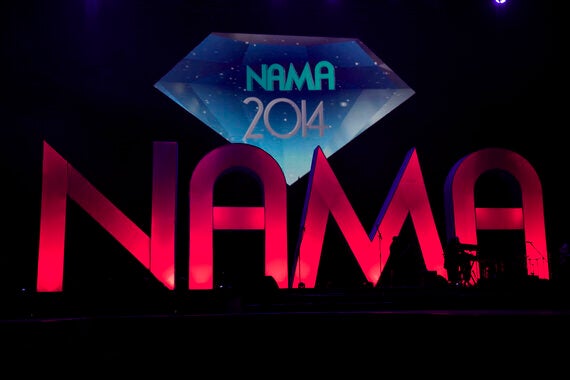 THE NAMAS STAGE SET WAS GRAND.
Impressively for any show, the NAMAs don't allow backing tracking or lip-syncing so all performances have to be totally live. This sets a high standard with a little fun pressure for the performers and keeps live music alive.
My fellow judges were Babafemi Olagbaiye - MTV Networks Africa and founder of One Music Network which broadcasts to 15 countries globally, Lee Kasumba - Head of Channel 0- a pan African music channel and Philip Nwanko - head of music and talent for Trace TV- Africa's number one music channel.
The calibre of acts catered to both young and old, so whilst you could see a Beyonce or Kanye style set it would be immediately followed by an older, more traditional set by a traditional dialect singing elder.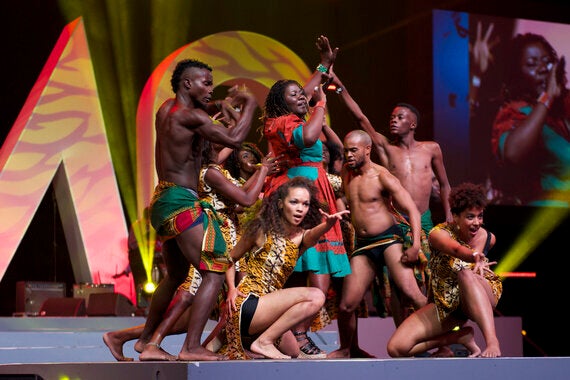 A DIVERSE SET OF PERFORMANCES BOTH MODERN AND TRADITIONAL.
The Lifetime Award honoured Axali Doeseb, the conductor of the Namibian National Symphony Orchestra and author of the Namibian national anthem, Namibia Land of the Brave. Doeseb received the Lifetime Achiever Award after the NAMAS Executive Committee nominated him for his commitment to the art of music.
''we celebrate our rich history in music by paying tribute to all those who played a role in where we are today''.
Awards night was both eye opening and mind blowing. On arrival hundreds of excited guests were queuing outside in their very opulent glad rags to walk one by one through a single security metal detector. It turns out the Prime Minister was attending so security was crazy.
Once through, the excited throng the blue carpet was totally unregulated and heaving with music stars, entertainments journalists, supermodels, fashion designers and more.
Interestingly there were no high-powered PR clipboard-wielding dragons managing the blue carpet. It was literally a free for all, that in the UK would be unheard of, but here it was a buzzing with positive energy, friendly faces everywhere and an accommodating mish mash that worked.
Enthusiastic fans took photos of the stars, audience took photos of themselves in front of the branding boards and not one area of the carpet was sectioned off any 'TV crew/ VIP team'.
Surprisingly whilst the country's entire environment is fiercely protected for conservation and from poachers, many of the attendees were dripping in regal outfits made of animal skins, fur, feathers and more.
This main night saw performances from big hitter names like Gazza, The Dogg, Sunny Boy, Exit and Freeda. The performance variety showed versatility and potential for much growth show casing the best from the region.
Categories included the usual best female, male, single, song, album, but also Best Shambo, best Afrikaans, Best Damara punch, and Reggae amongst others. Winners of each category picked up prize money ranging from 20,000-50,000 Namibian dollars. Its 17 Namibia dollars to the pound, so still a huge financial incentive at between £1000- £3000 a win! The sponsor MTC even pay acts for performing at the ceremony, which isn't usual across the west.
All category winners walk away with a brand new Huawei P6 Smartphone. Female and Male Artists of the Year, Erna Chimu and Gazza, each walk away with N$50 000, a holiday for two at any of the NWR lodges, as well as laundry services to the value of N$10 000. In addition, they and the Album of the Year winner, Elvis se Seun, will perform at the TribeOne: Dinokeng music festival, the biggest of its kind in Africa. All other category winners take home N$20 000.
Many of the songs were sung in local dialect, which made the show feel authentic, and kept their heritage, culture and traditional elements strong. The costumes, language and fashion showed no compromise to western pressure and customs.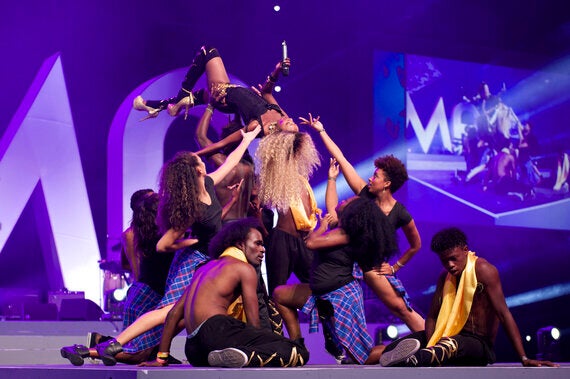 FREEDA WAS WORKING, TWERKING AND WILD.
My favourite female performer of the night was Freeda- an African version of Beyonce meets Pink- who fearlessly threw in acrobatics and wild choreographed dance routines into her song. Her rehearsal showed and stage presence was impressive.
Exit- voted Most Popular Artist of the Year, is the man of the moment. His latest album, 'My Notebook' went viral with every jukebox, taxi, house party and club banging hits like 'Koskola' and 'My Notebook', with his album and performances garnering great reviews. "Getting the best Kwaito award was really just amazing," Exit said.
It was wonderful to see the right honourable Prime Minister Hage Geingob, who was presenting an award, engage positively when the music acts acknowledged him. One of the winners - Blossom- bowed to him before collecting her award and he rose from his huge, leather, and central seat in the front row to have a quick dance with her. He also acknowledged the music industries' value and contribution to the Namibian economy. This was a beautiful moment where the synergies of politics and creative arts remixed.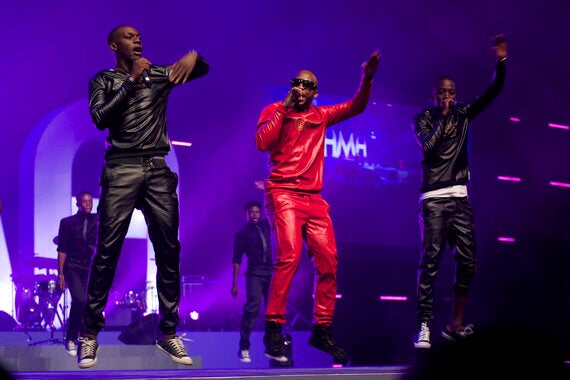 GAZZA - ONE OF NAMIBIA'S BIGGEST MALE ARTISTS.
It was telling that many of the winner's speeches nodded to Namibia's relatively recent independence from Germany in 1990. Gazza, who put on my favourite performance of the night, with his high energy singing and dancing, mentioned in his wining acceptance speech that ''the road from 1990s independence has lead to my success now and I want you all to stand for OUR OWN elected prime minister and salute him!'' to which the audience couldn't scrabble up quickly enough to do and cheer.
Winners from this years NAMAs will also go on to perform at Africa's mega music festival in South Africa this September- Tribeone Dinokeng- Africa's answer to Coachella, SXSW and Glastonbury!
For the TribeOne music festival, Gazza says his fans, the audience, music lovers and the entire Namibian nation can rest assured that he will deliver an entertaining and quality performance that will put the nation on the map.
NAMAs 2014 most certainly rocked and no doubt the African continents version of Glastonbury in September, will be even bigger on a global scale, with many international acts already confirmed!
Don't sleep on what Africa has to offer.