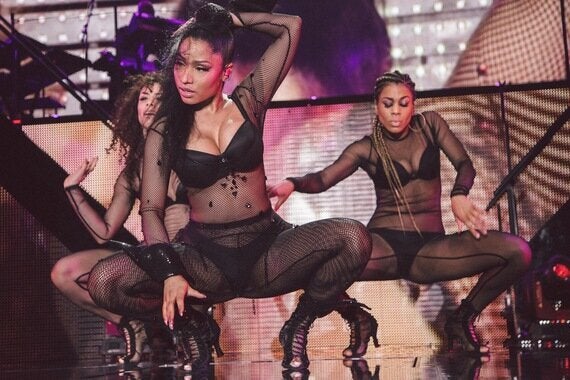 Nicki Minaj on her Pinkprint Tour at London's O2 Arena.
Pic Copyright - Grizz Lee Arts.
A few years ago, I was alerted to a still then unknown female rapper, called Nicki Minaj. I watched her spit a short 16 bar cipher and immediately fell in love with her style, attitude and character accents.
My excitement about her wasn't shared by all though. ''What's she even saying though?'' She's not hip-hop, she's pop'' and so on.
6 years later she's a superstar selling out stadiums globally, and has youth from every background, class and culture all united and rhyming her lyrics altogether in joyous unison. As soon as hip-hop acts go mainstream and commercial, the hip-hop snobs disown it as not real enough. I recall Jay Z once told me ''if they say I'm a sell out great! I'm selling out stadiums homie!''
I am from the Foxy, Lauryn, Brat, Misy Elliott, and Kim era so I can say for sure, that Nicki has surpassed their global reach and achievements. Of course their journeys helped lay the path for her existence. Lauryn Hill had a moment in time of Grammy wins and worldwide fame, but arena tours and big commercial expansion on Nicki level? Nah son. She is touring all over Europe this month. Here's why she's selling out arenas.
What blew me away was her PRESENCE. It's easy for many acts to be great on tracks, but crap live. Nicki smashed it at levels above and beyond I was truly expecting. She hardly ever mimed, she danced her heart out, spoke to us and her presence was immense! She is determined, demands you acknowledge her regal Royalness, and even though near the end she was a lil out of breath, she worked her world-famous ass off onstage. If you are at any of her live shows this month, you will see her lead a two hour set full of hits, with a very impressively rehearsed and choreographed show.
Hard, soft, pop, rap, she always gives you lots to choose from. However, it's clear that her fans want the attitude, high intensity frenzied vocals they initially bought into, not the slow ballads, as this live ballad section had many escaping for drinks and toilet breaks.
She's both vulgar and vulnerable, but she juxtaposes her nasty lyrics with positive advice. ''I want you all to promise me you will never let anyone tell you you're not good enough. Make sure you take yo ass to school. Don't be a quitter, be a winner. When I return, tell me about all the accomplishments you've all made!'' Come on!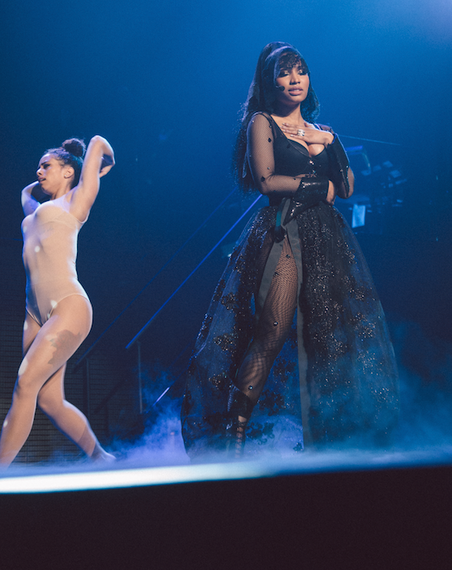 Pic Copyright - Grizz Lee Arts.
Some think she's just a vulgar hood-rat done good. But Nicki is no more vulgar as artists like Janet Jackson and Madonna, but cos she raps her words it seems much more shocking and in your face. To this day, the most vulgar thing I've seen in female pop music is Madonna's SEX book. Now that was truly nasty.
As a rapper, her vocal dexterity, flow, speed and wordplay is formidable and first-class. When she raps I feel like I'm watching a boxer or sprinter at their peak. Oh, and she's funny too!
Watching the audience rap alongside her every word, you could practically see them put on a superwoman cloak of empowerment, akin to the teens watching Elsa in Frozen. Nicki's a rebel and she makes us feel rebellious. She makes women feel like bosses and go-getters that can be both sexy and vulnerable.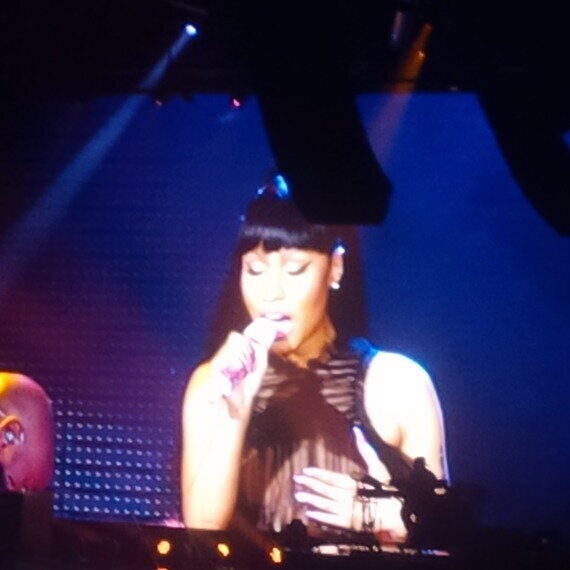 SHE'S NOT A BUSSINESS WOMAN. SHE'S A BUSINESS.
Nicki is not just a music artist, her brand encompasses music, fashion, film, art and beyond. She has expanded her brand with ad's for her own perfumes, adidas, Beats by Dre, Roberto Cavalli, a wine beverage called MYX, MAC and many many more. She is getting paid. In full.
The Internet is rife with blogs and articles about whether Nicki is great or terrible advocate for feminism. Don't you love it when feminists try to police other women's bodies and sexuality? Old worlde feminists refuse to understand her. Naked flesh to them automatically equals a supressed and exploited female. Don't be fooled by her big butt and intimidating expletive-filled lyrical content.
Nicki has defined her own lane, established a new role for female rap stars, and achieved equal rights in the hip-hop game. A feminist advocates or supports the rights and equality of women. If you've followed her from the beginning you'd understand that she is about being a strong feminist, on an equal playing field with the men in her industry. Isn't that a feminist?
Taking on male rappers in the hip-hop world, duetting with them and killing them on their own tracks like she did with Kanye on his hit Monster.
Some folk get their knickers in a twist when Nicki says lines like "my anaconda don't want none unless you got buns, hun". Should there be no balance in the world? Since I was a kid magazines have been brain washing me into thinking that if my butt looks big in this it's a bad thing. That every summer feature is about getting the weight off and every winter feature is about not putting on the pounds under all that winter laying around. We are subtly told that thin is better, more valued and respected. What if your body type is naturally curvy? I'm not skinny or curvy but I can see why it's good to let the curvy girls have their moment too.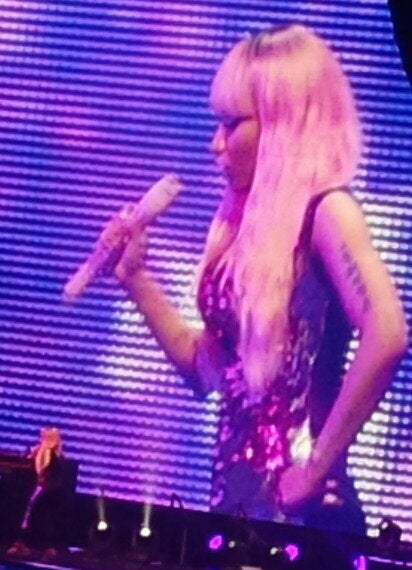 When a black woman is naked she's akin to a porn-star-video-chic. When it's a black woman its vulgar and trashy. When models like Cara Delevigne and Kate Moss are naked its called art. When Madonna and Lady Gaga get naked its ''artistic. WTF? Can anyone say Double standards? The world is so threatened by the naked female of colour. Is it the curves or the colour that freaks people out? Isn't it empowering that Nicki makes curvy girls feel ''normal''?
Black women's naked bodies have been objectified and SOLD throughout western history. The majority of black women I know don't like the way they are forever stereotyped but still respect Nicki's hustle. She's done what she has to do, got that initial attention and debate going and swiftly switched it up. In a society that puts down black and brown skin tones, hair texture, and body shapes, Nicki's affirmation of her own body's beauty resonates with all women who do not comply to Eurocentric ideas of beauty.
One of the new generation Queens of reinvention when she first came out it was all Lil Kim style bikinis and fluorescent, day-glo wigs now, with the guidance of her stylist Rushka Bergman she's transformed herself into a haute couture icon too and featured in Italian Vogue.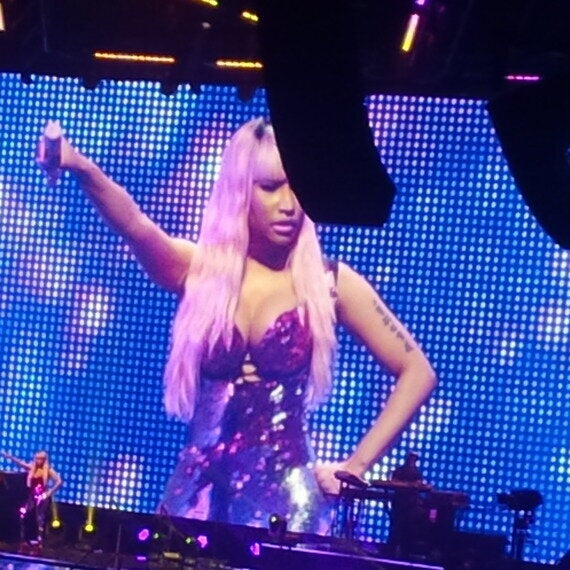 THE ULTIMATE PERFECTIONIST.
I produced her when she was the host of last year's MTV Europe Music Awards, and can tell you that she's a very hard-working businesswoman, who really takes pride in writing and rapping in a way that still shows that she's still hungry, and made a freestyle flow for the show in minutes to engage her Scottish hosts.
One thing the viewers didn't see, was that when a photographer backstage pulled out a plug and her teeny tunnel area where she was changing and half-naked, was plunged into darkness. She had mere seconds to change her outfit. She was an UBER professional and changed by the light of three of our mobile phones with not one quibble or cuss then or later.
The day before the show, when she wanted to perfect her script, I was summonsed to her hotel suite after midnight, so she could ensure it was right on show day. She dictated her changes to me whilst being pinned and fitted for numerous costumes, multi-tasking like a master.
So, maybe she's a feminist, maybe she's not. Ultimately she's just a woman pushing boundaries, hustling her brand, speaking for local communities with a global voice and just trying to exist in this male dominated music world. Now that's the definition of hip-hop as I know it.