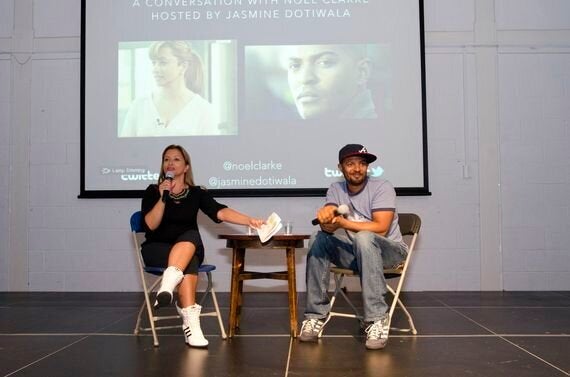 JASMINE DOTIWALA IN CONVERSATION WITH NOEL CLARKE.
PIC COURTESY Cheryl Dempster @DreadArts.
Black Eyed Peas once asked 'where is the love?' and this past weekend it was most certainly alive and well in Harlesden, west London.
Local west London celebrities: BAFTA Award winning actor Noel Clarke, Hip Hop Shakespeare founder Akala, new generation spoken word don- George the Poet, local politician Dawn Butler, and The Dep Mayor of Brent Cllr Lesley Jones joined 700 locals and the London360 TV reporting crew at the Roundwood Centre for the second annual community unity event thrown by Undiluted Expressionz with support from Brent Youth Support Services. (The first event last year bridged the gap between generations, reigniting the community spirit and the sense of the notion that it takes a village to raise a child and saw 350 people attend.)
This weekend's free event was titled 'Mind the Gap 2 - Where is the Love?' an event focusing the community on the growingly worrying theme of 'Sex, love and respect between young people' in 2014, and nearly 700 were in attendance.
The subject matter of sex and relationships was inspired by, a BBC news story on 26 November, 2013, reporting on an official two year Inquiry by the Children's Commission, looking at sexual exploitation by gangs across England. Thousands of teenage girls in London are shown to be at risk of being raped and lured into situations, where boys repeatedly sexually abuse them, with many attacks unreported.
Saturday's community edutainment event explored sex, love and mutual respect between teenagers. The event aimed to increase the levels of confidence and self-esteem amongst young women and addressed young men's attitudes to girls and women in order to encourage mutual respect and positive relationships. There were various master classes, performances, inspirational speakers, fashion and dance shows and workshops during the day including a 'Love Master Class' hosted by accredited Life and Relationship Coach Des O'Connor, a performace by Akala and there was an onstage Q&A, which I hosted with actor and director, Noel Clarke.
Local celebrity George The Poet, is a very articulate performer with an incredibly strong voice who told us
'' I think a lot of young people fall in to situations and patterns that maybe they may have grown up getting used to and thinking that such and such is normal, so I think that it is important that we engage them and deliberately try to shape their expectations and their conduct, their behaviour towards each other. I hope that this event will give these young people new expectations, I think growing up around this area we see a lot of broken homes, we see a lot of fatherlessness, we see a lot of resentment and I think when that starts off in the household, it then seeps out in to the actual community when you go outdoors''.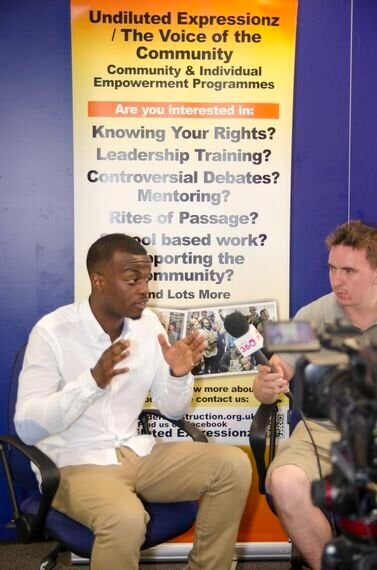 GEORGE THE POET TALKS TO THE LONDON360 TV CREW.
MOBO Award winning rapper, poet and journalist Akala is an immensely powerful live performer, and had all 700-audience members quiet and attentive, as he schooled them with his very personalised, stylistic inspiring wordplay.
"Mind the Gap was without question one of the best community events I have attended out of literally hundreds. The energy was electric, organisation on point, the age range of attendees was vast, the message was positive without being contrived and it seems the organisers have every intention of creating a proper legacy."
Straight afterwards, many attendees didn't believe that a conversation with Noel Clarke would actually happen and couldn't believe he was actually in the building. They didn't need reminding about why Noel Clarkes very existence, is a great thing for youth from disenfranchised backgrounds that need a public figure that they can relate to.
Noel Clarke is a leader and a hero to this generation. He has made it and conquered the movie world on his own terms, partly because he is great at writing authentic stories about communities, relationships and scenarios in the same way that our favourite music stars have written rap verses about their struggles and surroundings.
He agreed it was important for him to attend even though it wasn't an area he was used to speaking publicly about
'' I've written about a lot of things that I saw when I was growing up, but obviously I'm older now and I still see that there's stuff going on with young people that is important and needs to be addressed. We need to make sure that young people keep the respect for themselves; we need to make sure that that young people are going on the right path. I feel that this is an important issue and if I can come here and just talk about my experiences then maybe if I can help just one person, then I'm happy to do that''.
Surprisingly Noel said that being brought up without a father led to some positive actions on his part '' I feel like being raised by a single mum made me more respectful of women, but it didn't stop me from doing disrespectful things. I feel like we are all going to make mistakes and were all going to do disrespectful things, but you have to maintain a base level of respect for yourself as a female and a male, and you have to respect the people that are around you. So, I'm with my woman and I've got two children and you never see me in newspapers and you never see me in press and you never hear any stories about any badness I've done because I've done an ''unthinkable thing'' (sarcasm) by having one woman and having my children with that one woman. I'm not anybody's baby daddy'' (crowd whistle and cheer)
So many things are the same from one generation to the next regards teenage years and experimenting with love and relationships. However the one thing that's changed the current generations engagement is the Internet and social media. Lots of young people may see things like sexting and nudie selfies as being just harmless fun. I wondered what Noel would explain to his own children in the future about this area?
'' My thing is that with stuff like that, the world has changed in a very salacious way. You have to understand that if you're going to take pictures like that and you're going to send them to people, there's a very good possibility that they are going to end up somewhere you don't want them to end up. So I'm not going to sit here and tell you don't do that because I can't control what you do but make sure you are responsible for your own actions, make sure you understand if you do anything like that and it appears online, you can't be upset about it''.
During the chat we touched on the fact that countless young females are now getting entwined in a variety of dangerous scenarios and should be taking their own personal safety seriously when it comes to trusting men and danger. Although I also wanted Noel to highlight, particularly as I work with a lot of young men too, that it's not just about women being in danger, but men also are under a lot of pressure these days.
''Firstly everyone is under a lot of pressure in all these things and I feel like there is a pressure on men to behave in a certain way. There is this pressure of you having to ''behave road''. I'm from Ladbroke Grove, raised by a single mother. A lot of my friends did go to jail, a lot of my friends committed suicide and I'm sitting here talking to you because there are choices, you can make choices and you can respect yourself and for me, the pressure is the pressure that you put on to yourself. If you ignore peer pressure, if you are not afraid to be an individual and lead your own life, regardless of what people are telling you what to do and how to do it, then that is the beginning of you becoming the person that you can be. A lot of the things these young people are doing with this road life, they think about the money now, and the trainers... that's not going to pay your bills when you're broke. I know guys that have a £60k car but renting a council flat, that makes no sense to me you know, get a property, live well, live smart and I feel like that's what I did, and it's not that I'm better than anyone else because the environment I've come from, I shouldn't necessarily be here but you have to make sure that you are not afraid to be an individual and you can respect yourselves and others around you''
Noel left the stage to a resounding level of applause having closed the night leaving all on a high.
Later, a local 56-year-old man was delighted with the rooms energy stating "I felt the event brought it home that my purpose in life is to serve my community. The smiles on the children's faces, the happiness, joy and love made the event worth attending''
A young person also felt the energy and cried out in frustration "Akala and Andrew Muhammad taught us so much. Why don't they teach us our history in school? I am only 15 and I learnt more tonight than I did in my whole school year this year''.
So after an exhilarating, stimulating day, a barrage of #whereisthelove tweets trending on twitter, much positive energy was distributed between the community.
#WHEREISTHELOVE? - IT'S RIGHT HERE!
If you're based ocally to west London and want to get involved, contact www.undilutedexpressionz.com and find out how together, we can make the community a better place for the young people to grow, discover and succeed.
Related