Most of us born and bred Londoners think we know all about what our great city has to offer, but even decades into the game I'm still fascinated by pockets of our community that I know nothing about.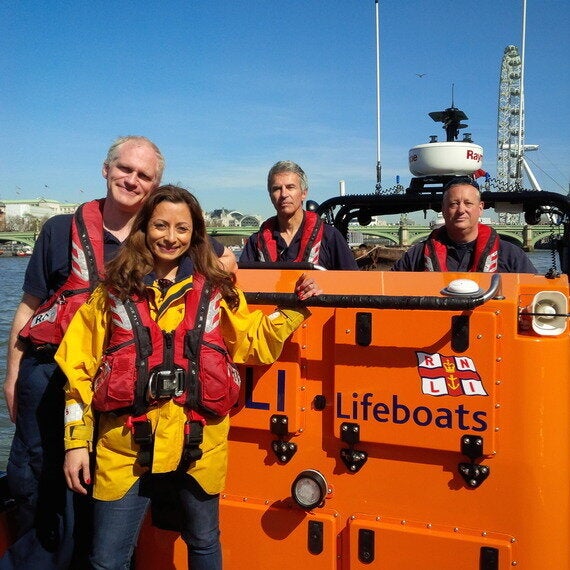 Jasmine with the Tower RNLI crew.
Pic copyright Jasmine Dotiwala.
This week my London360 reporters and I were invited to spend the day with the Royal National Lifeboat Institution station based at Embankment, (but called Tower RNLI, as that was their initial base years ago).
Tower is one of three RNLI lifeboat stations in London - the others are at Chiswick and Teddington. They were introduced in 2001,in response to the inquiry into the collision between the pleasure cruiser Marchioness and the dredger Bowbelle in August 1989, which claimed the lives of 51 people. 64 year old Staff Helmsman Keith Cima welcomed us into their kit room full of safety uniforms and yellow wellies and told me "A lot of young people lost their lives that night. There were a number of enquiries after that disaster and one of them was about safety on the Thames and the RNLI were then asked to provide cover on the river. We are specialists in search and rescue. We cover 16 miles of the Thames from Battersea Railway Bridge to Woolwich but most action happens here in central London''.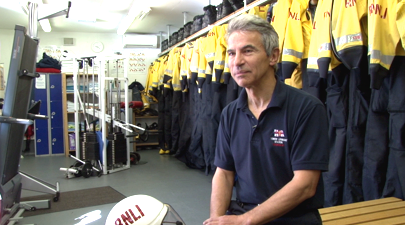 Staff Helmsman Keith Cima
Pic copyright Jasmine Dotiwala.
If you think London's roads are busy then spare a thought for the waterways. The Thames is like a daily floating carnival. Staff Helmsman Keith explains "It's a very busy river in a capital city of 8 million people, but it's also a community in its own right...there are the marine police who we work very closely with, the fireboats and crews, the watermen, the tugs and cargo ships that deliver sand and aggregate for the new buildings being built and of course there is the commercial passenger traffic. There's a commuter service that carries hundreds of thousands of passengers a day between Woolwich and Putney. There are also thousands of boats full of tourists...private boat owners and lots of canal boat users...all obeying the rules of the river road. Whenever there's a problem on the river everybody mucks in.''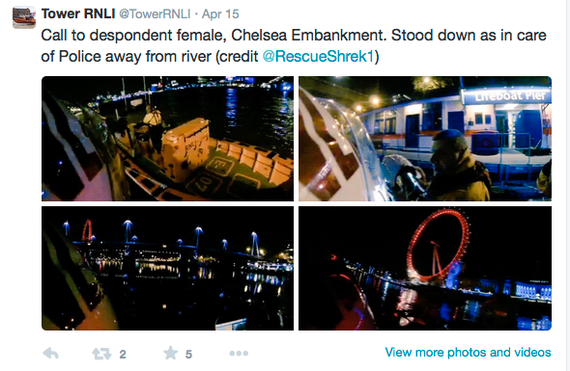 In that horrid way that we like to follow morbid news, I'm always glued to their twitter feed when I read that someone ''has entered the water''. Keith explains the many reasons... "Tower lifeboat last year was called about 543 times and over half of these call outs refer to people entering the river for one reason or another. Accidently falling in, devilment - doing it for a dare, perhaps drink and drugs and despair are a factor. Not all go into the river. We assistant many while they're still on shore and we assist and talk them down safely.''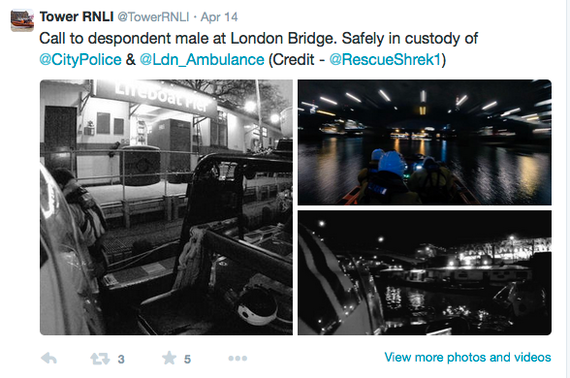 Keith also explains that drunken partying isn't limited to nightclubs on land: "If you're with a group of lads, drinking or behaving wildly, look out for each other. The party boats are always fun late at night when something's kicked off. Often alcohol is to blame, and then it gets messy if they fall off. The remaining things are miscellaneous, boats breaking down, dogs needing to be rescued, if we don't rescue dogs then their owners or members of the public will, and then that's another job. In all of these 543 calls out, a very large proportion involve medical work, so we're all trained in medical work. Our staff can see horrific things that they didn't expect to see. That can have an effect on all our staff, so we ensure that our crew are ok afterwards. The RNLI has a very good 24-hour support helpline.''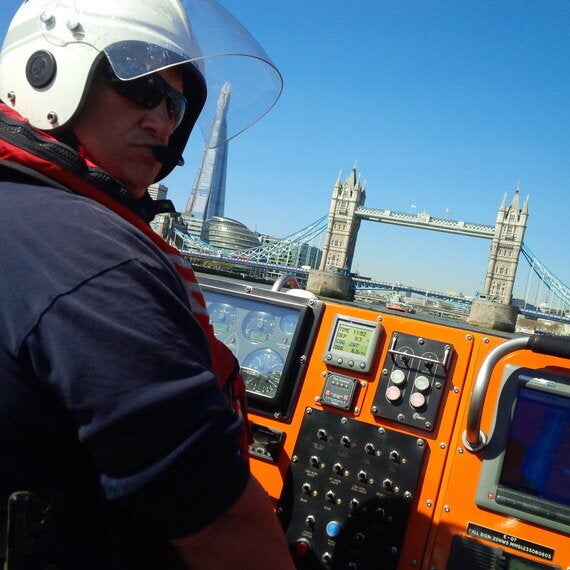 Pic copyright Jasmine Dotiwala.
There are 237 RNLI lifeboat stations around the UK and Ireland. Their operation relies on 4,800 dedicated lifeboat crewmembers - 95% of whom are volunteers. Most of the RNLI's lifeboats around the UK and Ireland, are operated by volunteers, but, at Tower and Chiswick, full-time lifeboat crews work 12-hour shifts to ensure this on-call commitment on the River Thames and they're backed up by many volunteers. There are over 150 dedicated crewmembers on the Thames, ready to serve London 24 hours a day, every day.
Pic Copyright Jasmine Dotiwala.
Keith told me that volunteers come from all walks of life "In terms of lives saved on the Thames, 231 people were rescued by Tower Chiswick and Teddington last year. This year so far we have already saved 7 lives. We have volunteers that are from all walks of life emergency services, lawyers, film producers, environment agencies, academics, business, banking and more. We have lots of women too...we have probationary periods where we work with new people. We train them in a very structured way, then after 18 months they go down to Poole where they do intensive training.''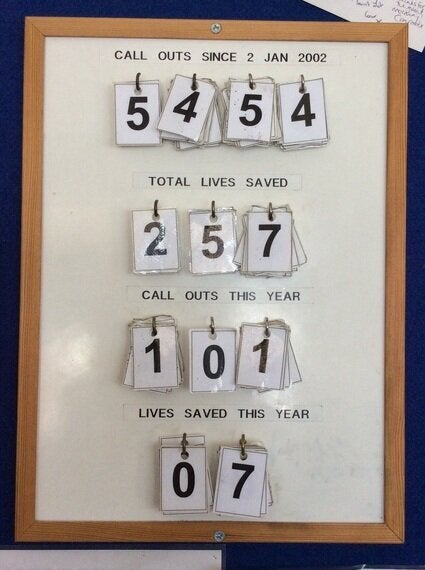 Pic Copyright Jodie Dalmeda.
Keith confirms it's risky business in the heart of London..."Compared to a coastal station we have no big waves and winds, but the risk is transferring from a lifeboat to passenger boat or jump from boat to mooring post to rescue a drowning person clinging on, some people in the water are dangerous and volatile. To see someone who you've seen completely lifeless in the water, then resuscitate them and see them walk off the pier 30 minutes later is the most extraordinary privilege known to man and that's the point of the job. That's why our volunteers keep coming back.''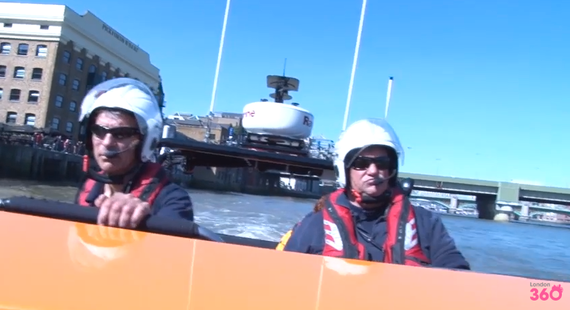 Keith talks through a typical day ''Firstly we're afloat...it gets rough so it can knock you off your feet. Our shifts last 12 hours. We start at 6am and take over from the night shift. We start with safety checks on the boat, there's always cleaning to be done. We usually get visitors. We have admin, paperwork and training, so go out on the water to practise anchoring, mooring and first aid, but we're always awaiting the bell to go...that's the coastguard asking us to launch. The day is always busy and interrupted by the bell, which means someone is in the water and needs help .We have to launch within 90 seconds.''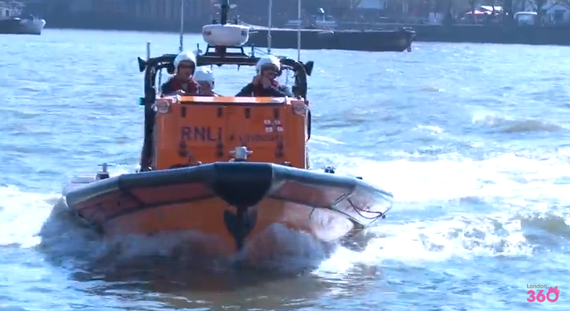 Although the London lifeboats were established just over 10 years ago, the RNLI charity has been around for more than 190 years. It was founded in 1824 and, since then, its volunteer crews and lifeguards have saved over 140,000 lives. In 2014 alone, the charity's lifeboat crews launched the lifeboats 8,462 times, rescuing 8,727 people. That's an average of 24 people every day!

This lifesaving charity relies on donations from the public. It costs them over £140 million each year to run their lifesaving service. It costs around £1,400 each year to train each of their 4,600 lifeboat crew.

This May Day the RNLI is issuing its own call for help, appealing for the public to support its national fundraising campaign, Mayday.

Fundraising kicks off with street collections in London on 28 April and, following that, collections and fundraising events are taking place throughout the UK and Ireland across the May Day bank holiday weekend, from 1-4 May.

For more information visit RNLI.org/Mayday.