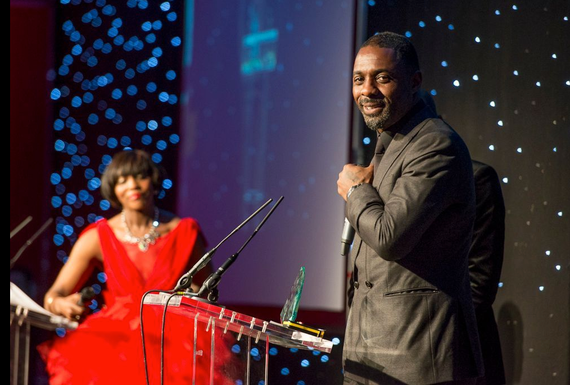 IDRIS ELBA AT THIS YEARS SCREEN NATION AWARDS 2015.
PIC COURTESY- www.colorbox.co.uk.
There's a lot of tabloid space given to London vs. New York this month. My personal feeling is that London reigns with tea, fish & chips, chocolate, etiquette, cleaner city, arts and culture, its more international as a city - 40% of London is foreign-born (NYC: 36%), It is easy to travel from London cheaply, we have milder weather, European-style vacation days, health care and workers' rights. Londoners are more cutting edge and genuine, we get more vacation time and are proud of our minimum gun culture, James Bond and of course our eclectic music acts from Spice Girls, Sam Smith, Adele and beyond.
New York wins with better public transport which is cheap and fast, and their subway runs 24/7, their range of food is generally better and they have superior client-centric service standards in restaurants and bars, lower taxes, everything is open late; bar closing hours are never on your mind, cheaper services like taxis, deliveries, laundry services make day-to-day life more convenient. You can talk to anyone in NY and its cool and of course the energy is dynamic! Not forgetting they are open minded and diverse enough to vote in a black man for President.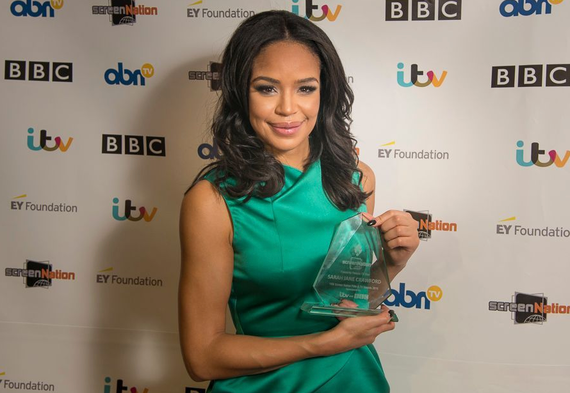 SARAH JANE CRAWFORD WINS AT SCREEN NATION AWARDS 2015.
PIC CREDIT - www.colorbox.co.uk.
Another way in which America is certainly more superior, is in acceptance of cultural differences and exclusive events. In the UK we have awards and show brands like BUFF (Black Urban Film Festival), MOBO (Music of Black Origin), Asian Awards, National Diversity Awards and many many more culture focused brands. Every time an event takes place, the British media questions 'do we still need events like this?'' The answer to this question is always 'YES', so lets stop asking it and move the conversation forwards.
Can't we just be like America who have numerous black awards, black film festivals and black empowerment organisations, and just accept that in a world where everyone doesn't have an equal playing field, and ethnicity often rules out opportunity, we will ALWAYS need our own events to champion, profile and support our talent.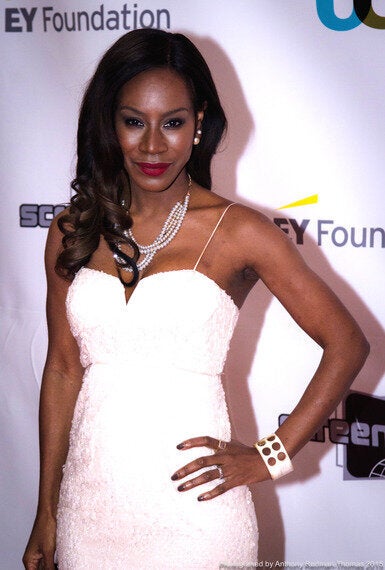 DIRECTOR AMA ASANTE (Belle).
PIC CREDIT - ANTHONY REDMAN- THOMAS.
This weekend the annual Screen Nation Awards took place at the Hilton London Metropole Hotel, where the year's most successful nominees from the worlds of TV, big screen, both behind and in front of the camera came out to celebrate the black actors, directors, writers, producers, directors, crews, casts and more from the world of black British entertainment. The glitzy ceremony celebrated a decade of outstanding achievements on the British screen by many of the nation's best-loved film & TV stars.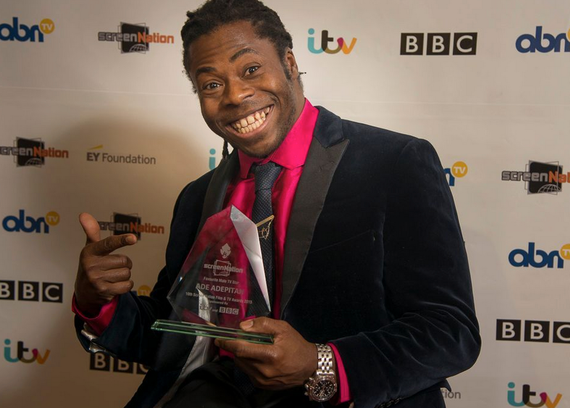 Ade Adepitan MBE- TV presenter and wheelchair basketball player.
PIC CREDIT - www.colorbox.co.uk.
Acknowledged by the industry as 'the' media event for diverse talent and which has come to be known as the 'black Bafta's', Screen Nation Awards celebrates, rewards and promotes products and professionals of African heritage working in the UK and global film, TV and digital media industries.
Why? Because after this past months OSCAR (#oscarssowhite) and BAFTA ceremonies, it's clearer than ever before, that we need Screen Nation.
The evening kicked off after the champagne reception and warm up comedy sketches (by Mr Cee who made us bristle with the uncomfortable truth when he stated ''this years BAFTAS were once again a no-go-zone for the black man. At least we used to get close by working in the kitchen - now we don't even have that as the Polish have nicked those jobs. BAFTAs stand for ''back away from the awards sooty!''). Musical entertainment was provided by reggae legend John Mclean, and eighties R&B legends Loose Ends, and guests were treated to a three course dinner, which was sumptuous (soup/duck/sea bass/ jerk chicken/exotic fruit cheesecake).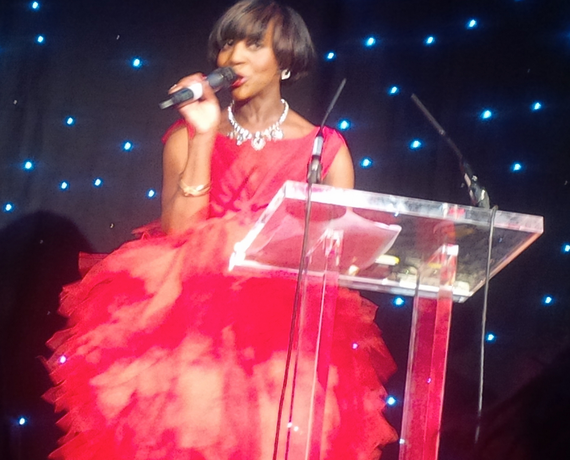 BBC LONDON NEWS PRESENTER BRENDA EMMANUS.
BBC London News Arts Correspondent Brenda Emmanus hosted the show, which saw international star Idris Elba pick up the award for Favourite International Film for his thriller No Good Deeds. He emphasized that as a community we needed to get behind and support the awards to make it grow stronger.
Selma's lead man David Oyelowo won Best Male Performance in Film. Belle director Amma Sante looked stunning in a sequinned white gown as she picked up Best Film for her period drama. She gave us all lumps in our throats after she explained that she wrote and directed Belle in tribute to her father, but alas he passed away before seeing it.
DJ and TV presenter (Xtra Factor) Sarah Jane Crawford won Favourite Female TV Star and thanked everyone for their support over the years.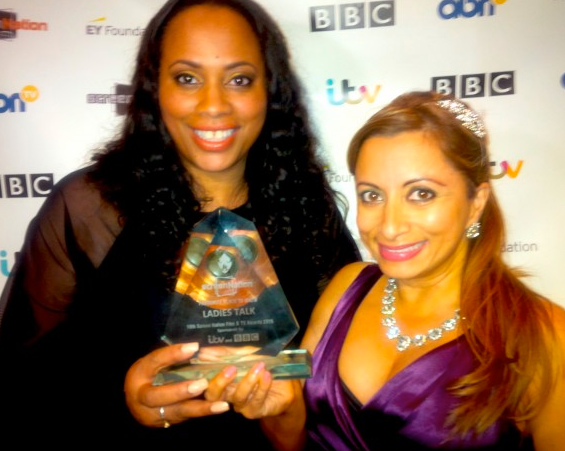 JACKIE G MICHAEL'S AND I COLLECT THE AWARD FOR LADIES TALK (SKY 218) .
Even lil ole me got a piece of the action when Ladies Talk won Best TV show led by a woman. Ladies Talk is a Loose Women style ladies panel show (SKY 218), hosted by Angie Le Mar with numerous panellists including Bonnie Greer and myself. Angie wanted to show that regardless of colour, women globally have the same conversations, and our skin colour does not define our TV content topics, and also that shows that we make and feature on, rate as highly as others.
Awards Presenters included actress Nathalie Emmanuel from Game of thrones, X Factor's Sarah Jane Crawford, singer and broadcaster Jamelia, ITVs Michelle Matherson and Asif Zubairy and many more.
In the audience were hundreds of movers and shakers within the industry. Actor Aml Ameen, actor Shavani Seth from E4's Youngers, Chizzy Akudolu from Holby city, actress Karen Bryson from Channel 4's Shameless, actor Anthony warren, film director Mo Ali. There was much excitement as fans spotted The Good Lie lead actor Arnold Oceng fresh from his experience with Reese Witherspoon.
Also in attendance was Emmerdale star Fiona Wade, soap star Modupe Adeyeye, stuntwoman Amanda Foster, Channel Four's Cockroaches star Daniel Lawrence Taylor and veteran screen star Don Warrington. Sean Cronin, Rebbeca Scroggs, Patrick Robinson, Petra Letang, Don Gilet, Laura Rollins, Lorna Laidlaw, Fiona Wade, actor Danny John Jules, acting legend Don Warrington (Rising Damp), Tobi Bakare, ITV newsreader Charlene White, actress Sara Martin, actress Modupe Adeyeye, Denise Nurse, OT Fagbenle, Samuel Anderson, footballer Fabrice Muamba and many more.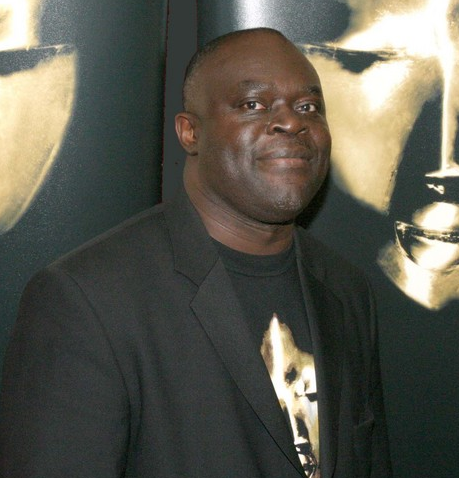 CHARLES THOMPSON MBE - SCREEN NATIONS FOUNDER.
Charles Thompson MBE who founded the screen nation awards told me backstage
''How we think about ourselves is the most important thing. The statements tonight by David Oyelowo and Idris Elba show that they're committed to bringing the message of British talent around the world. That's why ten years ago David Oyelowo was nominated for emerging talent. When no one knew who Idris was we were nominating him for The Wire. We know excellence is possible and achievable. If we work with our colleagues around the world we will win everything. We're not diversity quota anymore and never have been! We're mainstream!! ''
ABN TV (Sky235) will broadcast highlights of the ceremony at 11pm Saturday 28th February 2015