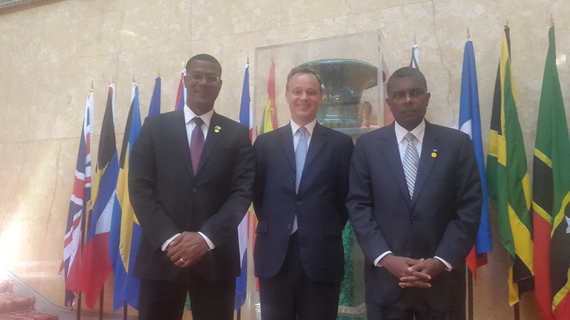 Premier Ewing, UK Minister of State for Overseas Territories Mark Simmonds and Foreign Minister of the Bahamas Fred Mitchell.
Pics Courtesy Foreign Commonwealth Office.
The last time I was on the islands of Turks and Caicos (TCI) in September 2008, it was for an MTV Base shoot with my producer and presenter.
We were there to cover the annual music festival being headlined that year by Lionel Richie. The week was mind blowing. We stayed at the all-white decorated-skinny-model-spray-champagne-party resort chain of Nikki beach hotels. This was no ordinary Nikki beach hotel. It was situated mere yards from the then Prime Minister Michael Misick's (who was married to American actress and fashion designer Lisa Raye) abode.
The first day we arrived, we were picked up in a limo at the airport to settle in at Nikki beach, then later in the day we were escorted to a private dinner with the Prime Minister at his very fancy home. Expecting all sorts of security and formal checks, we were stunned to walk straight into what seemed to an opulent hip-hop video set. The then Prime Minister was welcoming, friendly and invited us to enjoy his home, food and amenities like swimming pool, jet ski's etc. In the pool, were an array of pretty, giggly, music video resembling ladies.
Even better? Out on his personal jetty and jet skis were just emerging ,pop music superstar Rihanna and MTV USA video jockeys Terence J and his TV sidekick Rocsi zooming across the still, warm, T&C turquoise waves that are straight out of a picture postcard.
The week pretty much continued with this kind of opulence, with us noting that the PM and his cohorts in his T&C political cabinet, were holding regular meetings at Nikki Beach in full alfresco view of all of us guests.
Mere months after we left T&C the PM ''stepped down'' citing a lack of support for his scandal-plagued PNP government. He was replaced in 2009 with another PM. And then in 2012 with another PM. This time a very different type of PM. A serious man. Mr Rufus Ewing.
Mr Ewing was in London this past month to
'' engage the UK Government in a spirit of partnership to ensure good governance, fiscal responsibility and policies that will ensure economic growth to the benefit of the people of the TCI and we move to greater autonomy as a UK overseas territory''.
His busy schedule saw him manoeuvring across London at the speed of lightening, holding meetings with key influencers, movers and shakers. He's a youthful but focused leader of the small island nation. As the TCI climbs out the political wilderness and back onto the international stage, the country i.e. the people are looking to Ewing to hone in on his persona as a direct yet diplomatic politician to move the islands development.
The PM told me he is out looking for investors, particularly long-term British investments for the country. With the Americans & Canadians already having significant investments in the island nation, these British isles deserve more attention from the British public not just for 10-day holidays but much more including business opportunities, trade ad commerce.
TCI are known for its world-class hotels, spas, and restaurants, as well as famous stretches of un-crowded beaches and vibrant coral reefs. On land or below the water, you'll relax in the unique serenity, hospitality and beauty of the islands.
Home to the Best Beach in the World, breath-taking hues from inviting waters, and legendary diving, snorkelling and fishing, the Turks & Caicos Islands beckon you to an undiscovered Caribbean. Travel to the Turks and Caicos is easy and efficient. Just a short flight from the east coast of the US, the islands are a tropical classic, a throwback in time where relaxation is unavoidable and rejuvenation ensured.
Mr Ewing explained to me that now more than ever, Turks and Caicos Islands is still an attractive spot for celebrities and the like, after a tumultuous few years after the Misick Reign.
''The TCI remains a great destination for travellers, celebrities and those seeking a unique, luxury getaway. But moreover, the country has maintained its charm based on the quality of our tourism product and the spirit of the people that welcome each visitor and/or investor to our shores. Whether celebrity or not, we want every visitor to feel that they are important, and really they are! When there are so many other choices in the region and the world for persons to choose to visit and we are the ones they decide to visit and spend their money with, we are grateful. Our tourism product remains a very high quality. With our award winning beaches, cultural history, hotel amenities and great dining options available, we would like to think we have something for everyone. I consider it to be casual luxury''.
The official language of the islands is English and the population also speaks Turks and Caicos creole, Due to its close proximity to Cuba and Hispaniola, large Haitian creole and Spanish-speaking communities have developed in the territory due to immigration, both legal and illegal.
Mr Ewing enthused that there are many reasons that make the TCI an ideal spot for British travellers? ''What makes the TCI an ideal spot for British travellers is that there is something for every type of traveller. Whether travelling with kids, looking for adventure such as diving or simply looking to have a remote luxury getaway with the finest amenities, the TCI offers that and much more. The British traveller will find that we have similar traits such as we drive on the left but more importantly, they will find a safe destination''.
The Turks and Caicos Islands are most well known for ripsaw music. The islands are known for their annual Music and Cultural Festival showcasing many local talents and other dynamic performances by many music celebrities from around the Caribbean and United States.
Women continue traditional crafts of using straw to make baskets and hats on the larger Caicos Islands. It is possible that this continued tradition is related to the liberated Africans who joined the population directly from Africa in the 1830s and 1841 from shipwrecked slavers; they brought cultural craft skills with them.
The island's most popular sports are fishing, sailing, football (soccer) and cricket (which is the national sport). Turks and Caicos cuisine is based primarily around seafood, especially conch. Two common dishes, whilst not traditionally 'local', are conch fritters and conch salsa.
Having already encountered one former PM who was literally like Puff Daddy in parliament, it was refreshing to see that the current man in charge is more politically focused & charismatic.
With years of experience in Public Health Medicine and as a General Surgeon (did his residency at University College London Hospitals) he thinks with precision but is also easily relatable and down to earth. He does have political pedigree, his 80+-year-old father is a former Cabinet Minister in the country from the 1980' s-90 but he knows where he came from and what sacrifices his parents and family made to get him where he is today.
In fact, whilst here, the PM was reminiscing about when he first came to London in 1990 to begin his residency at UCLH and how he barely knew one person. It was his sisters friend, a girl she had met as a fellow contestant in the Miss World pageant in Africa, who helped him get accustomed to London living. During that time he learned how to rent a room in a flat, attended his first African wedding and made lifelong friends. Now returning to London as the leader of his country, life has made a complete circle.
He made clear that his country's relationship with the UK was paramount to his leadership and wanted the TCI to cosy up for a closer relationship with the UK Government.
''When I came to office two years ago this November, my goal then and now is to grow our economy, get our people back to work and look for ways to promote investment both local and foreign direct. My government and I have been working studiously to achieve those goals and more but we recognise that as the world begins to climb out of the global economic crisis, persons need to have confidence in government and that is what we are seeking to establish. The relationship with HMG has not always been perfect and there are still some key areas that we would like to have more autonomy in governing but I believe in diplomacy''.
''The world is aware that the UK took a very drastic action with the suspension of the TCI's constitution and this combined with the financial burden of the on-going SIPT trials during the global economic downturn has weakened the UK-TCI relationship. However my government since coming to office has been engaging the UK Government in a spirit of partnership to ensure good governance, fiscal responsibility and policies that will ensure economic growth to the benefit of the people of the TCI and we move to greater autonomy as a UK overseas territory. We continually look forward to greater partnership in the areas of investment, education, healthcare, national security many of which were discussed at the last two JMC (Joint Ministerial Conference) meetings and the upcoming one in December this year''.
Turks & Caicos is back on the global stage not just as a honeymoon location, but as a world player in business.