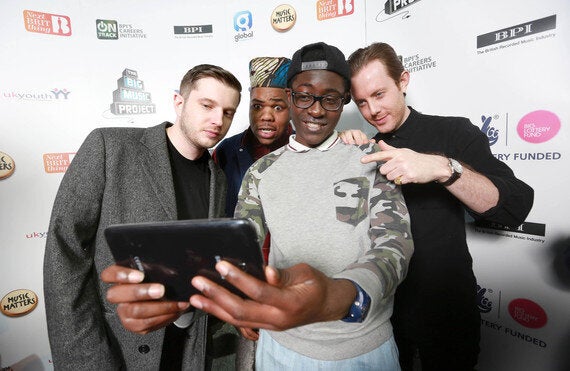 (Left to right) Musicians, Plan B, MNEK and Will Kennard from Chase & Status with Dean Joseph, aged 17, from Maidenhead (2nd right) during the launch of The Big Music Project .
PHOTO- THE BIG MUSIC PROJECT
Hundreds of youth engagement schemes exist across the UK to attempt to help youth gain employment and life skills. A huge proportion of these use the power of music. I have been asked to attend, oversee, sit on boards and advise on many of these but I always leave feeling frustrated at their lack of longevity and real progression to actually change lives.
The TV show I exec produce- LONDON360- actually makes real life changes for young people who want to work in media from diverse backgrounds, and this week I attended the launch of something that parallels this in the UK music industry.
The music business makes a great show of glitz and glam, but under the surface there are thousands of scurrying worker bee's trying to actually make money out of this game. The industry is keen to encourage new, young blood and this week they started their mission.
The launch of The Big Music Project funded by the Big Lottery Fund- is delivered by Global, The BPI and UK Youth. The launch at the 02 Arena in London, saw over 150 youth from all across the UK (bussed in to be sworn in as hub ambassadors. These 150 are tasked with mentoring 10 of their peers in their city hubs across the UK, in music related activities, talented shows and more.
£4 million Lottery funded cash has gone into this, and aims to not just make young people more confident and gain employment skills, but also encourage them into a music career that isn't the music star or producer. It highlights the other hundreds of jobs that exist in music from rigger, roadie, fire tech, jingle writer and so on. This area will also cover training on marketing, social networking; recording, production, PR, promotion, legal affairs and other elements that will help talented acts rise to the next level.
Chief Executive of the BPI and The BRIT Awards, Geoff Taylor (who's had a huge week and is keen to show balance in the world of sex, drugs and rock & roll) , enthused:
"We're really excited about the opportunities that The Big Music Project will create for young people who never dared to dream that the music industry would come direct to their doorstep with the skills, contacts, and reach that this initiative offers. We'll give talented young musicians the chance to compete and perform in front of industry stars and decision-makers. And we'll offer internships in record companies, provide work experience at the BRIT Awards, and signpost young people towards real training opportunities, so that they may one day find themselves working in one of the many exciting roles in the business. We can't wait to get out on the road to discover a new generation of emerging talent and music executives. Get involved - it could be your chance to make it big!"
4milion's a lot of money and its nearly impossible to tease cash out of funders for ''frivolous activities like arts and culture for youth'' . Peter Ainsworth, Chair of the Big Lottery Fund, told me:
"The Big Music Project is all about inspiring young people across the UK to fulfil their potential and achieve their personal goals. It is just one of a number of initiatives the Big Lottery Fund is backing that aim to empower young people to shape their own futures and to play an active role in their communities. This exciting event today is a great way to kick off The Big Music Project and is just the start of its engagement with young people up and down the country through a range of inspiring events, workshops and work experience opportunities."
The Big Music Project (TBMP) is all about music, young people, and possibilities. This year long project, which kicks off in April, will include a national music competition - The Big Music Project Competition , alongside nationwide careers fairs, community projects through youth clubs and hundreds of work experience and internship opportunities, all fully supported online.
Aiming to build confidence, create real career opportunities, and secure positive outcomes and futures using the power of music, TBMP will harness the attraction of the music industry and its many ancillary careers to empower and engage more than 4.5 million young people aged 14-24 across the UK, using a list of 100 hubs and 1000 local champions identified and selected by UK Youth.
The afternoon included Q&A panels, performances by ridiculously talented classical and pop youngsters about to hit their own fame time, and an exclusive backstage tour of the BRITs set just 2 days ahead of the renowned Awards show. Speakers included artists Plan B, MNEK, Chase & Status, and Capital's Pandora, music executives, and young people who have secured their first jobs in the music industry who were happy to share their journeys and experiences.
There was much excitement and screaming (that these young music wannabees will need to stifle in their future careers!), when Plan B stepped onstage to tell them about his charity Each One Teach One Trust, which is a charity founded to improve the lives of young people by providing access to new skills.
"If you don't have a clear talent, it just seems impossible to make something of yourself in the society that we live in. There just doesn't appear to be enough places you can go, offering advice and support. "We (EOTO) have decided to support the 'The Big Music Project' because it will attempt to do just that. By not only providing information, but creating and highlighting genuine opportunities for all young people interested in music and beyond."
The aims of the BIG Music Project are to deliver a large scale, year long, media-led youth engagement campaign, reaching over 4,500,000 young people aged 14-24 across the UK, and focused on the opportunities created for them by their passion for and interest in music.
It will take a lot of hand holding by mentors to actually achieve this. I've seen first hand that the promise of a carrot dangled is often not enough to engage youth who frankly have bigger dramas to survive. but TBMP will create some amazing first opportunities for a strong percentage of Britain youth, to make or produce music, thereby increasing confidence and collaboration skills, and building links across communities and this can only be a good thing in the long run.
To nurture and develop young musicians both musically and commercially to provide them with a rounded view of the industry they aspire to work in isn't something the big music brands have put so much resource into in the past.
Lookout for their four national The Big Music Project events that will attract over 1,000 young people each through major artist performances. These events will promote opportunities to engage with the music industry, sign up to the music competition and explore their work opportunities programme.
There aren't many doors open to diverse unconnected audiences who want a part of the music industry pie. This looks like too good an opportunity to miss. You know what they say- you've got to be in it, to win it!
http://www.twitter.com/BigMusicUK
http://www.facebook.com/bigmusicUK
http://www.thebigmusicproject.co.uk
https://www.facebook.com/UKYouth