This week at London's Wembley arena, the world's largest youth empowerment event of its kind, took place!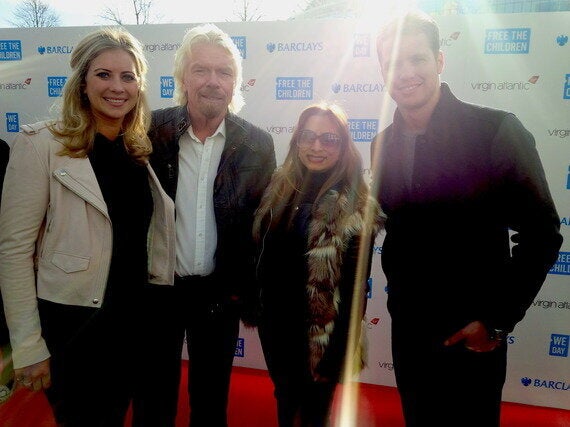 Jasmine with Holly, Richard and Sam Branson- now that's a power-house of a family.
ALL PICS COURTESY LONDON360 / MEDIA TRUST.
I joined other dreamers, positive-thinkers, and world-changers for WE DAY, which is now an annual fixture, where thousands of school kids from 1,200 UK schools attended with their classes, after having earned a ticket by making a commitment, to undertake at least one local and one global charitable act of their choice as part of a year long ''We - Act'' programme. The schools raised £353,946 to support local and global causes, and volunteered over 148,763 hours of service. So of course, to thank them, the Wembley Arena WE DAY UK celebration is free of charge to the students and teachers in attendance.
Attending this year were chart-topping artists like Award-winning English electronica trio Years and Years, Princess Beatrice, world- renowned speakers and incredible young people entertaining the arena. Our hosts for We Day UK were fellow young high achievers Laura Whitmore, Yasmin Evans, Becca Dudley and Bluey Robinson.
On the external, sun-drenched, red carpet, cupped within the famous Wembley arch, we also caught up with Hollywood legend - actor Martin Sheen, Singer and songwriter Shawn Mendes, Dutch singer-songwriter and rapper Mr. Probz , Singer/songwriter Conor Maynard, Social advocate, filmmaker, and grandson of President Nelson Mandela - Kweku Mandela, and of course the family affair that is Sir Richard Branson with his son Sam and daughter Holly.
Holly, who is also the Patron of Free The Children UK, Co-Chair of We Day UK and Trustee and Founder of Big Change Charitable Trust (that's multi-tasking!), told my London360 crew ''this is a day to celebrate young people and all the great work they're doing. It's about helping communities, helping people who are less fortunate than yourself. You learn so much about team-building and confidence, and you're just putting back into your community which makes a real difference''.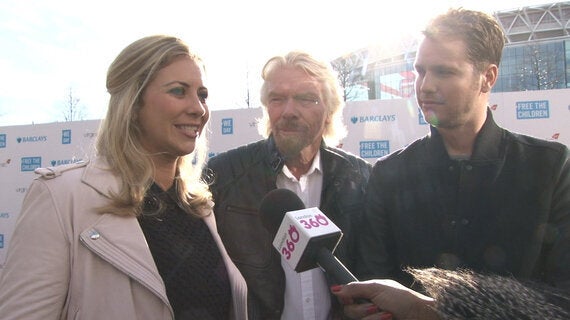 The Bransons on the We Day UK red carpet.
Brother and philanthropist Sam jumped in to add to his sisters thoughts '' 'Totally, and I think seeing, and inspiring young people to engage in the world and ask questions, and get involved is the most inspiring thing ever and you can hear the voices of twelve-thousand young people wanting to make a difference in there and that energy is really contagious. I think more and more young people are getting engaged in issues and there's nothing to be gained from it but something positive.'
Daddy Richard of course also had something to say ''Nothing beats the feeling of being back at We Day UK. The energy here is like nothing else I've ever experienced. 12,000 teenagers in an enclosed space tend to have that effect! We Day gives young people the perfect opportunity to use their voice, and share issues they're passionate about. The students here today have come together to motivate each other and inspire others to join them and make a real difference. Watch and learn from these young people - and their fellow 200,000 WE DAYERS around the globe - they're changing the world!''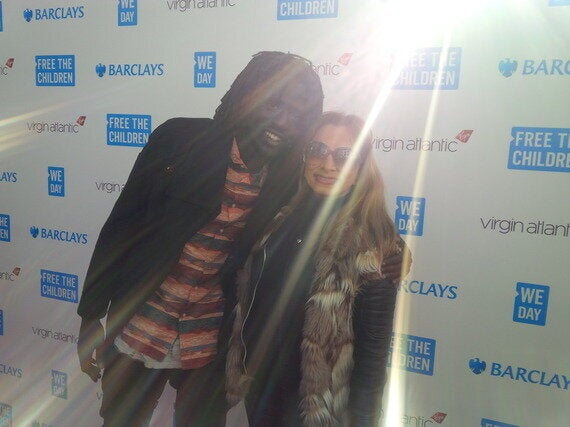 Emmanuel Jal with Jasmine on the We Day UK red carpet.
South Sudanese musician, former child soldier, and humanitarian Emmanuel Jal was fired up '' I was a child soldier. I was born in a difficult time, I became a refugee, and I was looking for opportunities, and so what Me to We and We Day does is create opportunities for children around the world''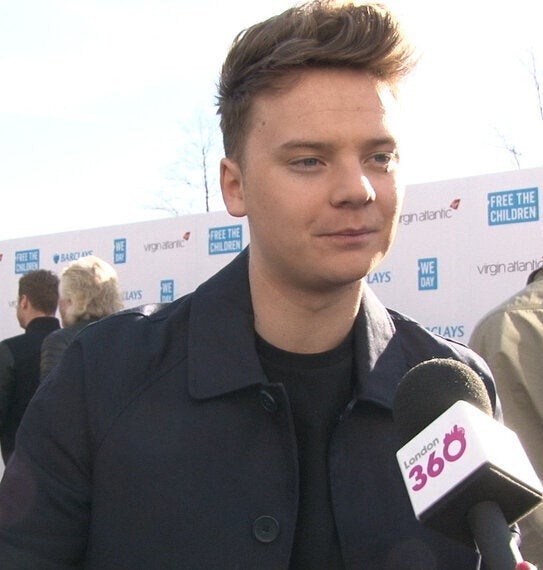 Chart star Connor Maynard on the We Day UK red carpet.
Connor Maynard said ''I think it's something you never really get to see, YOUNG PEOPLE DOING GREAT THINGS, you watch the news and you rarely ever see a young person getting interviewed about it, the media only turn to young people when its solely about young people's problems, but at the end of the day we all live in the same world, so I think young people should have a voice in more than just things about young people, so it is very very important for them to step up and say what they think''.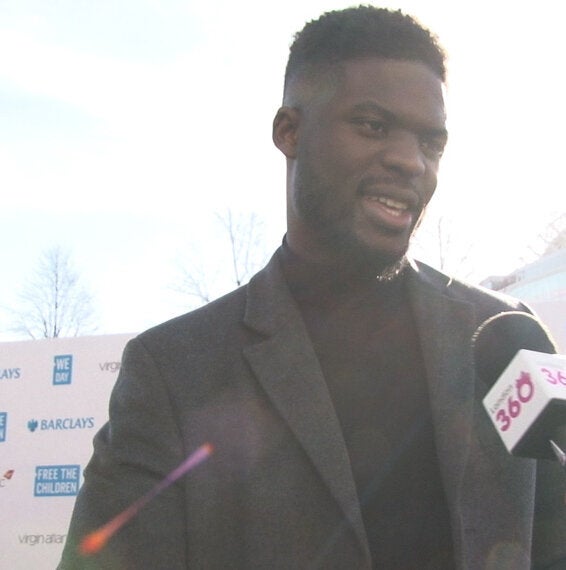 Poet Karl Lokko on the We Day UK red carpet.
Poet Karl Lokko explained why We Day makes such an impact ''Young people are active, if you're not active, then you're not really heard, and if you're not heard than you're just going to be looked over, and if you're looked over, you're just going to be disenfranchised. So for me it's just about getting stuck in, get things happening!''.
As ever Spencer West (Me to We motivational speaker) and Dennis Gyamfi (Social activist and speaker) made powerful speech's that had the arena full of students cheering loudly for both of them. Spencer said '' 'The smart phones that we have in our pockets now are more powerful than the computers NASA used to land the first man on the moon. It's about talking to kids about how connected they are and how they can use that to make the world a better place. Everyone's on their phones now, let's use that to make a difference''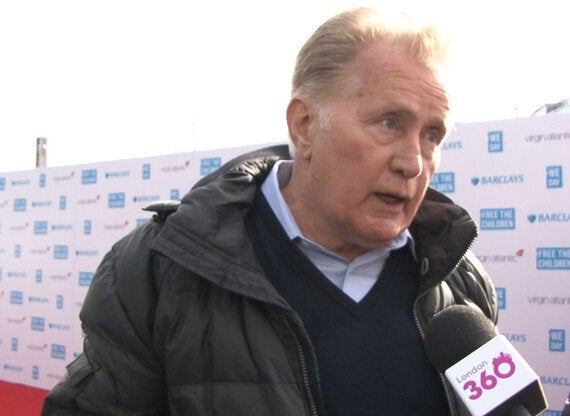 Martin Sheen on the We Day UK red carpet.
Award winning actor Martin Sheen had the final word with his dreamy quote as he voiced his thoughts
''One of my favourite quotes is 'be yourself, everyone else is taken', so you have to have a sense that you do things, because it challenges you to be a better human being. Sometimes certain people come through and they're like comets, they're with us now, Malala is still with us, she's still a child and she's just been celebrated with the Nobel Peace Prize. This is a little girl they tried to silence because she wanted an education and she's a comet now. All of these children you see today are baby comets. They're showing the way, they're lighting the future and it's theirs! 'Acting is what I do for a living, but activism is what I do to stay alive!'
We Day is the movement of our time - a movement of young people leading local and global change. What an incredible blueprint for building the next generation of global citizens! Lets remember this when watching the media unjustly label all young people as feral youth.