Lords, ladies and gentlemen gather at Houses of Parliament to celebrate Noruz.
PIC COURTESY - Raj Bakrania
This week 200 Zoroastrians came together with a few lords, baronesses, sirs, ladies, MP's and friends of their community at the House of Parliament to celebrate their annual spring welcoming festival.
Of the Parliamentarians present, both Lord Noon and Lord Dholakia - Deputy Leader of the Liberal Democrats in the House of Lords - spoke warmly and passionately of their own experiences of the Zoroastrian community.
Other attending dignitaries included MP Keith Vaz, Sir Peter Bottomley and many councilors and friends and members of the community.
Lord Bilimoria of Chelsea, CBE, DL and Gareth Thomas MP, in association with the Zoroastrian Trust Funds of Europe, hosted the celebration of Jamsheedi Nowruz - Zoroastrian Iranian Spring New Year, in the Boothroyd Room, Portcullis House.
Noruz (also known as Jamshedi or Jamshidi Noruz) is the seventh obligatory feast and it is dedicated to fire. It is the Zoroastrian New Year celebration, and occurs on the spring equinox.
Noruz is so deeply embedded in Iranian culture that it is still celebrated as the Iranian New Year in Islamic Iran, although without the religious connotations. Many fires are lit and there is feasting and celebrations. In modern times fireworks have also become part of the festivities.
This fortnight even President Obama greeted the world via twitter wishing all Happy Noruz except he then spoilt it by adding a video message which had Iranians reacting like this '' Obama's Norooz message: 30 seconds of actually wishing Iran a happy new year, three and a half minutes on why Iranian government sucks and nuclear weapons talks''.
Famous Zoroastrians include Freddie Mercury, founder of the Persian Empire- Cyrus the Great, World famous conductor. Zubin Mehta, novelist Rohiton Mistry, celebrity chef Cyrus Todiwala, Channel 4 editor and scriptwriter Farrukh Dhondy , Britain's first Asian MP Dadabhai Naoroji , the bald Deltan woman in Star Trek actress (best known as "Lieutenant Ilia Persis Khambatta, Bollywood actor John Abraham, BBC News presenter Matthew Ambroliawala, serum company king Cyrus Poonawala (who the Asian Awards are honouring this week at their annual awards at Grosvenor House) and (lil old non famous) me!.
Zoroastrianism is one of the world's oldest monotheistic religions. The Prophet Zoroaster in ancient Iran founded it approximately 3500 years ago. Zoroastrianism originated amongst Iranian tribes in Central Asia during the second millennium BCE and spread to Iran where it became the principal faith until the advent of Islam. Central to the religion is the belief in a sole creator god, Ahura Mazda, his agent Zarathustra (Zoroaster) and the dichotomy between good and evil.
In the past year there has been a media spotlight shone on the community with the BBC amongst many broadcasters to make content about the community. Just this fortnight BBC1 broadcast Noroz- The Persian Spring. As well as media this past year, there was a huge exhibition at the Brunei Gallery in London called The Everlasting Flame, which had over 25000 visitors.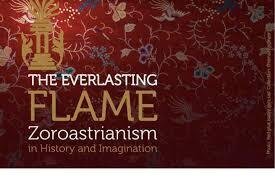 The Everlasting Flame: Zoroastrianism in History and Imagination was the first exhibition of its kind to provide a visual narrative of the history of Zoroastrianism, its rich cultural heritage and the influence it has had on the major world religions of Judaism, Christianity and Islam. The exhibition took visitors on a journey from the earliest days of the religion to its emergence as the foremost religion of the Achaemenid, Parthian and Sasanian empires of imperial Iran.
The total number of globally practicing Zoroastrians is unknown but estimates range from about 125,000 to over 300,000. Here is the UK it is approximated that there are around 5000 Zoroastrians.
The UK is a melting pot of cultures and its not possible to convert to the Zoroastrian religion, so as younger community members are marrying outside of their culture and forming mixed race families, its predicted that the community is dying out and will in future generations become extinct.
The gathering this week at House of Parliament was the second official event of the Zoroastrian All Party Parliamentary Group, which was formed last October by Lord Bilimoria and Mr Thomas to celebrate the work and history of the Zoroastrian community within the United Kingdom and abroad.
The Zoroastrian centre is the UK flagship church and religious space for worshippers and is based in northwest London in Rayners lane. Gareth Thomas MP thanked the Zoroastrian Centre for opening its doors to local organisations and its ongoing charity work within the community.
Lord Bilimoria, founding Chair of the APPG, opened the meeting by thanking the Zoroastrian Trust Funds of Europe (ZTFE) and the Parliamentarians for their attendance. He added that he was "delighted" that so many had been able to come to Parliament for the event and that it was "an honour" to see that interest had continued since the group's inaugural meeting in October 2013. He went on to talk of developments of interest for the Zoroastrian community since the founding of the APPG - including the plans to commemorate the bicentenary of HMS Trincomalee - a Royal Naval vessel built by the Wadia shipyard in Bombay in 1817 and one of the oldest commissioned ships still afloat. In accordance with Zoroastrian tradition, an engraved silver nail was hammered into the keel to ensure the vessel's well being.
Our guest of honour was the High Commissioner of India to the United Kingdom, His Excellency, Mr Ranjan Mathai described the legend of Zoroastrians when they were forced to flee from their then native Persia and requested refugee status in surround countries like India.
The story goes that the ruler of India poured a cup of milk to the brim and announced ''this is how full my country is and can not fit another single refugee''. To which the leader of the Zoroastrians replied by adding a spoonful of sugar and as it dissolved informed him '' like this cup, we will not take up extra resource from your country and over fill it- actually we will sweeten its flavour''.
As a Zoroastrian child growing up, I wasn't always totally sure about my religions history and details, as much of what my mum taught me was in a language I didn't understand. Growing up in Southall and Harlesden and being surrounded by diverse faiths I now believe most of us do believe in one God- we simply all have a different name for him. Whether it is Ahura Mazda, Jehovah, Jesus, Allah, Bhagahan, Buddha or another.
My dad had encouraged me as a teenager to read the Bible and an English translation of the Quran simultaneously, to show how similar both stories were and why both had age old wives tales as well as strict human codes or moral for living. I was taught to respect the ones that seemed to be common sense. He always said ''think about what we have taught you. You're a smart educated girl. What makes sense to you?''
The ceremony this week at Houses of Parliament reinstalled a sense of pride from coming from a small community of very educated people that have been first in building ancient cities, inventing many firsts in numerous areas and great things throughout history.
We are also a culture that encourages fun with a tipple. Our president of the Zoroastrian trust funds of Europe - President Malcolm M Deboo-reminded us that our prophets loved a good drink so we should engage in a celebratory cocktail every now and then. As well as honouring the main gifts of nature; fire, earth, air and water we are consistently reminded not to pollute these things, so burial, cremation and smoking is actually against my religion!
Its always intrigued me too that the British royal family are held in very high esteem in the Zoroastrian community. Our church has a huge picture of Queen Elizabeth placed prominently on a wall in our main room and over the years various Royals like Prince Phillip have visited. My (non Zoroastrian) other half always rolls his eyes and suggests we're an extended group of Freemason-like reptiles. Ah, the mystery and power of myth and legend!
Related