The wind tangles hair and brine spatters the faces of the gang upon a pebbled beach that undulates and vanishes beneath the East Anglian surf. The smiles are warmer, more genuine, the body language relaxed and unmannered. These are the disarming images from a new photographic exhibition by award-winning photographer and filmmaker Dean Chalkley who is perhaps better known for his portraits of the great and the good of the entertainment world.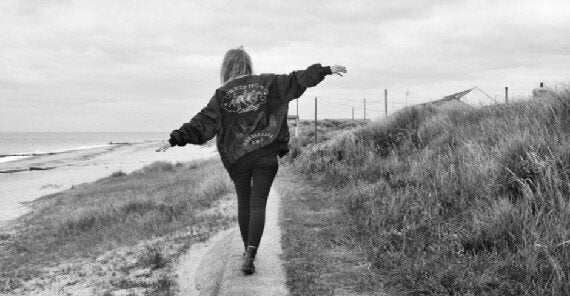 First unveiled in Norwich in October of this year, 'Never Turn Back' - which opens at London's theprintspace this week - has been billed as "an ode to friendship, space and free spirit" and was conceived by Chalkley and Conor O'Brien in the wake of Chalkley's 2014 exhibition, 'The Return of the Rudeboy'.
But by taking a neat and unexpected left turn, Chalkley has come up with a body of work whose arrival in London is as unexpected as it is pleasant. By decamping to a locale far removed from the metropolis through which we all stride on a daily basis, Chalkley has captured an elusive essence of modern-day youth and, in doing so, has hit upon a truth: that today's creative generation can often find more fertile ground outside London. One need only seek it in order to find it.
The project, says Chalkley "came out of the shared friendships that are so characteristic of places like Norwich; everyone knows someone who knows someone, especially when creativity is involved". Eschewing notions of urbanity, his ragtag gang of six friends are lensed against the wide open space of East Anglia where all is sea, spume and sky.
Chalkley grew up on an Essex farm, his connection to the English countryside and the individualism borne of it now becoming more evident in his work. "You don't see the horizon much in London," he says. "Allowing things to grow and develop, and not in a preplanned way, actually breathes life into a project. Photography should be a reflection of who you are as a photographer. It opened me up to the world and allowed me to interact with people in a way I couldn't have, had I not held a camera in my hands."
Photographers like Chalkley are rare, ploughing their own idiosyncratic courses and, in doing so, freeing themselves from any financial imperative that could fetter their work, while we tech-savvy lay image mongers have all grown accustomed to that moment when one extends the arm to gaze into the peephole of a smartphone. The selfie, that almost reflexive action that we seem to have come to rely upon to capture all contemporaneous moments is, you'll hear people say, unbetterable, concise and pointed at the most important subject of the modern day: one's self. It is the ubiquitous action that speaks of the oneness of navel gazing.
The image thus captured - of a head trapped within four corners of a binding frame - is an art-defeating, worn out modern icon. Yet 'Never Turn Back' lights a way out of such a photographic cul de sac. Though black and white, Chalkley's images somehow manage to convey more keenly the umbers and slate grey blues of the east of the country.
The images on display in this exhibition contextualise the lives of young Britons who are happy to live out their days beyond the boundaries of the metropolis. The photographs tell of escape. Chalkley, by using Yarmouth's wind-battered coast as a stage for this collection of souls, has given himself room to breathe easy and to create almost at leisure, and consequently, with a refreshed compositional eye. With this collection of images he has returned to us a sense of much missed community.
In these prints, perhaps all or some of the featured six are involved in the self-perpetuating movement of people who, in outgrowing small towns, move to the big city, only to return to the small town to recharge, ad infinitum.
Chalkley says that when he began the project he made sure his approach was loose and that, with so many people involved in the exhibition, he has been content to loosen his directorial grip. "The exhibition should remind people again about the joy of friendship," he adds.
With a chance that the exhibition might be taken to Paris next year, the carefree subjects of Chalkley's latest project - Chris Turpin and Stephanie Jean from Kill It Kid, Jason Wick from Little Red Kings, writer Aimée Keeble, designer Rhianna Ellington and Luke Fox from Hello Bear - have played a part in what may yet come to be seen as a new aesthetic in photography, whereby England and all its cultural facets is once again rendered in a way that reveals its forgotten charm and timelessness.
'Never Turn Back' is open to the public from Friday 4 December until Wednesday 9 December (Mon to Fri, 9am-7pm) at theprintspace, 74 Kingsland Road, London E2 8DL.
Popular in the Community